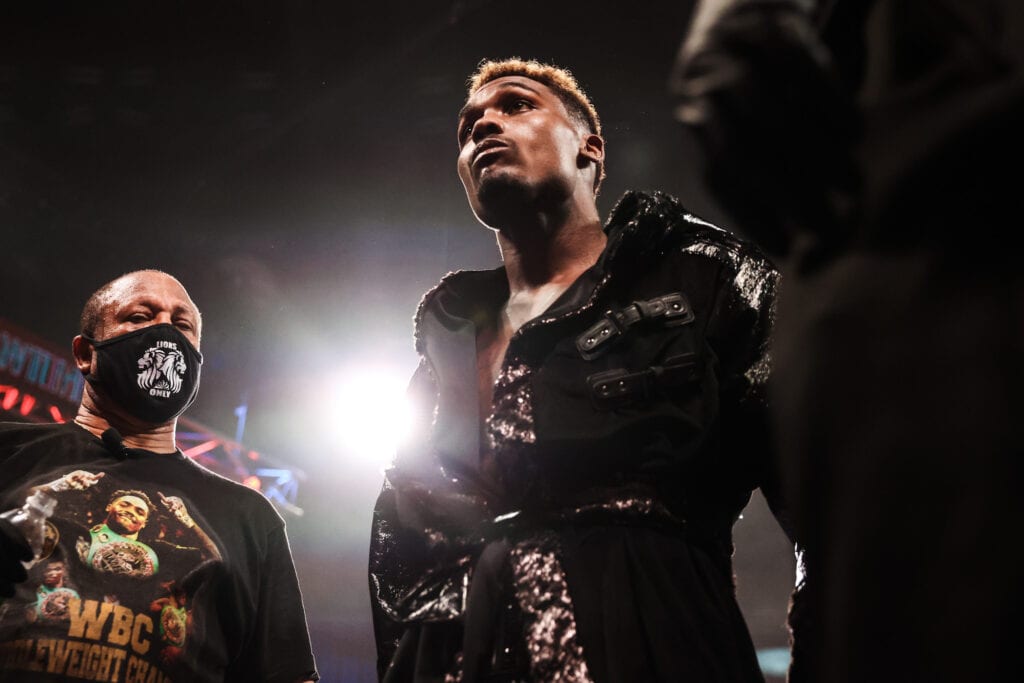 News
Who beats Jermall Charlo at 160?
Who beats Jermall Charlo at 160?
WBC Middleweight champion Jermall Charlo (31-0, 22 KOs) on Saturday night showed why he is one of the best in the division by systematically beating Sergiy Derevyanchenko (13-3, 10 KOs) by unanimous decision. This defense for Charlo not only was the most challenging test for him but also had me asking the simple question on Twitter afterward,
"Who beats him?"
I ask, because currently at the top of the mountain at 160 pounds; if Charlo isn't on top of it, look again.
The options when I asked instantly during the Charlo pay-per-view gave the usual suspects that are there. We all know the names to challenge in Gennady Golovkin, Demetrius Andrade, and of course, Canelo Alvarez.  The problem is with all of them is that after Saturday night, those options don't look like they will happen and, in my opinion, anytime in the near future.
So Charlo at 160 gang?

Who beats him?#boxing #CharloDoubleheader

— Marquis Johns (@weaksauceradio) September 27, 2020
I'll start with Alvarez. Let's not forget that he was "franchised" last year by the WBC, as an obstacle to avoid facing Charlo altogether. Blame the WBC for "doing WBC things" on that and Alvarez's credit; he's been wanting to fight at 168 to dismantle the competition at that class whenever that happens.
Andrade is a case where a fight was offered before and for one reason or another, never materialized. Rather than rehash all of that, the current state of that fight has Andrade, who has a deal with Matchroom Boxing, calling out everyone for war at 160 and 168 lbs. without a dance partner and is looking currently at chasing Billy Joe Saunders.
We need to move on. This, as that ship not only has sailed, discovered new land, but settled in elsewhere.
Gennadiy Golovkin is a name where at this stage in his career, I don't think age is the problem, but if he can withstand what Charlo can dish in the ring? The common opponent test in Derevyanchenko was answered. While many thought Derevyanchenko might have won their contest last October in New York, there was no debate who the clear winner was Saturday night.
Charlo, after the fight, echoed this:
"The whole world understands that I can fight in there with the best of them. He gave GGG [Gennadiy Golovkin] a harder test than he gave me so I think the levels showed. I'm the best middleweight in the world," Charlo stated after his unanimous decision over Derevyanchenko.
Even if you think these options still are even remotely available, I defer you to Charlo himself when he was asked about it in on the "SI Boxing with Chris Mannix" podcast leading up to this weekend's victory
That conversation cranked up, as Mannix asked why he hadn't gotten a deal for any of those names.
"That's all crap. None of that is legit," Charlo stated when asked about refusing offers made to him fights from Matchroom Boxing promoter Eddie Hearn and Golden Boy promoter Oscar De La Hoya. "If they would make the fight happen, it would make sense, you know. Whatever numbers they gave my team, my team was like, is this a joke?" If they made the right decisions, then we would be in the ring."
"None of those guys (Golden Boy or Matchroom) have made no offer to me, have given me no real legitimate offer where it was something that I would have to force myself to do. So don't listen to that b.s. You're hearing it from my mouth. I would've taken those fights if that was the case," Charlo said.
Until those conversations change or become something that Charlo wants to hear, they'll have to come to him from atop his mountain at 160 where he is currently is sitting.