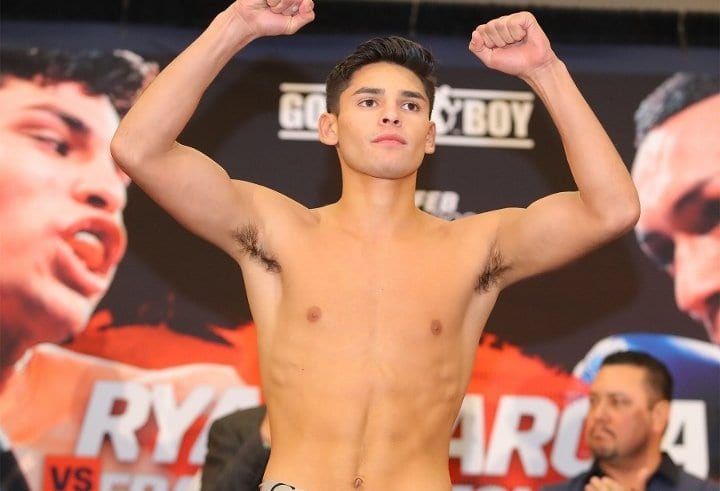 News
What's Really Going On With Ryan Garcia?
What's Really Going On With Ryan Garcia?
The mystery of curiosity around unbeaten Lightweight Contender Ryan Garcia and his decision to withdraw from his upcoming July main event fight with Golden Boy promotions/DAZN continues. And, while there are some who still want to blindly believe Garcia's only possible motive for calling off his fight is his personal mental health, there are already more indications that other factors have lead to Garcia deciding he doesn't want to fight Javier Fortuna.
That is, at least under the deal and the circumstances he had agreed to, previously.
For example, on the Monday edition of the "Three Knockdown Rule Podcast" long time boxing insider formerly with ESPN, Steve Kim and his co-host, actor/entertainer and big-time fight fan, Mario Lopez, discussed the Garcia situation at length.
Hear their full comments here.
Fresh out the oven, 'the 3 Knockdown Rule' where @mariolopezviva and I discuss…. #boxing @Constntino @Ju5tinNichols @timfrasier

– review Navarrete/Berlanga
– preview Ruiz-Arreola
– discuss the Ryan Garcia situation
– #UFC261 https://t.co/DD9rK2XMOW

— Steve Kim (@SteveKim323) April 27, 2021
We particularly perked up when Kim revealed two things that matter in trying to "connect the dots."
Kim relayed on the podcast that he's learned that Garcia, ranked #1 by the WBC at 21-0, has privately been complaining about Golden Boy Promotions having picked the outdoor venue Banc of California Soccer Stadium next to the USC campus in L.A. for his July main event, which would be held in the Southern California heat in the late afternoon and early evening.
According to Kim, Garcia has made it clear he doesn't like fighting fights in outdoor conditions. However, Kim also relayed when Garcia did his latest new agreement with Oscar De La Hoya's promotion, it gave Golden Boy  the exclusive authority to designate when and where Garcia's fights would be.
Plus, California is still struggling to reopen post Covid-19 pandemic. In fact, it was one of the last prominent states to begin having at least some fans attending its outdoor sporting events.
And, from a business standpoint, there's no question that Golden Boy wanted to have several thousand fans outside be able to attend the very popular Garcia main event show, as opposed to an indoor venue were the restrictions would make the crowd almost insignificant for a live gate.
Another clue surfaced two days after Garcia's own Instagram announcement. That's when on Monday, Garcia was shown with a woman in a bikini believed to be his girlfriend, apparently at a vacation locale, also on Instagram. Garcia is heard hollering out with joy, as she takes the video and her phone pans to what appears to be the Pacific Ocean outside where they are.
Lemme get in my Petty Bag like how y'all do.

Make sure you maintain all that energy you keep for these other fighters yall ride daily from their IG stories.

Don't feel a certain type of way NOW.#RyanGarcia pic.twitter.com/c2MF6qlzev

— Jay Good (@YajDoog) April 26, 2021
As Kim and Lopez discussed on the podcast after seeing the post, this may be more about Garcia's personal life, his relationships with girlfriends past and present, or as Lopez put on the podcast, "baby mama drama" rather than "being on the verge of some type of nervous breakdown."
Certainly, Garcia is allowed to have fun in his personal life, but with the alleged seriousness of what he's hinting at with mental health, the fact he's saying he doesn't want to fight Fortuna even though it's still 10 weeks from now, and then, popping up on Instagram like it's no big deal, wasn't the best of looks.
Another compelling and unavoidable question that must continue to be asked is: what factor in Garcia suddenly pulling the plug on the Fortuna fight for where it was to be and the money he was to have made was the recent massive contract that Undisputed lightweight champion Teofimo Lopez got for his next title fight?
That came, when Triller paid $6 million in a blind purse bid for Lopez's upcoming mandatory title defense with Australian George Kambosos in June. It is not out of line to think and suggest that Garcia, who has twice before pulled out of Golden Boy main events in the last 18 months, because he was unhappy with the money and or the opponents he was being given, isn't watching carefully what the premier fighter in his own division got for such an ordinary mandatory title defense.
For now, De La Hoya publicly supported Garcia with this social media post over the weekend,
The health of our fighters is of the utmost importance to us at Golden Boy. We wholeheartedly support Ryan Garcia and wish him the best during this time.

— Oscar De La Hoya (@OscarDeLaHoya) April 24, 2021
However what do you expect him to say?  This is especially, when the promotion is trying to figure out where and when, arguably their top draw, Garcia, will headline for them again? Plus, they've dealt with the issues of him refusing to agree for their main events before, and it's almost "Groundhog Day" for them, again.
Kim also relays, that for their part, Fortuna's promoter Samson Lewkowicz is pressing both Golden Boy Promotions and the WBC to at least assure Fortuna that he will get the winner of their championship fight between Devin Haney and Jorge Linares May 29th in Las Vegas. And, they have a strong argument in that Garcia has just decided to disregard their fight and should therefore forfeit any leverage for fighting Haney later this year.
Meanwhile, we wait for Garcia himself to give an update or for Golden Boy to give us more details on what exactly is going on here with one of the Premier lightweights in the world. A guy who is 22 years old, but has only fought, to this point, one time post-pandemic and has now put it out there that he's not fighting any time soon this Summer.