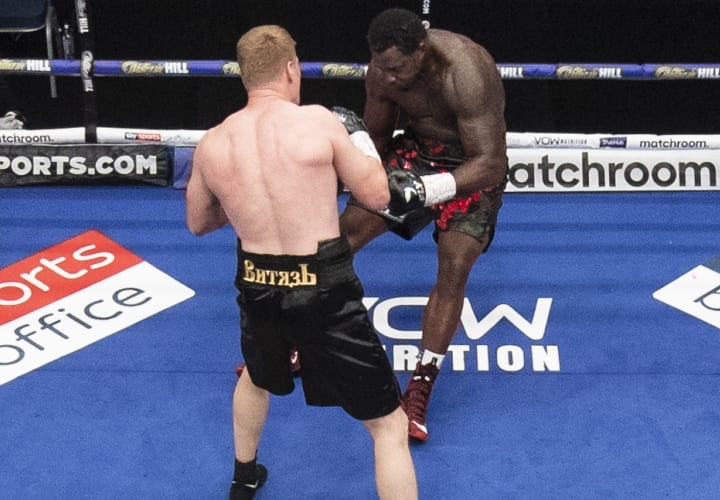 News
WBC Says It's Not Sanctioning Povetkin-Whyte Rematch
WBC Says It's Not Sanctioning Povetkin-Whyte Rematch
So, about that Alexander Povetkin-Dillian Whyte rematch next month.
The World Boxing Council through President, Mauricio Sulaiman, said Monday that they are not sanctioning the Heavyweight contender battle set for November 21st at London's O2 Arena. Boxingscene.com had more from insider, Dan Rafael, on Tuesday morning,
WBCs Sulaiman Surprised Povetkin-Whyte II Scheduled So Soon After Brutal KO https://t.co/5764DiqpEk pic.twitter.com/nU1qBeIGyQ

— BoxingScene.com (@boxingscene) October 13, 2020
Sulaiman said on a Zoom media conference,
"There's no sanction request (from promoter Eddie Hearn and Matchroom Boxing). From what I understand, Dillian Whyte is still suspended by the British Boxing Board of Control and has to go through medicals, but the WBC has not received any communication whatsoever for a rematch," 
"We have a top priority of safety. It was not a TKO. What we absolutely recommend after a knockout like this is from 30, even 60 days no contact, no training. And I am surprised the WBC has not received any communication and I am surprised that they have scheduled a rematch inside of three months from the original fight."
Sulaiman continued,
"But usually, 99 percent of the time, when there's a fight involving the WBC there's absolute communication prior to the signing and announcement. So, I don't know. It's a unique situation. We have had fights in the past when they contact us maybe with a late replacement or an opportunity that comes that opens up a spot on television, so we do have the flexibility.
But usually it's 60 days out so we can prepare all the mandatory medicals, the mandatory weigh-ins. There's things that that they have to comply with. Usually, a promoter goes and makes absolute certainty that the fight has been approved." 
As we wrote previously, the stunning, one-punch, bomb KO of Whyte has had Matchroom promoter Eddie Hearn scrambling to get him get back in the ring with the Russian Povetkin. This to try to regain standing in Heavyweight contention.
The former WBA Heavyweight Champ, Povetkin got off the canvas twice in the fourth round to level Whyte with a single left uppercut, less than :30 into round five. The referee didn't bother to count, as Whyte laid motionless for several seconds.
There had been some talk from Povetkin's side that the rematch would have appeal in his home, Russia, but Hearn stood to make much more in the U.K. on live gate with some fans present and again, on pay per view.
Finally, in the bizarre and even corrupt, world of boxing promotions and organizations, Whyte had been the WBC's #1 contender for the belt Tyson Fury now holds. Yet, comically the 41 year old Povetkin's KO didn't make him the WBC mandatory, like logic would dictate.
Instead, we are left to guess as to what they will do? But for at least for now, Sulaiman is saying that, even if Whyte were to defeat Povetkin in the November fight, it doesn't guarantee him anything with them for a future 2021 title shot.