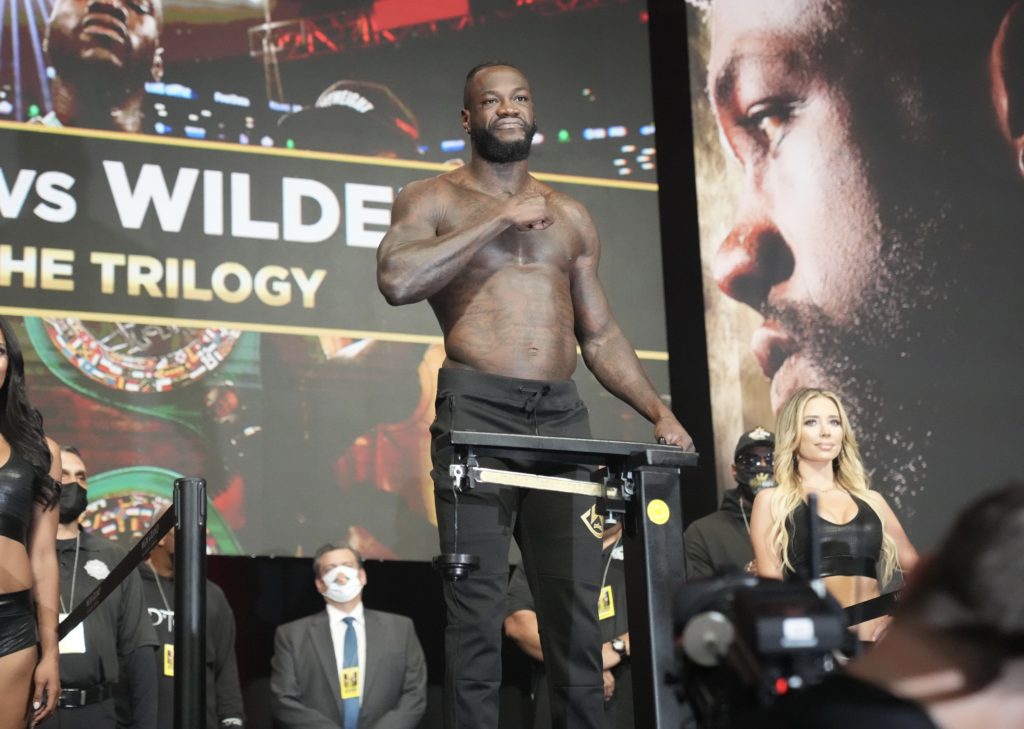 News
Tyson Fury-Deontay Wilder Trilogy Fight By Numbers
Tyson Fury-Deontay Wilder Trilogy Fight By Numbers
We get ready for the third battle between WBC Heavyweight champion Tyson Fury and former champion, Deontay Wilder Saturday night in Las Vegas. And while the wait has been lengthy, it looks like we will get this fight in the ring to settle things probably for good.
With that in mind, we decided to take a look at the numbers headed into the highly anticipated second rematch.
595- The number in days it has been, since Fury scored a 7th round TKO over Wilder and re-captured a portion of the Heavyweight title.  That breaks out to 85 weeks and 19 1/2 months.
$30 million– The amount of money that both Fury and Wilder were contractually guaranteed for their rematch prior to signing to fight for their second bout. Without a doubt, this is the most lucrative guarantee for two fighters for any professional fight in 2021.
20,000- The official listed seating capacity for boxing in the T-Mobile arena just off the Las Vegas Strip.
15,816- The announced attendance at the MGM Grand Arena for fight two 19 months ago, which represented nearly $17 million in live gate revenue.
Both Fighter's clocked in Friday afternoon on the scales prior to the bout,
Tyson Fury and Deontay Wilder back at it AGAIN! 🗣@BronzeBomber @Tyson_Fury | TOMORROW | Buy #FuryWilder3 PPV: https://t.co/Oz3QzMA9pP pic.twitter.com/kXO7EPM1ml

— FOX Sports: PBC (@PBConFOX) October 8, 2021
277 lb.- Fury's weight, which is the heaviest of his career and 4 lb. more than the second fight with Wilder
238 lb.- Wilder's weight and that's 7lb. more than the second Fury fight.
-265 – The latest betting odds at most sports books, as of Friday afternoon if you want to take Fury to win the fight over Wilder. Wilder is a +225 underdog to try to recapture his title. The Under/Over on rounds competed sits at 7 1/2 for Saturday night.
Hear our full preview of Fury-Wilder III on "The Big Fight Weekend" podcast with Marquis Johns, TC Martin in Las Vegas and David Payne from England,
30+ – The number of cameras that Fox Sports and ESPN intends to utilize for the broadcast of the PPV covering the bout from every possible angle.
$79.95 – The suggested price of the PPV domestically throughout the United States from Fox Sports and ESPN+. BT Sport is the television provider in Fury's home England and it will charge significantly less, because…
11:30 p.m. Eastern time- The earliest that "ring walks' will happen for the two fighters in the main event. That is 4:30 a.m. Sunday in the U.K.
1- Not only is it the loneliest number, but it also represents the fighter that will now have the only argument to fight Oleksandr Usyk for the Undisputed Heavyweight Title in 2022.