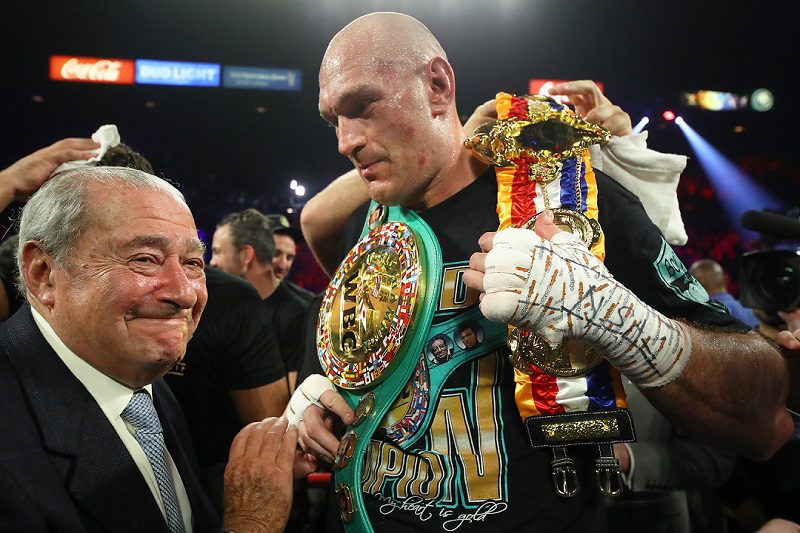 News
Top Rank's Arum Suggests Tyson Fury-Usyk Could Be Coming
Top Rank's Arum Suggests Tyson Fury-Usyk Could Be Coming
In an interview with Britain's Talk Sport released Wednesday, Top Rank Boxing's Bob Arum made two things clear: the upcoming opponent situation for WBC Heavyweight champ Tyson Fury remains chaotic and a bout with Unified Heavyweight Champ Oleksandr Usyk could still be next.
Arum, who co-promotes Fury with English promoter Frank Warren, spoke to the network about the ongoing saga of whether the unbeaten Fury will have to face challenger Dillian Whyte of England, next? Or, would Fury and his promoters end up paying Whyte to "step aside" and let an Undisputed bout with Usyk happen first this Summer?
BREAKING 🚨: Tyson Fury could still fight Oleksandr Usyk NEXT, instead of Dillian Whyte

— talkSPORT (@talkSPORT) January 19, 2022
"It is total chaos," Arum told talkSPORT.com as he offered a peak behind the scenes into the current heavyweight situation. "What's happening is just promises coming out of the Middle East about doing a unified fight with Usyk and Fury, and is Dillian Whyte gonna step aside?
"And people that have absolutely no contractual ties – like Frank Warren's Queensberry and our Top Rank do – are getting involved."It's a typical terrible kind of situation, but hopefully it'll get sorted out and probably it will get sorted out with a purse bid on Friday."
When asked which of Usyk or Whyte he believes Fury will fight next, Arum replied: "I have absolutely no idea.
"Who are these people in the Middle East? And what's their backing and all of that stuff? That's not clear. All I know is that the contract with Tyson Fury is with Frank Warren's Queensberry and Top Rank.
Arum is making reference to the almost comical, contradictory actions by the WBC, which is being sued by the English contender Whyte. The organization at fist wouldn't order Fury to fight Whyte, but then, did so with Fury getting most (80%) of the purse share of the proposed title fight.
Whyte is suing, because he wants the WBC to follow it's own purse rules when it comes to #1 contenders challenging for its belts and his payout should be closer to 45%.
For now, that purse bid is supposed to be this Friday, but who knows if it will go through and if Whyte will accept it or not?
Further, there is also some belief that Fury will simply fight a lesser Heavyweight in a non-title fight in the next few months that keep him busy and keep him from having to Whyte, while the Usyk situation sorts out.
Fury was last in the ring in his October trilogy victory over Deontay Wilder. The champ got off the canvas in the fourth round and wore down Wilder with bruising shots for an 11th round KO that ended all debate on who was the best between them.
As for Usyk, the unbeaten former Undisputed Crusierweight champ, the Ukranian star upset Anthony Joshua in a spirited 12 round performance to win the IBF/WBA/WBO world titles last September. Joshua invoked his rematch clause and now, will either fight Usyk in the Spring or be paid to "step aside," himself.
Got all of this?
So, now we wait to see if Fury is free to make the deal with Usyk and if both Joshua and Whyte will agree to get out the way (don't count on that from both)?
And, for Arum and Warren, it will be there move next on Fury does and with whom?