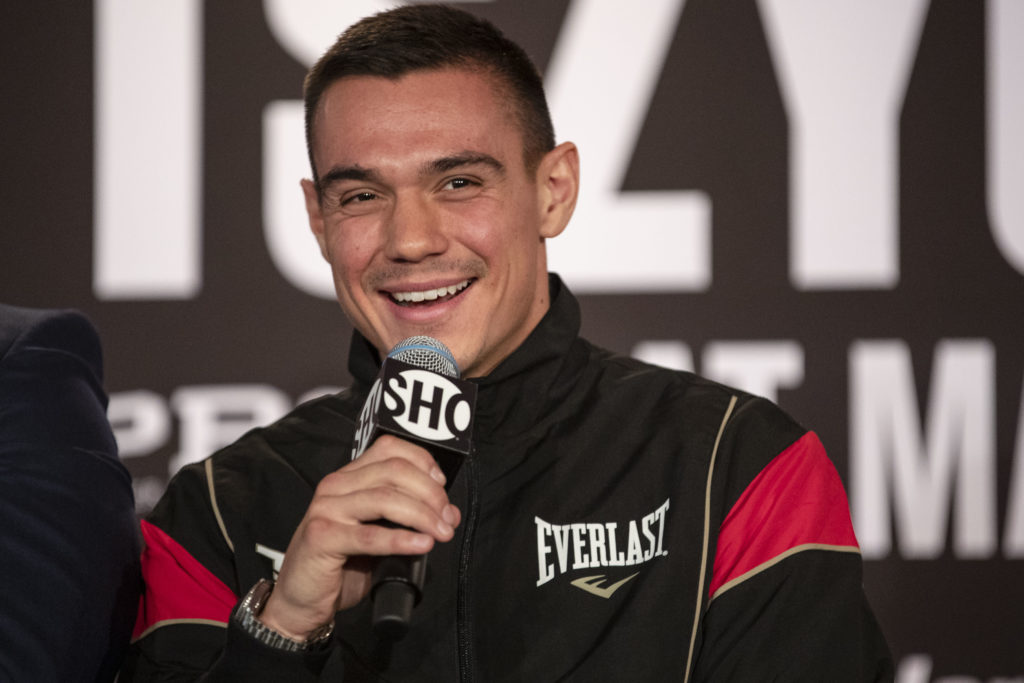 News
Tim Tszyu – "I'm 10 Times Bigger/Stronger Than Castano"
Tim Tszyu – "I'm 10 Times Bigger/Stronger Than Castano"
A very interested ringside observer Saturday night in Carson, CA, to the Jermell Charlo-Brian Castano rematch was top WBO 154 lb. contender Tim Tszyu. And, while he was impressed with Charlo's emphatic KO win, Tszyu made clear that he sees real opportunity in becoming undisputed champ himself.
Tszyu spoke post fight to Fox Sports Australia about the battle he'd just witness and made clear, while Castano was a tough opponent for Charlo, he's not the unbeaten Australian star.
"I'm a walking zombie and I'm 10 times bigger than @briancastanobox" 😤@Tim_Tszyu is 'ready when you are' @TwinCharlo 🔥 pic.twitter.com/ZMN4H3Fnd7

— FOXSportsAUS (@FOXSportsAUS) May 15, 2022
"First of all 'fight of the year,' man. What a fight. The boys just went at it…it was close. I saw Charlo winning the later rounds…what a cracker of a fight," Tszyu said.
Then, when asked about what he learned from Charlo scoring his tough 10th round KO, where he dropped Castano twice? Tszyu quickly interjected about fighting the new undisputed champ,
"He (Charlo) has got heavy hands. He makes opportunity for every mistake….he takes his time. He doesn't rush things…. Me and Castano are totally different. We sorta have the same style… But, I'm a 'walking zombie.' I'm 10 times bigger and stronger than Castano. So, yeah. What's he gonna do when that happens?"
Hear Dan Rafael and me breaking down the weekend of fights, including the Charlo kayo of Castano on the "Fight Freaks Unite Recap" podcast by clicking play below,
The 27 year old Tszyu, the son of hall of famer Kostya Tszyu, certainly has impressed rising up the Jr. Middleweight ranks, as he is now 21-0, 15 KO's and is the WBO's mandatory challenger for Charlo's titles. As we wrote, the hugely popular Australian, made his U.S. debut in March in Minnesota with a convincing 12 round decision win over American veteran Terrell Gausha. 
Tszyu, who was actually surprisingly dropped in briefly in the first by a Gausha right, was clearly the better fighter and wore the American down with hard rights and body work. Gausha survived to the final bell, but Tszyu deserved the win that has now positioned him to fight Charlo coming up.
Tszyu has repeatedly sold out shows in outdoor stadiums and arenas throughout Australia in the past three years, but knows he will have to come to the U.S., again to try to dethrone the four belt holder, Charlo.
It's likely that if Charlo and Al Haymon/Premier Boxing Champions want the Tszyu fight to happen next, then it could come as soon as October or November of this year.