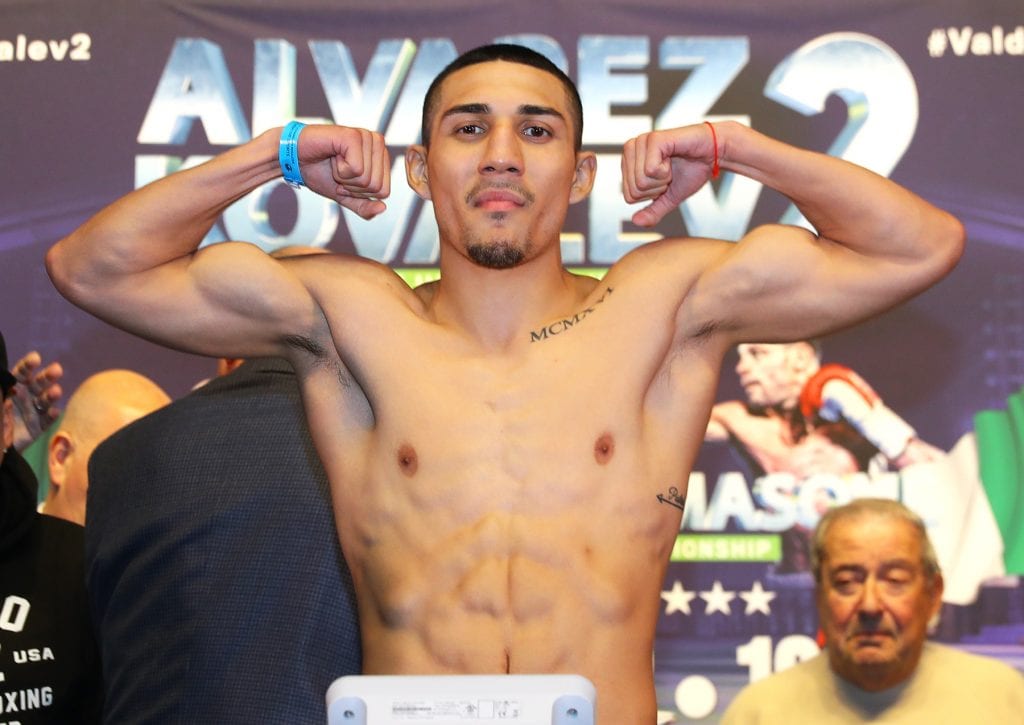 News
Teofimo Lopez- Devin Haney Traded Insults Saturday Night
Teofimo Lopez- Devin Haney Traded Insults Saturday Night
The ongoing soap opera at the top of the Lightweight division continues with Undisputed champ Teofimo Lopez remaining inactive for now 12 months and counting. And, the man that the WBC designated as one of their 135 lb. champs is now wanting his shot at Lopez, and Saturday night he let Lopez know in person, too.
Devin Haney went face to face outside the ropes with "The Takeover" at the Matchroom Boxing/DAZN fight card in Fresno, CA, Saturday night. And, wouldn't you know, the promotion just happened to have video and social media people standing by for it,
This fight HAS to happen! 🔥@Realdevinhaney 🍿🍿🍿 @TeofimoLopez pic.twitter.com/37vF5m52lP

— Matchroom Boxing (@MatchroomBoxing) October 17, 2021
As Haney tried to goad Lopez into fighting him, the unbeaten WBA/IBF/WBO World champ wasn't amused.
"What ya'll talking about?! Yo, it's definitely on. I'll eat you. I'll eat you. I'm hungry…I just wanna let them know 'What's Up?!'…  Yo. They don't wanna do it (fight Lopez)….You've been fed from a 'Silver Spoon' the whole time….No? Then sign the F#%king contract."
Of course Lopez has had issues of his own with his IBF mandatory title defense against Australian George Kambosos. That bout was originally set for June, but was delayed throughout the Summer by scheduling issues, Lopez testing positive and being symptomatic for Covid 19 and then, Triller's comedic unraveling of being unable to re-schedule the title bout.
Triller eventually defaulted on the IBF's timeline and $1.2 million down payment for Lopez-Kambosos, and now, (you figured correctly) Matchroom Boxing is next up, as the second highest bidder for the fight. It's believed that promoter Eddie Hearn is targeting a December date, potentially in Las Vegas for Lopez-Kambosos.
As for Haney, he's also unbeaten and awaiting his next title fight. He defeated Javier Fortuna in an impressive showing earlier this year. Hearn is also looking to try to have him fight contender Jospeh "Jo Jo" Diaz, also potentially in December or January.
Lopez has been inactive, since the biggest win of his career, when he took the Undisputed titles off Vasyl Lomachenko last October in Vegas.
For his part, Haney continued to try to hurl insults at Lopez for nearly five minutes Saturday night, but Lopez constantly replied that Haney's side wouldn't meet with Top Rank Boxing promoter Bob Arum and has no intention of actually fighting him.
While it probably won't happen in the short term due to Lopez being locked in to a Kambosos fight, it's likely Lopez and Haney will see each other at some point in 2022.