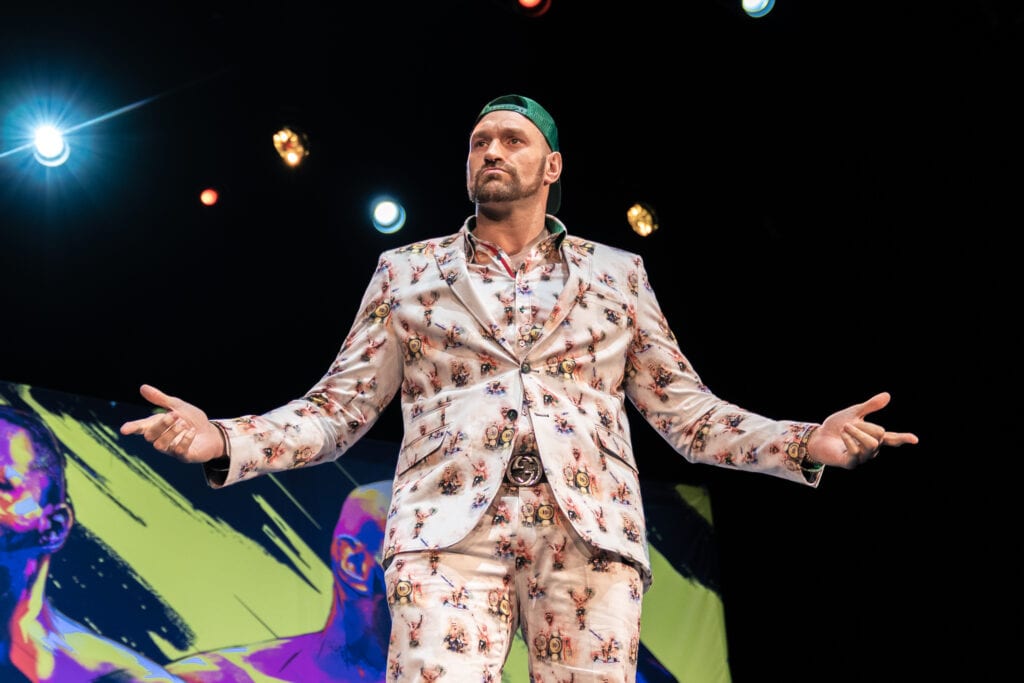 News
Still Unfinished Details For Anthony Joshua- Tyson Fury Showdown
Still Unfinished Details For Anthony Joshua- Tyson Fury Showdown
The wait for the proposed Anthony Joshua Undisputed Heavyweight showdown with Tyson Fury to be finalized continues. And, while Fury made his announcement that the fight will happen August 14th, there are still important details that apparently have not been formally signed off on to make the fight official.
First, and foremost, the biggest sticking point in making the bout official has apparently been: what happens if the Saudi government, health officials, organizers, etc. decide that the proposed Joshua-Fury battle either cannot have fans or must be postponed or cancelled due to Covid 19?
Boxing insider Dan Rafael wrote about this Sunday night for World Boxing News,
Heavyweight champion @Tyson_Fury says unification fight vs. @anthonyjoshua is on for Aug. 14 in Saudi Arabia. Read my story here but please also subscribe to my #boxing newsletter and never miss a post! https://t.co/IjqJ7OCqWU #FuryJoshua @EddieHearn @MatchroomBoxing @trboxing

— Dan Rafael (@DanRafael1) May 16, 2021
Fury took to social media himself Sunday afternoon to confirm that the bout was "100%  on"  for August 14th (more on that in a sec.)
From Rafael's reporting Sunday,
"Although Fury claimed the fight was "100 percent" happening, the papers are still not signed one source directly involved in the deal told Fight Freaks Unite on Sunday and estimated it may take another week or so to tidy up the paperwork.
"Everyone wants to make an announcement ahead of when it's time," the source said…..
Among the issues that slowed the talks for Fury-Joshua was language covering a possible postponement and other Covid-19-related issues, according to sources."
Another aspect that has dragged the negotiations on for months is the PPV distribution for the U.K., Europe, the U.S. and then, the rest of world to be able to see it.
The complication is that Hearn intends to move all of his Matchroom Boxing promoted shows exclusively to the DAZN streaming service with a new, huge multi-million dollar agreement with them slated to start July 1st. However, apparently the current language in his deal with Joshua and Sky Sports (Matchroom's current U.K. partner) means that Sky has the rights to televise one more Joshua fight on their PPV.
Then, there are Fury's broadcast deals with his co-promoters, Frank Warren's Queensberry Promotions in London and Bob Arum of Top Rank Boxing in the U.S.
Rafael further reported Sunday that the apparent agreement is that Sky will show the PPV, but that Warren's agreement with BT Sport Television (Sky competitor) in the U.K. means that they will be able to offer it, as well.
And, that Arum and Top Rank will use ESPN's PPV for TV and streaming for Joshua-Fury in the U.S. And, finally, Hearn and DAZN will have streaming rights for everywhere else worldwide in the complicated broadcast deal.
Back to Fury, as we wrote Sunday, he boisterously claimed Sunday that the deal is done to fight have the first ever Undisputed Heavyweight title fight between two Brits coming in August.
"I've got some massive news for you. I've just got off the phone from Prince Khalid of Saudi Arabia. He's just told me the fight is 100 percent on August 14, 2021, summertime. All eyes of the world will be on the kingdom of Saudi Arabia. And I cannot wait, I repeat, cannot wait to smash Anthony Joshua on the biggest stage of all time," Fury said on his social media Sunday."
One reason was that Fury and his side have threatened to walk away from the proposed Joshua matchup is he wanted to stay active in the ring. This, as Fury hasn't fought since defeating Deontay Wilder for the WBC title back in February 2019.
Further, on the concern of the fight being delayed or postponed etc., Fury currently has the option to fight in the U.S. against a WBC ranked opponent later this Summer. That fight would assuredly have some fights, if not a full venue, depending on where it was held. That would represent some live gate, and even though he would make significantly less money, it would make him some for a fight to get him back in the ring for the first time in almost a year and half.
Instead, Fury would be taking a risk waiting for the August Joshua bout, that still has a chance to be delayed or scrapped altogether by Covid 19 concerns or guidelines.
Joshua was more recently active fighting and stopping Bulgarian Kubrat Pulev last December. So, it's not the same issue for him to wait.
Also, the date of August 14 falls outside of the potential Olympics taking place in Tokyo. This is key for Joshua, as his trainer, Rob McCracken, is one of the trainers for the English Amateur Boxing team in the Olympics.
So, progress has been made, but the huge point about what happens with Covid 19 delays and possible postponement of Joshua-Fury is obviously still a road block to be agreed upon by everyone.