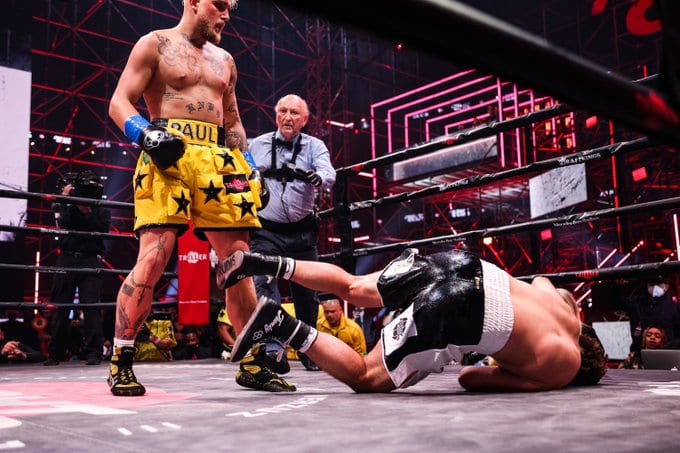 News
Showtime Confirms Jake Paul Next Bout for August PPV
Showtime Confirms Jake Paul Next Bout for August PPV
Monday brought a report that Youtuber turned boxer Jake Paul would make his debut for Showtime Boxing later this Summer and now we have more of the specifics.
Tuesday, ESPN combat sports insider Ariel Helwani, had more on the date of the boxing match, as well as comments from Paul and his MMA opponent, Tyron Woodley. Then, Showtime Sports President Stephen Espinoza confirmed the fight, as well,
Jake Paul to fight former UFC champ Tyron Woodley on Showtime PPV.

Tyron: Easiest fight of my career and biggest purse of my career, all in one night.

Jake: I certainly respect his career, but I will be sending Tyron into a permanent siesta.https://t.co/cLAoT4SpQe

— Stephen Espinoza (@StephenEspinoza) June 1, 2021
As we wrote on Monday evening,  it's no coincidence that with older brother, Logan Paul fighting Floyd Mayweather on Showtime in an exhibition Sunday night north of Miami, that the 24 year old Jake Paul would announce later this week his next bout to also be on the network.
"I have a list of people I plan on shutting up with my fists. And, as I enter my fourth pro fight, I am excited to knock the first one off the list by challenging myself against a five-time UFC champion known for his knockout power. Tyron's a seasoned striker who has fought the best in the world. I certainly respect his career, but I will be sending Tyron into a permanent siesta on August 28."
As for Woodley, he's 39 years old and the former UFC Welterweight Champ. He won the title by KO in the first round over Robbie Lawler in July of 2016. He defended it four times before losing to Kamaru Usman by unanimous decision in March 2019.
Woodley's previous background is as an amateur wrestler, including at the University of Missouri. He doesn't have any significant boxing experience.
Woodley was part of former MMA fighter Ben Askren's team for his fight with Jake Paul in April in Atlanta. Paul ended the bout with a single booming right hand in the first round. Woodley told ESPN Tuesday,
"Easiest fight of my career and biggest purse of my career all in one night," Woodley said. "Basically, they brought me in to take out the trash. I can't wait to shut this b—- up. This is getting done for the culture, the whole MMA community and boxing community, to rid this guy of combat sports." 
ESPN reported the date of August 28th with a site with fans in attendance to be named.
Paul got a multi-fight offer from Showtime fresh off the Askren fight, but there is still debate about how big of a PPV audience that Paul-Askren actually had? Paul and Triller boasted that it was over 1.3 million buys, which would have been a rousing success. However, that number of audience hasn't been independently verified.
The 24 year old Paul also previously scored a KO of former NBA basketball player Nate Robinson on the undercard of the Mike Tyson-Roy Jones, Jr. exhibition through that Triller "Fight Club" last November.
Espinoza's first comments on the Jake Paul PPV were to ESPN,
"We are excited to launch our partnership with Jake Paul, and this intriguing Paul vs. Woodley event is sure to be one of the most talked about events of the year. Jake has an incredible ability to capture the attention of his fans and detractors alike.
Tyron Woodley is an accomplished professional fighter. Jake's willingness to take on an experienced pro like Tyron tells you everything you need to know about Jake's goals and ambitions: he welcomes challenges; he embraces risk and he seeks to build a legacy in the sport of boxing.
"Tyron Woodley will present a considerable challenge, which makes for a can't-miss fight."