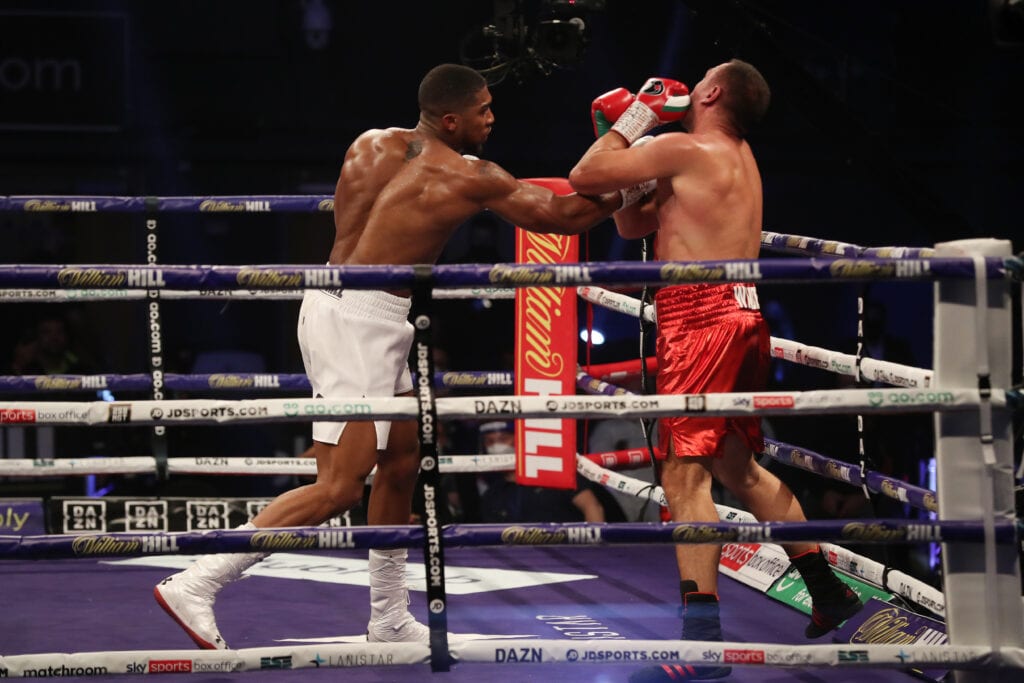 News
Report- Joshua-Pulev Did Solid PPV Numbers In U K
Report- Joshua-Pulev Did Solid PPV Numbers In U K
Unified World Heavyweight Champion Anthony Joshua was impressive in his 2020 return earlier this month. And, a report out Tuesday afternoon says that the fight viewership on pay per view in the U.K. was equally solid.
The Athletic's Mike Coppinger was first to report that the initial numbers are in for Joshua's 9th round TKO win over Kubrat Pulev back on December 12th,
Sources: The Anthony Joshua-Kubrat Pulev heavyweight title fight generated in excess of 600,000 buys on Sky Sport PPV in the U.K. Numbers still rolling in and could approach 700,00 when all said and done.

— Mike Coppinger (@MikeCoppinger) December 22, 2020
The popular WBA, WBO and IBF World Champ is used to fighting in front of tremendous crowds in massive stadiums in England. However, this bout was held in the Wembley Arena just outside of London with approximately 1,000 fans socially distanced for Covid 19 concerns.
So naturally, a great portion of Joshua's fan base was now tuned in on Sky Sports in the Great Britain. They were paying $25 pounds, or approximately $33 U.S. dollars, for the title fight. The bout was offered to subscribers in the U.S. on the DAZN streaming service, as part of their $19.99 monthly subscription.
For a reference point, February's rematch of Deontay Wilder-Tyson Fury had somewhere between 800,000 – 850,000 domestic pay-per-view purchases for the joint showing by ESPN and Fox Sports in the U.S. And, that was at a considerably higher $79.95 price in America. It's not known what the U.K. buy rate was at their reduced price, and Wilder Fury II also aired at 5 a.m. local time Sunday morning in the Britain.
While that number was nearly triple the pay-per-view audience of the first fight between Wilder and Fury in December 2018 (300k buys in the U.S.) while shown through Showtime pay-per-view, it was well short of the expectations of the rematch viewership that had been thrown around by some.
That was especially from what Top Rank Boxing promoter Bob Arum repeatedly, boldly bragged about for weeks leading up to the second fight between the two that ended with Fury capturing the WBC Heavyweight Title with a dominating 7th round TKO over the previously unbeaten Wilder.
Arum continued to predict to the boxing media that he believed that Wilder-Fury II would have at least 1.5 million pay-per-view buys and possibly, approach 2 million due specifically to the promotional personality of Fury.
Alas, while more popular than the first fight, it didn't c0me close to that expectation.
Still, Wilder and Fury ended up being the highest grossing revenue Heavyweight title fight, since former Undisputed champs, Lennox Lewis fought Mike Tyson, in Memphis, Tennessee, in 2002.
That fight had the 1.9 million PPV purchases that Arum and PBC had been hoping they might approach and it represented over $112 million in revenue back 18 years ago.
It is now expected that the U.K. World Champ bout where Joshua will face Fury should take place later in the Spring months of 2021. And, that will be a massive PPV in Britain and have some demand in America, as well.