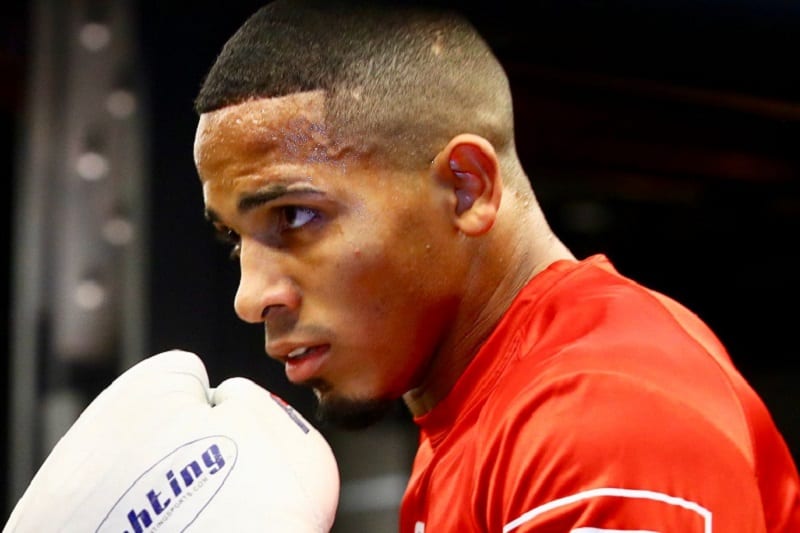 News
Prosecutors Still Deciding On Felix Verdejo Death Penalty
Prosecutors Still Deciding On Felix Verdejo Death Penalty
On Friday in Puerto Rico former top Lightweight Contender Felix Verdejo had his latest court hearing on charges of kidnapping and murdering his mistress in April. And, the prosecutors in his case still haven't decided if they will seek the death penalty against him.
El Vocero Newspaper in San Juan reported Friday mid-day about the Verdejo status hearing held virtually before Judge Pedro Delgado,
Así lo informó el fiscal federal Jonathan Gottfried durante una vista de status del caso https://t.co/nvNuCk9j6z

— El Vocero de Puerto Rico (@VoceroPR) June 25, 2021
U.S. Federal Prosecutor Jonathan Gottfried told the Judge that the process of determining whether to seek the death penalty for Verdejo is in the "initial stages." Saying, further, "it would be premature to set a time (of when there will be a decision) for that,"
For their part, the 27 year old Verdejo's court appointed death penalty lawyers agreed, that they wanted at least 90 days to review evidence and learn about the prosecution's intentions before proceeding towards a trial date.
As we wrote last month, the Grand jury in Puerto Rico had indicted both Verdejo and alleged accomplice Luis Cadiz on the charges.
The U.S. Attorney's office in Puerto Rico laid out the charges that were brought before the grand jury that Verdejo conspired to kidnap 27 year old Keishla Rodriguez Ortiz, horrifically inject her with drugs to try to force her to have an abortion before violently punching and strangling her.
And, then, along with Cadiz disposing of her body off of a bridge near Carolina, Puerto Rico Thursday morning April 29th.
The former lawyer for Cadiz, Edwin Prado, told El Vocero newspaper then, that his client had been cooperating since Friday, April 30th with investigators, including the FBI, to help with testimony and evidence to find Rodriguez Ortiz's body.
"He (Cádiz) asked me a question last Friday and based on the conversation he gave me specific instructions… we talked and decided to take a course. I was the common thread with the federal government. I told the feds that I had a person who was willing to say everything that had happened, "said the lawyer. 
Verdejo had refused to cooperate with investigators on the Thursday or Friday of Rodriguez Ortiz's disappearance, while the frantic search was on for her.
Her body was found Saturday May 1st in a lagoon near Carolina, Puerto Rico.
Cadiz, who is a car washer and detailer by trade, apparently became acquainted with Verdejo through washing his vehicles. And, he has told authorities that he was asked earlier two weeks ago by the fighter to assist him with his situation with Rodriguez Ortiz and her coming to meet Verdejo on Thursday April 29th.
San Juan investigators went to Verdejo's home Saturday night May 1st and impounded his Dodge Durango SUV for further analysis and investigation into Rodriguez Ortiz's death. The bridge above the lagoon video reportedly shows the Durango SUV on the bridge, leave and then, come back twice over a 30 minute period on that Thursday morning. Cadiz alleged to authorities that Verdejo actually shot at Rodriguez Ortiz's body in the lagoon from the bridge.
El Vocero further reported authorities found a shell casing of a bullet on the bridge and allegedly, found blood potentially from the victim on the bridge that was processed, as well.
Cadiz is alleged in the indictment to have driven Rodriguez Ortiz's vehicle and dumped it in a remote area away from Verdejo's home area.
While grand jury proceedings are held in secret, it is believed that Cadiz was testifying about his own involvement, but more importantly, the actions of Verdejo.
That was probably done in exchange for some kind of future plea agreement to lessen his charges, in exchange for him also testifying against Verdejo in the future. Rodriguez Ortiz's father told the media in May that he doesn't want the death penalty for the accused, but rather for them to spend the rest of their lives in prison for what they are alleged to have done.
Verdejo is a former amateur star in Puerto Rico having represented the country in the 2012 Summer Olympics. He had risen to top 10 status, as a Lightweight contender, with a 27-1 record before losing to Masayoshi Nakatani in Las Vegas on the Top Rank/ESPN show last December.
Obviously, his boxing career is irrelevant with the awful charges, now.
Ultimately, Delgado set the next hearing date of September 27th, while still denying bond for Verdejo and his alleged accomplice in the criminal complaint, Caldiz. They remain held at the Guaynabo Metropolitan Detention Center.