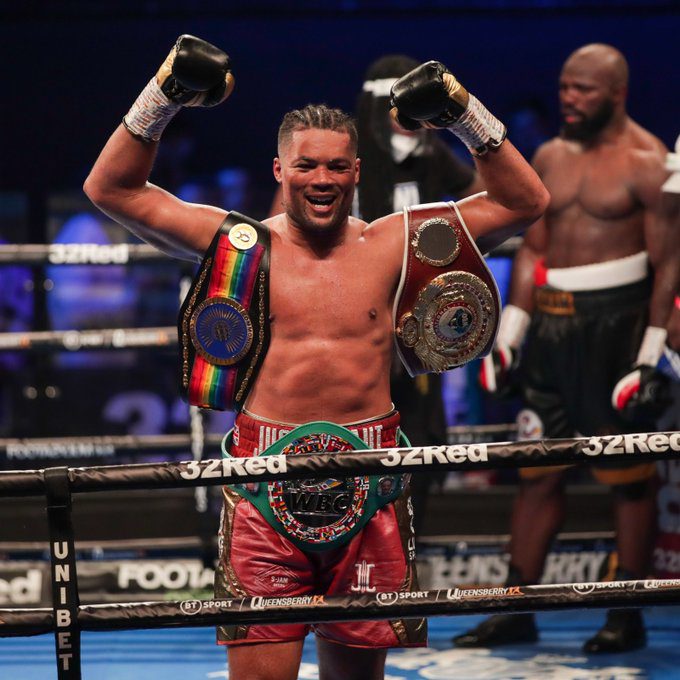 News
Promoter Warren to Joe Joyce- "We'll Get You Out in October"
Promoter Warren to Joe Joyce- "We'll Get You Out in October"
Off his impressive TKO win Saturday night in London over veteran Carlos Takam, unbeaten Heavyweight contender Joe Joyce has certainly picked up momentum towards more important fights and he hopes, an eventual title shot. And his promoter, Frank Warren of Queensberry Promotions wants him back in the ring soon.
Warren spoke to television partner BT Sport immediately after Joyce improved to 13-0 with 12 KOs with his sixth round stoppage of Takam at the Wembley SSE Arena. And, he made clear that Joyce will be back early in the Fall,
"JOYCE IS THE NUMBER ONE GUY. SHEERAZ WAS EXCEPTIONAL. HATS OFF TO ESSUMAN!"

Frank Warren talks through tonight's action and looks ahead to what's in store for @JoeJoyceBoxing, @SunnyEdwards and more.#JoyceTakam pic.twitter.com/xliZRL03zJ

— Frank Warren (@frankwarren_tv) July 25, 2021
"I said to him great, great fight. He said to me, 'When will I get out (fight) again? And I said, We'll get you out in October…. Listen, you heard the fans afterwards. One thing about him, he's not in a boring fight. Ever.
"We've got to just keep building on it," Warren continued. "We've worked very hard on his promotion. Getting his name out there. He went and did the business in the ring and it's paid dividends for him."
As our Marquis Johns wrote in the recap mode Saturday night, Joyce got off to a bit of a slow start against the smaller, 40 year old Takam. However, by the third round he was landing the heavier punches with left jabs and shots to the body. Takam was clearly tiring and Joyce finally caught up to him in a big way in the sixth round.
That's when Joyce put together a flurry of over 25 punches that all almost went unanswered and it eventually led to the TKO.
By following up his win over rising, younger unbeaten Heavyweight Daniel Dubois last November, Joyce certainly belongs in the Heavyweight contender conversation. That night he dominated Dubois in a bit of an upset with the jab, fractured his left eye orbital causing it to swell shut. And, it gave Joyce priority now for Queensberry to look to bigger fights.
Warren went on to concede in that interview that with WBO #1 contender Olexandr Usyk getting the mandatory title shot with Unified Heavyweight champ Anthony Joshua in September, that it will be awhile before Joyce will get a realistic look at a championship bout.
However, you could easily see a Dubois rematch, if not in Joyce's next fight, then in early 2022 that could command much bigger money for him. Then again, the 35 year old Joyce may think that time is of the essence and he has nothing to prove currently by fighting Dubois again.
Another speculative intriguing fight could be against unbeaten French Heavyweight Tony Yoka. Yoka is 10-0, with 8 KOs having last been in the ring in his home country in March. That's when he defeated Joel Tambwe Djeko by TKO to keep his own momentum building.
The bigger angle is that Yoka defeated Joyce by split decision in the Heavyweight Gold Medal Match at the 2016 Rio Summer Olympics. So, those two fighting again would take on great interest and promotional significance for English and French fight fans.
Certainly, Joyce would want that fight, but who knows if Yoka would?
Still, Joyce is in great position to up his bank account and profile over the next fight or two.