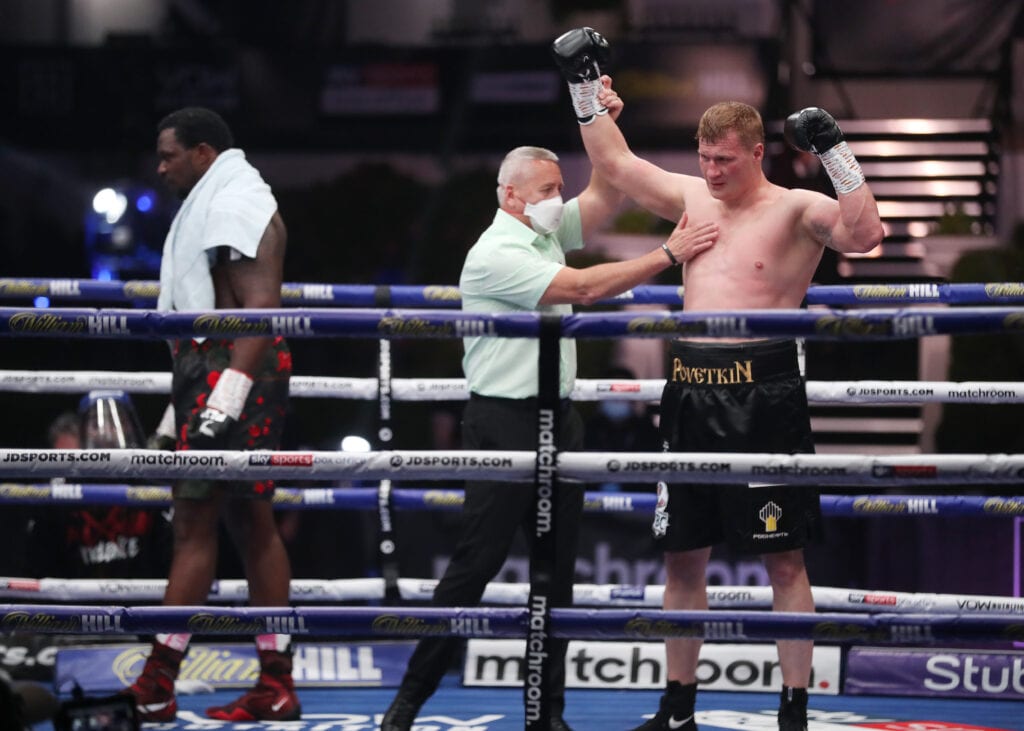 News
Povetkin drops Whyte in five
Povetkin drops Whyte in five
The main event to close out Matchroom Boxing's "Fight Camp" series pitted the heavyweight matchup between Alexander Povetkin and WBC interim champion Dillian Whyte. The bout which put up Whyte's forever  "Number One Contender" status on the line resulted in Povetkin ending that reign with a fifth-round stoppage with one huge left.
The storyline into this contest was what shape Whyte would like and if "Father Time: had finally gotten to Povetkin, who will turn 41 next week. In the opening round with not much going on, the answers were timid and yes.  Povetkin, with his hand speed, looked a little slower than the last go-round, which saw him in a competitive draw against Michael Hunter last December.
Despite that, Whyte seemed just as timid but handing shots on occasion but not often enough to sway him a clear cut winner of the opening rounds.
Pure drama…

Povetkin goes down twice in fourth… Then gets up and cleans Whyte out in the fifth ?

Big win for Sasha ??? #FightCamp #WhytePovetkin pic.twitter.com/LZoB1wHMlm

— Matchroom: Fight Camp Tonight! (@MatchroomBoxing) August 22, 2020
That all changed n the third round when Whyte started to force the action a lot more. This lead to a knockdown sending Povetkin to the canvas from a left in the fourth round. Povetkin beat the count, but he was sent down again from a beautiful uppercut to close out the round. When Povetkin went back into the corner, he looked like a man who was on the way out.
That was until the start of the fifth round, when the former IBF World Champ, Povetkin , saw an opening and landed a hard left uppercut that caught Whyte straight up the middle.  Whyte was out on his feet as he fell hard to the canvas on his back/back of his head. Referee Mark Lyons didn't even bother to count, and this contest was over at 30 seconds of the fifth.
HOLY SHIT POVETKIN JUST DID THAT pic.twitter.com/cauFrB0nbL

— DAZN USA (@DAZN_USA) August 22, 2020
"I go down twice, but it was okay. It wasn't too much damage," Povetkin said, speaking after the fight on how he hung in there after the two knockdowns.
"I was watching his fight, and I was taking account that he was taking uppercuts from the left and the right," Povetkin stated about the shot that sealed the contest.
This win for Povetkin makes him the new WBC mandatory, but it's going to be a ling, long time before those talks of him facing current champion Tyson Fury get off the ground. But for Povetkin, this win was a resilient one with a shot that closed out a fun series of Fight Camp.