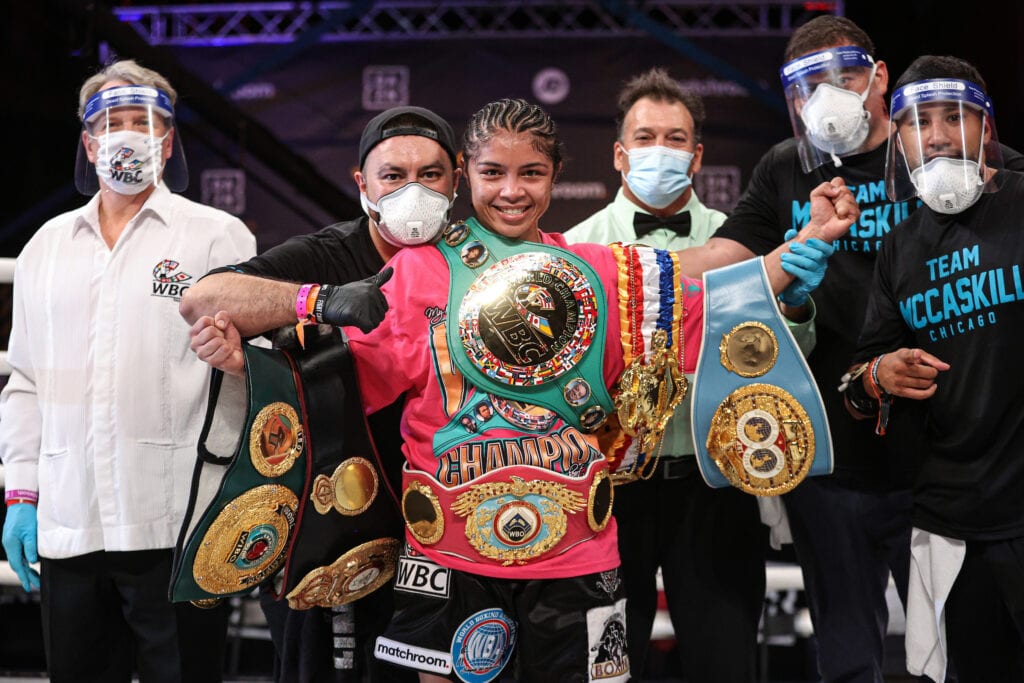 News
Post-fight new champ McCaskill paid respect to Cecilia Braekhus
Post-fight new champ McCaskill paid respect to Cecilia Braekhus
The buzz continues a day later after Jessica McCaskill shocked 11 year Undisputed World Welterweight Champ, Cecilia Braekus in the streets of downtown Tulsa, OK. And the new champ, showed the ultimate respect to the former champ, not longer after her dramatic 10 round decision win.
Matchroom Boxing showed behind the scenes access of McCaskill visiting the locker room and bringing Braekhus' belts back to her in a neat moment of sportsmanship:
"I'm so excited to see what you will do. Make me proud."

??????? ? #BraekhusMcCaskill pic.twitter.com/XMZ0Zn8cz4

— Matchroom Boxing (@MatchroomBoxing) August 16, 2020
"You left big shoes to fill," McCaskill is heard on the video telling the legend Braekhus. "Take good care of these," Braekhus said light-heartedly in response.
McCaskill, who was a 6-1 underdog at most online sports books, was the quicker puncher landing straight rights and combinations, as Braekhus seemed a step slow in the early rounds. Gradually, the fighter known as the "First Lady," started to land some. However, McCaskill, now 9-2, was never in trouble, much less down.  And McCaskill, won the seventh and the ninth rounds, as well.
In the end, the St. Louis native who now fights out of Chicago, pulled off one of the biggest shockers the sport of boxing has seen in recent memory. No, it does not quite rise to the level of Andy Ruiz's June 2019, 7th round TKO upset at the Unified Heavyweight champion, Anthony Joshua.
But, it still is a victory that will resonate throughout women's boxing and for fans and observers in the U.S. and Europe.
That's, because the Dutch born-and-bred Champion, Braekhus, now 36-1, was seemingly unbeatable during her record roll of the last decade of her reign.
However on this night, it seemed that the champ was outgunned at 38 years of age by a fighter that was younger, and at times, simply too fast for her.
Legendary ring announcer Michael Buffer made it official that McCaskill had won by majority decision and was "the New" Undisputed champ. Words, McCcaskill maybe didn't really believe that she would hear.
A short time later, she was handed the WBA, WBC, IBF and WBO women's 140 lb. belts to carry and wear. And, McCaskill was thrilled, as you could imagine, with having pulled the upset that will be talked about for months and maybe even, years to come.
She told DAZN's Todd Grisham post fight,
"I knew it takes a lot to take the title from the champion. I just kept saying in my head, 'and new', 'and new'…. for me now, to sacrifice everything to put this sport first to make a difference? That's what that fight was about."