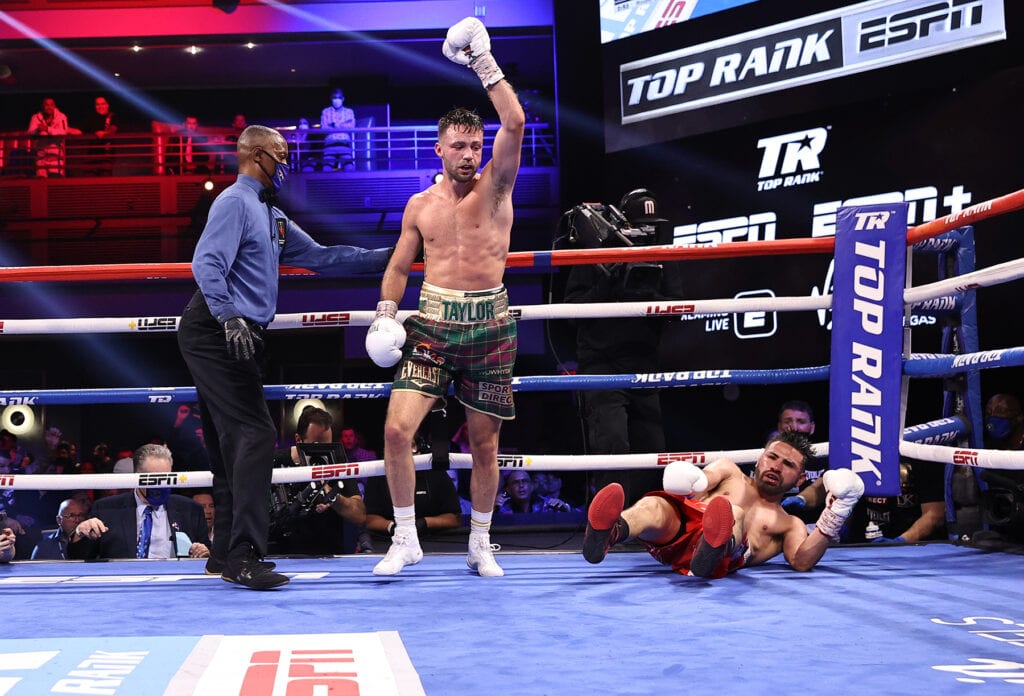 News
No Promotion Needed For Taylor-Ramirez
No Promotion Needed For Taylor-Ramirez
I was looking for an ad leading up to the undisputed bout between Jose Ramirez and Josh Taylor on ESPN this week and there wasn't much mentioned mainly cause of ESPN's commitment to NBA coverage.
For once, that played a part in the rating books.
Kevin Iole of Yahoo Sports tweeted that the contest on Saturday averaged 995,000 viewers and peaked during the end at 1.673 million viewers which saw Taylor knockdown Ramirez twice on his way to capture all the titles at Super Lightweight by unanimous decision.
For a fight that "Top Rank & ESPN didn't promote," well over 2 million people watched the main event through legal means. So…. about that narrative. https://t.co/3GKw7Qo2XG

— Evan Korn (@KornerMan44) May 25, 2021
The two easy reasons for the increase in viewership is because the main event was easily one of the most anticipated undisputed fights of 2021. The REAL REASON is that a rare programming move by ESPN sandwiched the fight before Game 1 of an NBA first-round playoff game between the Portland Trail Blazers and Denver Nuggets.
That may have helped both shows as boxing for once is the overrun program like it was this Saturday as opposed to the well-known another end. If any indication, that number will be good as well as the Trail Blazers are known for attracting basketball viewers and are taking on more than likely the Most Valuable Player (Nikola Jokić) of the Denver Nuggets. This isn't an NBA page and while I know the Blazers won, I was here for the boxing and bounced to ESPN+ where the post-fight was switched there.
The second easy reason was the main fight card started at 8 p.m. ET in primetime where more eyes can keep an eye on the fight.
Caught up on the fight. Caught up on Boxing Twitter. And not a single one of you people noted the irony of ESPN bumping playoff basketball to ESPN2 because boxing was running over. Delete your accounts, all of you.

— Eric Raskin + (@EricRaskin) May 23, 2021
But the number is a good one for Ramirez-Taylor in viewership as the last Top Rank/ESPN card in April, which had Emanuel Navarette's 12th round stoppage win over Christopher Diaz had an average of 715,000 viewers and a peak audience of 797,000 watching that man event. Less than those who saw the opener which featured Edgar Berlanga (viewership peaked at 829,000). Both viewership numbers are from Nielsen Media Research.
We'll see if the boxing rating trend continues upward for boxing and at the very least the next Top Rank card which will be headlined by Shakur Stevenson facing Jeremiah Nakathila which will have an upcoming title shot on the line. ESPN, as it's the lead-in, has UFC on the 12th and will also have the fightback at the usual time of 10 p.m. ET.