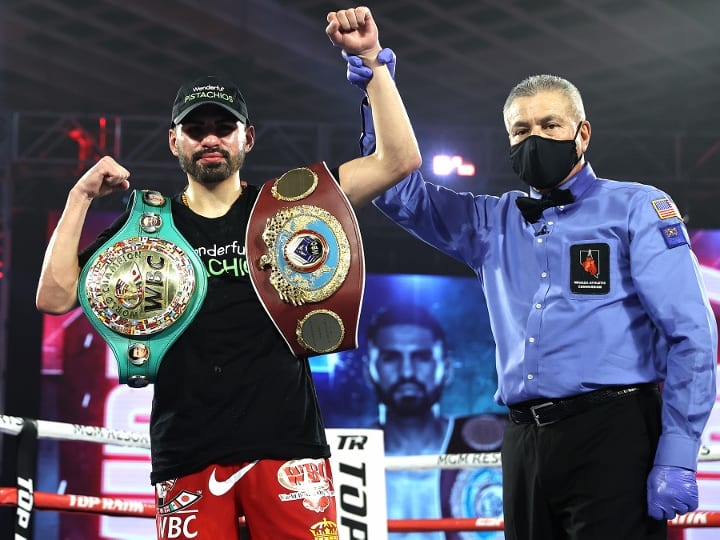 News
Next up for Ramirez- Jack Catterall?
Next up for Ramirez- Jack Catterall?
Jose Ramirez's quest to become undisputed at super-lightweight is going to have an additional fight on the way.
The Unified champion Ramirez is coming fresh off a close mandatory defense against Viktor Postol, getting by him in a close unanimous decision win Saturday night to close out the Vegas "Bubble." That much-delayed defense was one ordered by the World Boxing Council (WBC).
Now, it's the World Boxing Organization's (WBO) turn.
Jake Donovan of Boxingscene.com laid out Monday that the sanctioning body is looking forward to his next defense of the WBO strap he has against mandatory challenger, Jack Catterall.
"It was a closer fight than I thought, but Ramirez retains his WBO title," Francisco 'Paco' Valcárcel, president of the WBO, tweeted after Saturday's bout. "Congratulations. WBO mandatory next."
It was a closer fight than I thought, but Ramirez retains his @WorldBoxingOrg Championship. Congratulations. WBO Mandatory next. #WBO #RamirezPostol

— Paco Valcárcel, Esq. (@PacoValcarcel) August 30, 2020
Catterall, from Lancashire, England, is 25-0, 13 KOs and wants a shot at the title. And, he understands already that he is due and already knows that he is the roadblock between the potential Undisputed contest between Ramirez and Josh Taylor.
"I am Ramirez's mandatory and he is going to have to fulfill that at some point," Catterall mentioned this past June to Boxingscene. "Of course, he does not want to fight me – it is not going to be as big of reward as opposed to fighting Josh Taylor for a unification involving all four world title belts.
"He is a good solid come forward fighter, and world titles are not just handed out, but I believe in myself. I see a few things when studying him that I will be able to capitalize on when we fight. I feel I am getting fitter, smarter, and stronger each day that passes. When it is my time, I will not be denied."
The pandemic is the reason we have the being bought up as Ramirez, 26-0, 17 KOs, would've had this mandatory by now as the contest with Postol was slated back in February and was the 1st fight of note that got wiped out due to it. Additionally, the July reschedule didn't happen and pushed this defense back to finally taking place this past weekend.
It's a classic, "one down, one to go," as the mandatories were laid out even back in February to the media leading up to the initial matchup of Ramirez-Postol.
Taylor, on his end, has an IBF mandatory title defense taking on Thailand's Apinun Khongsong. That mandatory was reshuffled from a May 2nd date in Glasgow to September 26 in a closed-doors lot at BT Sport Studio in East London.
So,  for all of those looking forward to an all-out battle for all the belts at 140, mark your calender's for 2021 as Ramirez-Catterall looks to be next up for the 2012 undefeated Olympian.