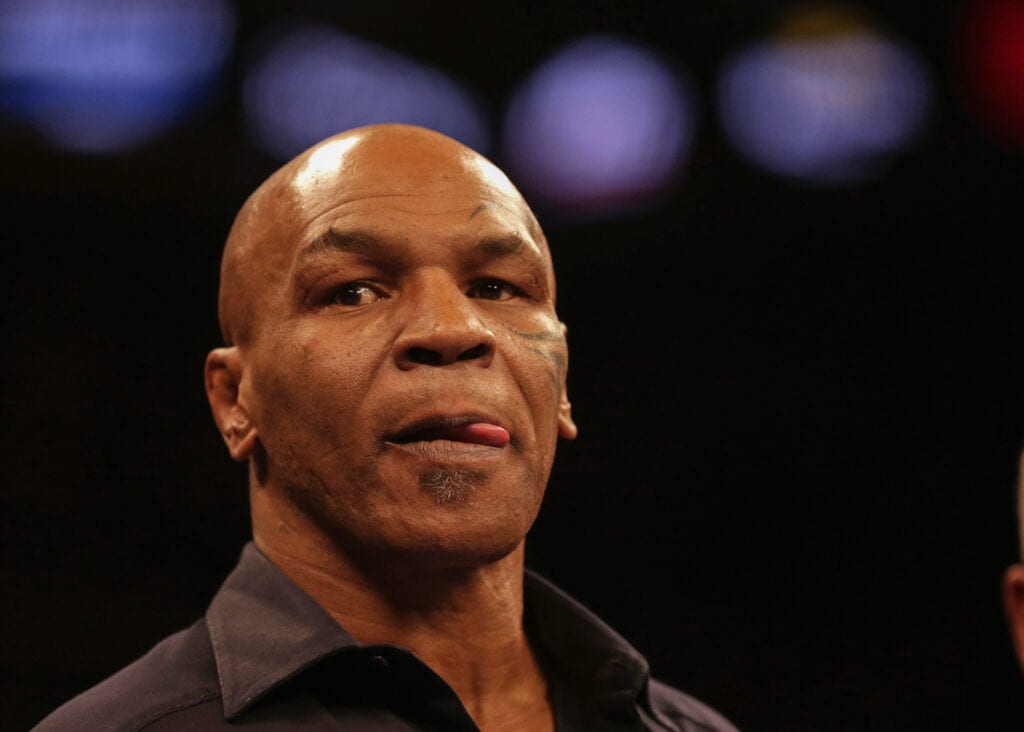 News
Mike Tyson Turned 55 On Wednesday
Mike Tyson Turned 55 On Wednesday
He was one of the most menacing fighters in Heavyweight history and was the youngest World Heavyweight title holder ever but "Father Time" waits for no one. So, on Wednesday, "Iron Mike" Tyson turned 55 years old.
Tyson, who ascended to the title with a defeat of WBC champ Trevor Berbick in November of 1986, became the Undisputed Champ the following year and then, ruled with fear and menacing, fast punches for the next three years. In fact, Tyson defended part of or the Undisputed title for nine consecutive fights, including his demolitions of Michael Spinks and fellow legend Larry Holmes.
But, then, everything changed on a Sunday afternoon in Tokyo, Japan in February of 1990. That's when 42-1 lightly regarded Underdog, James "Buster" Douglas, stood up to and stunned Tyson with a 10th round KO,
Feb. 11/1990 – Buster Douglas defeats then undisputed heavyweight champion Mike Tyson via knockout. Mike Tyson's first professional loss. pic.twitter.com/P8PYHhuMyB

— Today In History (@TodayThatWas) February 11, 2020
That night took the "invincible" luster off Tyson, as it was every bit as impressive as it was shocking, Douglas dominated Tyson from the beginning of their scheduled 12-round Undisputed Heavyweight title fight. Never before had anyone in Tyson's professional career stood up to and hurt Tyson the way that Douglas did.
Eventually, Douglas landed a massive right uppercut early in the 10th round. That staggered Tyson and eventually, another left hook landed right on Tyson's jaw and put him down for the first time in his professional career.
Tyson wobbled to his feet putting his mouth guard in backwards at the count of 9 and when referee Octavio Meyran  looked into his eyes, he amazingly waved the fight off, as a technical knockout.
Famed boxing play-by-play man Jim Lampley called the fight for HBO and his quote in the aftermath of Douglas's remarkable upset knockout still resonates three decades later.
While talking to stunned colleagues Larry Merchant and Hall of Fame fighter Sugar Ray Leonard, Lampley uttered:
"Let's go ahead and call it the biggest upset in the history of the sport…. Say it now gentlemen, James "Buster" Douglas, Undisputed Heavyweight Champion of the world."
That sent Tyson to a downward spiral that concluded with a rape conviction in 1992, where he would spend three years in an Indiana prison.
Once out, Tyson recaptured the Undisputed crown against suspect competition in 1995-96. And, that put him in front of former Undisputed champ, Evander Holyfield, in November of 1996. Again, like Douglas, Holyfield stood up to Tyson, took his best punches and wore down Tyson. He eventually, handed him his second defeat with an 11th round TKO and Tyson would never hold the title again.
Tyson's final time on the big stage was another KO loss to Undisputed Champ Lennox Lewis in 2002.
Tyson has made recent news by returning to the ring at age 54 last November fighting an exhibition with Roy Jones, Jr. And, that led to speculation that he would meet Holyfield, again, in a similar setting. However, that has not happened and the outlet that televised it, Triller, is now suing Tyson to keep him from doing a future exhibition without them.
So, Mike may, or may not, be back in the ring again down the road.
However, there's no disputing his place in Heavyweight and boxing history for what he was, especially in the late 1980s.