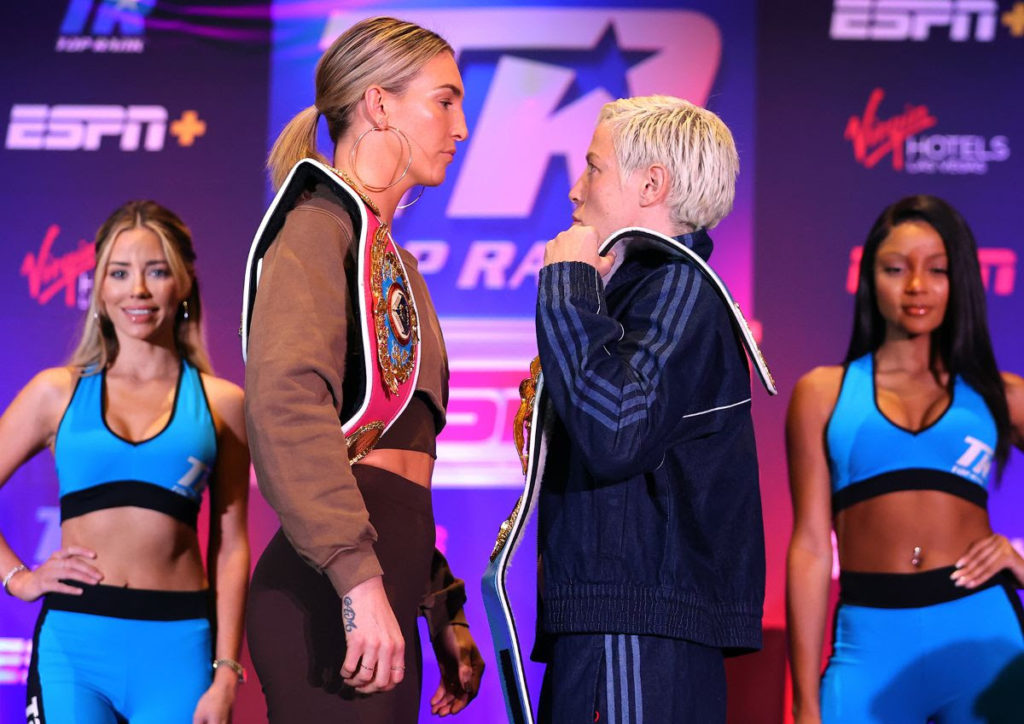 News
Mikaela Mayer-Maiva Hamadouche Unify In Vegas
Mikaela Mayer-Maiva Hamadouche Unify In Vegas
There is a unification bout tonight in Las Vegas as WBO Jr. Lightweight champion Mikaela Mayer will face off against IBF champion Mavia Hamadouche in what kicks offs the weekend of national fights in the United States. The fight card will air starting at 8 pm ET from The Theater at Virgin Hotels Las Vegas and will air on the streaming service, ESPN+.
Check out our latest episode of The Big Fight Weekend Podcast where we preview this fight as well as the undisputed super-middleweight contest between Canelo Alvarez and Caleb Plant with Showtime analyst Al Bernstein and TC Martin of "The TC Martin Show"!
One thing spoke about was the prospects of three-minute rounds. Normally, these are set at 2 minutes such as tonight's bout..
"If we want to bring women's boxing to the forefront of the sport, we all should advocate for three-minute rounds," Top Rank CEO Bob Arum stated at the final press conference Wednesday."If women's boxing wants to get into a prominent position that it hasn't, but it should, in my opinion, it should be changed to three-minute rounds. Why is there a difference in rounds between women's and men's boxing?
Mayer (15-0, 5 KOs) comes into this contest the favorite and noted heading into the contest that her goal was to become undisputed women's champion and knows that Hamadouche will try to muscle her way inside.
"We know her style. She is right. She is aggressive, and I haven't faced someone as aggressive in my professional career, but I have faced plenty of styles as an amateur," Mayer stated. "We are prepared for it. If she thinks she is going to bully me, that will not be the case." 
 
"Talking from experience, that extra minute could change a fight. You could have more knockouts and more finishes." 
Hamadouche (22-1, 18 KOs) has been the reigning IBF titleholder since 2016 but will only be making her 2nd professional fight outside of her native Italy. The last time she ventured out she lost to Delfine Persoon in Germany back in 2015. She hasn't lost since then rattling off 12 straight wins.
"I believe my experience will be the difference. I'm very aggressive and very physical. I will come at her like no other fighter has come at her before," Hamadouche noted. "I think that fighting at three-minute rounds will be very good for me. That's exactly what I want."
It's a style matchup and well see if Hamadouche can pull off the upset giving up 5 inches in height as both look to win and possibly challenge WBC champion Terri Herper at some point in 2022.