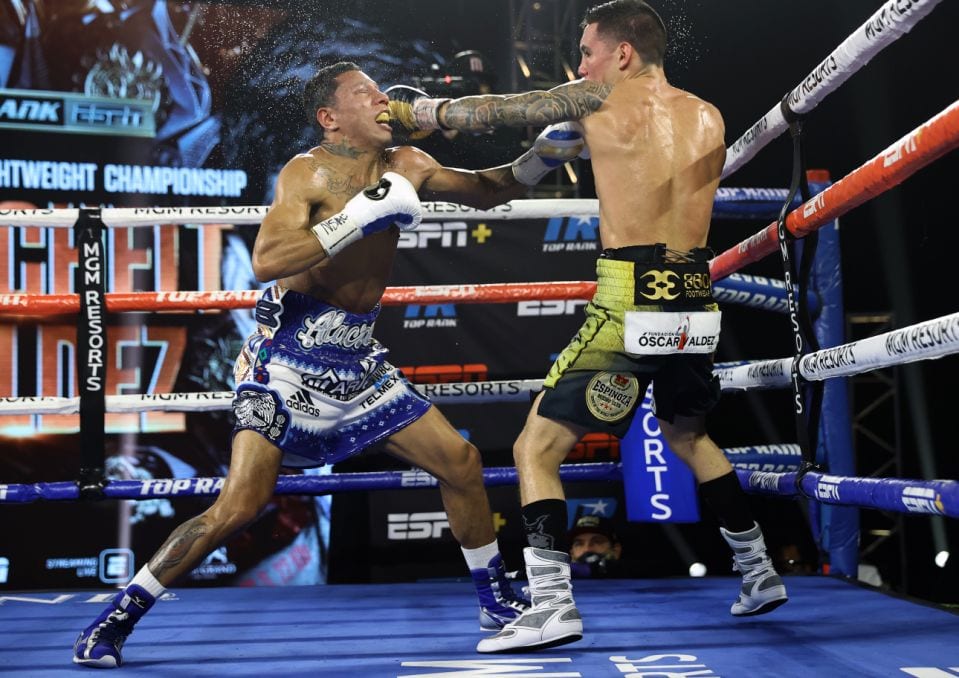 News
Miguel Berchelt Transported To Vegas Hospital After KO Defeat
Miguel Berchelt Transported To Vegas Hospital After KO Defeat
After a grueling Saturday night battle in Las Vegas with Oscar Valdez that saw him eventually knocked out in the 10th round, real concern arose for former WBC Super Featherweight champ, Miguel Berchelt.
After being battered for much of the fight, Berchelt was dropped face first for the final time by a wicked straight left from the unbeaten challenger Valdez with just seconds remaining in the 10th round. And, referee Russell Mora partially caught Berchelt, while simultaneously stopping the bout.
? That ringside view …

Take it all in. Just wow, @oscarvaldez56. ??#BercheltValdez | #AndTheNew | ESPN pic.twitter.com/KBXolCcG41

— Top Rank Boxing (@trboxing) February 21, 2021
Berchelt, now 37-2, laid motionless for over a minute face down and then was rolled on his back. Scarily, the ring side doctors and paramedics standing by did not seem to treat him with much urgency. Rather, the doctors continued to look at and talk to the former champ, eventually sitting him up.
Valdez, now 29-0, also came over to check on the 29 year old Berchelt, who was making the seventh defense of his world title on Saturday night.
Eventually, Berchelt, who had regained consciousness enough to stand, was placed on a stretcher and into an ambulance to be further evaluated at a nearby Las Vegas hospital.
The two Mexican born fighters both laid it on the line, including Berchelt valiantly scoring some punches on the challenger.
Still, the ending was almost inevitable, as Valdez scored a fourth round knockdown after landing a left hook to the right temple area of the champion's head. That wobbled Berchelt and eventually, he was knocked into the ropes, where Mora ruled a technical knockdown for only ropes holding him off the canvas.
Valdez hammered Berchelt throughout the middle rounds to the point that his eyes were swelling considerably and eventually, floored Berchelt again with a left hook in the 9th. Berchelt survived that round, but the 10th was more domination by the challenger before he got the KO late in the frame.
A scary KO.
The kind that left you more concerned with Berchelt's immediate health needs than being able to enjoy/assess Valdez's win.