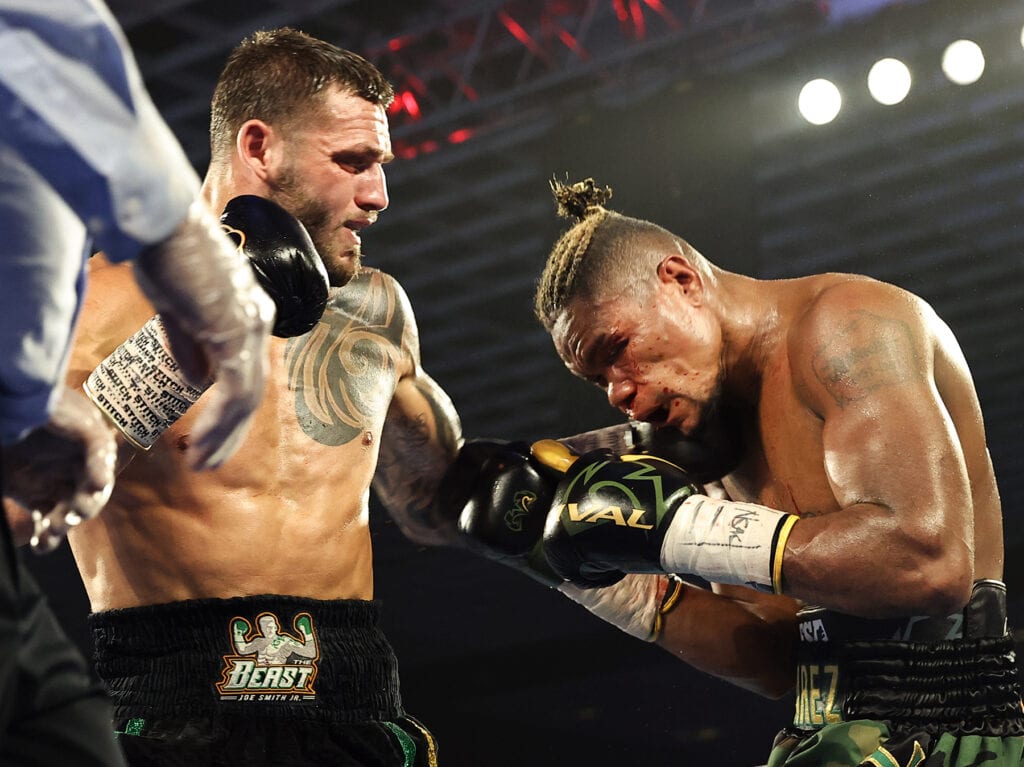 News
Make Way For Joe Smith Jr
Make Way For Joe Smith Jr
When you mention fighters that have had a solid year in the ring for 202, a name that legitimately gets overlooked is light heavyweight contender Joe Smith Jr.
Smith Jr. (26-3, 21 KOs) spent his 2020 rebounding from a loss to Dimtri Bivol by getting back into the title picture at 175 pounds with back to back wins of Jesse Hart and Eleider Alvarez. In an interview with Boxing, Social Smith reflected on that loss and why he was on the wrong end of that title shot.
"I'm more busy and sharper in there [the ring]. When I was fighting Bivol, I was not busy enough, Smith said to Boxing Social. "I needed to work on my footwork and let everything flow better. I've been working on it, and I feel like I've improved a lot. I think I'd be a different fighter again if I fought him again."
Since then, he has been a different Smith in the ring and definitely a more active one in the ring. This was clearly on display against Alvarez as he battered him around for nine rounds before referee Tony Weeks had seen enough. Looking back on Alvarez's matchup last August, for Smith, it was a crossroads fight for him.
"It was definitely make or break," Smith said of his stoppage win of Alvarez. "I knew going into that fight I needed to win to get a title shot and to really move forward with my career. It was a huge win for me.
Welcome to your second Light Heavyweight world title shot, Joe Smith Jr. ?

9 rounds of pure, thorough work, then a lead right + power jab to close the show to start the 10th. Oh my. #AlvarezSmith pic.twitter.com/HGuu4fh1Jt

— Top Rank Boxing (@trboxing) August 23, 2020
"I'm very glad I was able to get in the ring two times last year," Smith noted, knowing not many fighters had once the pandemic hit. "It was great. Kept me on track. I'm grateful for that, and I'm looking forward to getting back out there to start this year off with a win."
That start begins on February 13 for the vacant WBO light heavyweight title against Maxim Vlasov. Leading into this fight, Vlasov (45-3, 26 KOs) has been waiting for this title opportunity as well since signing a promotional pact with Top Rank Boxing last March. His thoughts echo those of Smith as a "make or break" chance when they fight in a few weeks.
"This is a great chance, and perhaps my last opportunity, to finally become a world champion," Vlasov said in a press release of the fight announcement back in December. "Smith is a strong and relentless fighter, so I expect a very serious challenge."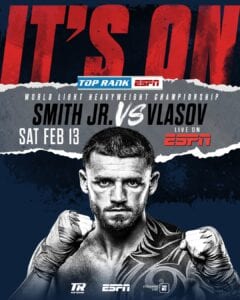 Fight Poster for Smith-Vlasov/ Top RankSmith had a few thoughts on Vlasov before their title fight but mentioned that it would eventually pay off if you keep pushing.
"I know he [Vlasov] has a lot of experience," Smith mentioned about his thoughts of Vlasov. "[He is a] very busy fighter who throws a lot of punches. I just gotta be ready to go 12 hard rounds. I got to be in great shape."
"It just shows you can accomplish anything if you work hard for it. Becoming a champion of the world is a tough thing to do. I made it this far, and I'm going to accomplish it. It's a big accomplishment for me. I can't wait," Smith said.
If this happens on February 13, we all will witness live on ESPN from "The Bubble" in Las Vegas Smith capture the title he has been working up for.