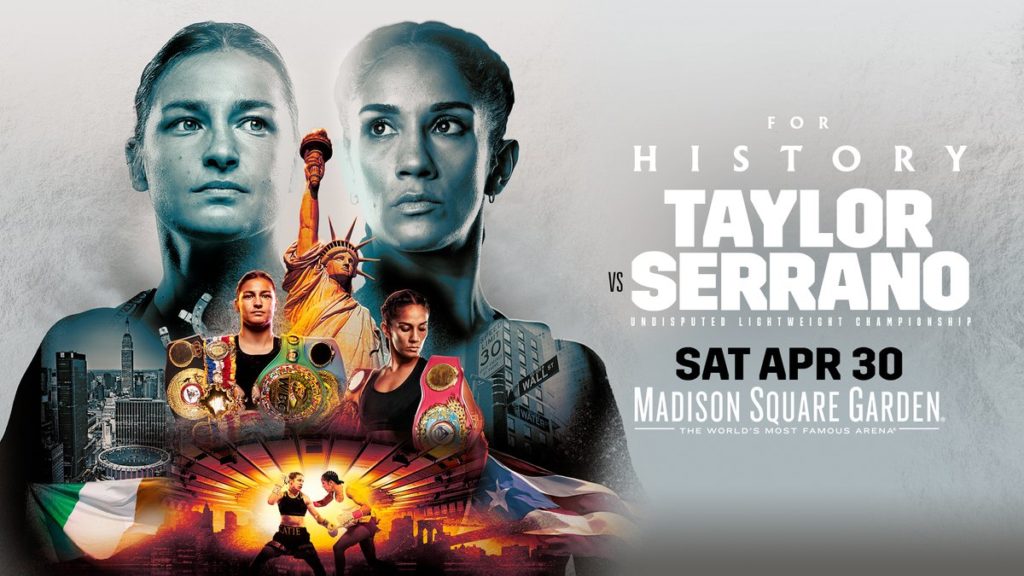 News
Katie Taylor-Amanda Serrano Fight Week Kicks Off
Katie Taylor-Amanda Serrano Fight Week Kicks Off
It's arguably the most prominent and lucrative ladies world title fight in boxing history coming Saturday night at famed Madison Square Garden. And, for Ireland's Katie Taylor and New York's Amanda Serrano, the accolades, money and attention are both well deserved and now, well underway.
DAZN, who will stream the undisputed ladies lightweight battle Saturday, put out this hype/promo video on Monday morning,
For one of the biggest fights ever. For the first women to headline @TheGarden. For two icons changing the sport of boxing. @KatieTaylor vs. @Serranosisters – it's for HISTORY 🥊

RETWEET if you'll be watching women's history go down on April 30.#TaylorSerrano pic.twitter.com/34mMqQydzN

— DAZN Boxing (@DAZNBoxing) April 25, 2022
Taylor-Serrano has been over two years in the making, and now, they're about to meet in a massive fight for ladies boxing credibility.
The bout was scuttled originally during the early part of the Covid 19 pandemic in the Summer of 2020. Now, the 42-1-1 (30 KOs) ladies title-holding icon Serrano finally gets her shot at the 20-0 (6 KOs) Lightweight queen in Taylor, who's making her sixth defense.
Being bolstered by the promotion of Jake Paul, Serrano has a deal with the internet star's Most Valuable Promotions. And, she just fought for the second time on Paul's main event PPV card last December in Tampa, FL, winning the co-feature bout in a decision over veteran Miriam Gutierrez. Serrano has held seven different world titles in the four weight classes that she has won championships in. She is widely regarded as the most accomplished female championship boxer ever.
Taylor, the former Olympic Gold medalist, is unbeaten at 20-0, 6 KOs, and just recently headlined on December 11th for Hearn at the Matchroom show in Manchester, England. She scored a 10 round decision over Firuza Sharipova to successfully defend her titles for fifth time since winning them all in a decision victory over Delphine Persoon. That bout against Persoon at Madison Square Garden's main arena on the undercard of Andy Ruiz's TKO upset of Anthony Joshua in June of 2019.
At the February kickoff press conference for Taylor-Serrano, the challenger made clear she knows the significance of what's now here on Saturday night,
"Yeah. Women? We're changing the sport. I'm super happy. I'm super glad. I'm honored to share the ring with Katie Taylor. She's a great champion and we're gonna prove who's the pound for pound best, because everyone's been asking for her (to fight)," Serrano said then.
Certainly, they both have a humongous stage now set for later this weekend.