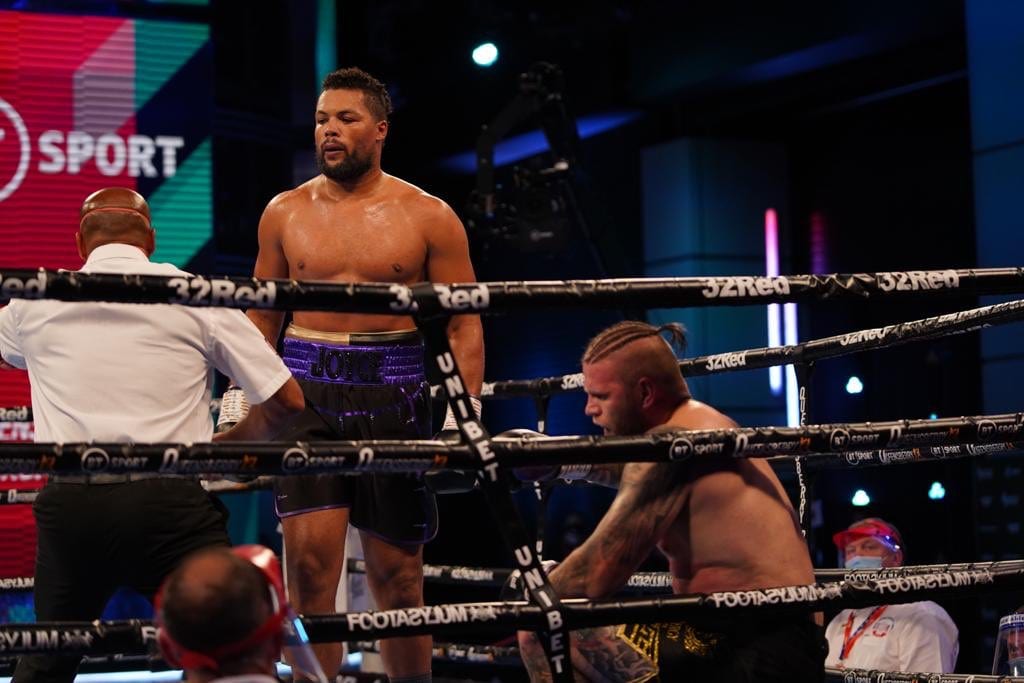 News
Joe Joyce destroyed Wallisch in Queensberry main event Saturday
Joe Joyce destroyed Wallisch in Queensberry main event Saturday
As expected, unbeaten English heavyweight contender. Joe Joyce, delivered an early knockout to hold up his end of the bargain for a proposed upcoming showdown with fellow unbeaten Brit, Daniel Dubois later this Fall.
The main event of Frank Warren's Queensberry Promotions Saturday night show from the BT Sport Television Studios was over quickly as the 34 year-old Joyce overwhelmed his German opponent, Michael Wallisch, with a third-round TKO.
Joe Joyce just does not stop coming ?

The Juggernaut lands a huge blow to end the fight ? pic.twitter.com/VLyhUcqc5o

— Boxing on BT Sport ? (@BTSportBoxing) July 25, 2020
Joyce was heavily favored to win his 11th straight fight, since turning pro after winning the Silver Medal at the 2016 Rio Summer Olympics in the Super Heavyweight division.
Having not fought this year largely due to the Coronavirus pandemic shutting the sport down in March, Joyce looked a bit rusty in the opening minute or so of the first round. And, the German Wallisch, who came in having lost three of his last four fights, actually caught Joyce on a couple of occasions with big right hands.
However, Joyce was clearly the more skilled fighter and bigger puncher. And, he stayed poised with his game plan of using hard straight right hands and more importantly, lefts and rights to the body.
By the end of the first round, he had already wobbled Wallisch with a couple of solid combinations that included body punches. Wallisch's midsection was already turning red from the impact of the punches from Joyce after just one round.
The second round saw the former MMA fighter turned boxer turn up the heat and land several big straight right hands with left hooks. Joyce also had success by firing first to the body with either a right or a left and then coming up with a 1-2 to the head.
Wallisch had no answers in the second round. Joyce eventually floored him late in round two with a multi punch combination that ended a left to the top of the head and a hard right to the ribs.
Wallisch sat down from that, along the ropes and took the eight count. But, he was clearly wobbly at the end of round two going with his right eye also swollen and puffy
The end came quickly in the third stanza as Joyce again had landed a couple of significant body punches and Wallisch appear to be struggling for air and not offering much offense in return. Joyce landed a solid combination and Wallisch was down on a knee for a second time.
He rose valiantly, but almost immediately a heavy straight right hand wobbled Wallisch and a hard left hook to the body sent him down on both knees for the third time.
And, referee John Lewis had seen enough, halting things that just 57 seconds of the third.
The victory sets into motion that Joyce will now headline at London's O2 Arena, potentially against the younger and also unbeaten (14-0) Dubois. He is scheduled to fight a similar 10-round tune-up battle on the Queensberry  BT Sports studio show August 29th against another German named, Eric Pfeiffer.
The Joyce – Dubois fight has been postponed twice due to Covid-19 and there is anticipation with the pandemic lessening in the U.K. that the fight in October can have at least some fans at it for the battle of the potential two Unbeatens.
Ultimately, Warren and the winner of that fight would hope to have a potential title shot in 2021. However, both Unified Heavyweight champion, Anthony Joshua and WBC belt holder, Tyson Fury both have obligations with other fights upcoming late this year.
And, both are also intending to fight each other in 2021 should they each be victorious.
Still, Saturday night was Joyce's opportunity to get back in the ring and help his chances at bigger fights and dollars and he delivered what was needed.