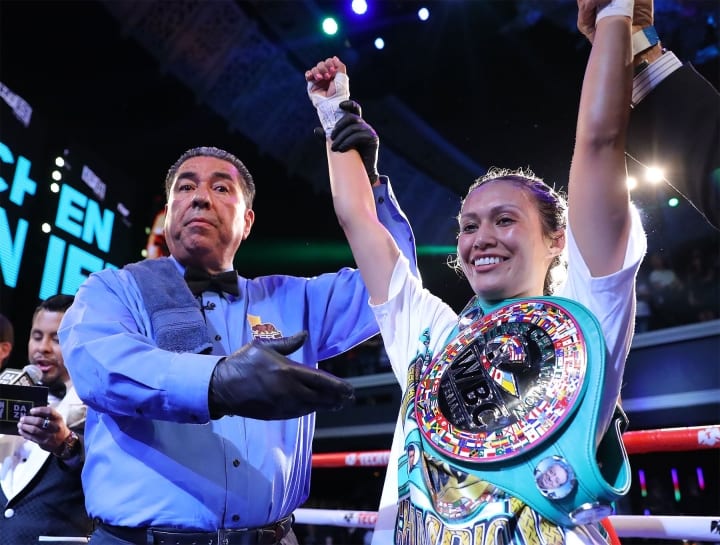 News
Estrada dismantles Adkins in seven seconds
Estrada dismantles Adkins in seven seconds
Seniesa Estrada on Friday night went viral as she dismantled Miranda Adkins in seven seconds in front of a fan less crowd at Fantasy Springs Resort Casino in Indio, California on DAZN.
Estrada's quick action was on the same card that saw Vergil Ortiz shine against Samuel Vargas, stopping him in seven rounds to remain undefeated.
To recap the fight, Estrada came out swinging and Adkins caught ALL of it causing her to land on her back signaling the end of the contest and the bum rush for medical assistance.
The DAZN clip below will show that that they zoomed in on the action and then it was over. Originally at the time of the video, they showed that Compubox had credited Adkins with a punch thrown, which may have been an clear counting error.
A seven-second KO for Seniesa Estrada. pic.twitter.com/hD0DqHVedo

— DAZN USA (@DAZN_USA) July 25, 2020
As someone online described the video clip, "Did she plug her controller in to play?"
No. Not at all.
"I give her so much respect. She's the one who stepped up and took the fight," Estrada (19-0, 8KOs) told DAZN's Beto Duran after the quick work. "I knew I had more experience than her."
So how did we get this for Estrada to move to 19-0?
Estrada was supposed to take on Jacky Calvo but instead had to take on Adkins on short notice due to a knee injury. The 42-year-old Adkins from Kansas (5-1, 5 KOs) had faced leading up to this contest very favorable opposition (She was facing and stopping opponents in their debuts) and by all accounts, it showed.
"Once I went in there, I let my punches go and couldn't stop," stated Estrada. "She's in there to hurt me as well so I went for the knockout."
Mission accomplished for "Super Bad" on that. Let's hope her next contest in the ring last longer than the walk down into it.