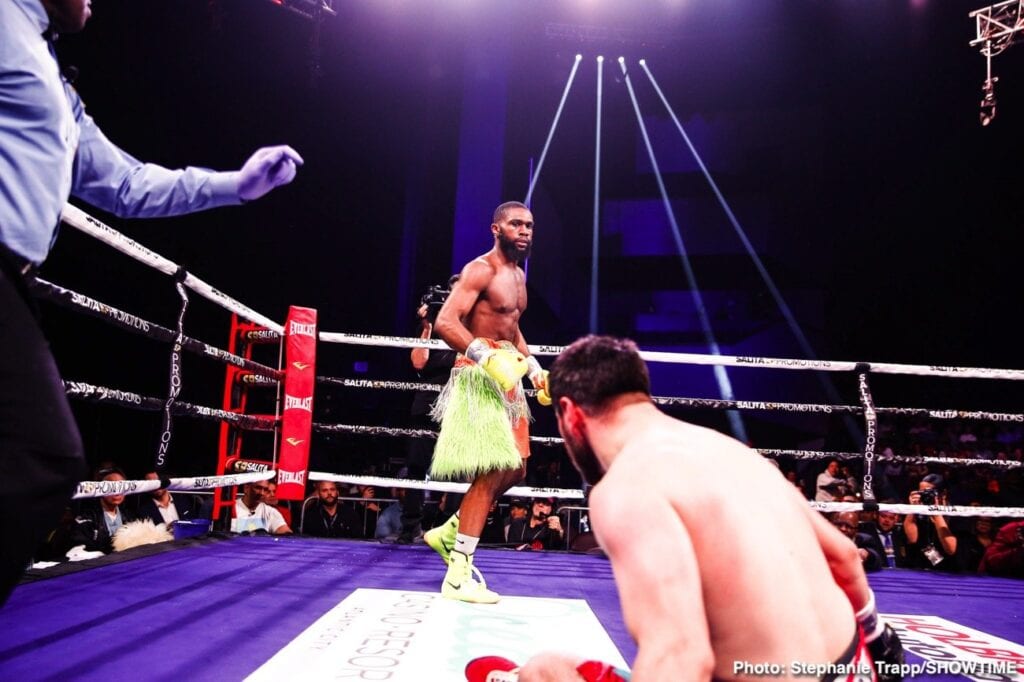 News
Jaron Ennis – 'This Fight Will Open Up Big Opportunities'
Jaron Ennis – 'This Fight Will Open Up Big Opportunities'
Jaron "Boots" Ennis has been on a tear and is in action this Saturday against Chris van Heerden in the co-main event on Showtime which if he wins Saturday night will put him in position to take on the top at welterweight.
Ennis (26-0, 24 KOs) spoke with me for a few moments on a media call and I got to shake down Boots on a few things leading into the fight.
Ennis for those who are unaware is ranked WBO No. 7, IBF No. 10, and WBC No. 11 at 147 pounds. The first thing I wanted to ask him was this being the last of these fights before the top challengers have to face him.
"This fight will open up big opportunities," Ennis said to Big Fight Weekend. "Once I win, Saturday this will put me in the position to take on the top guys."
Training camp officially over now almost time to shine ? and have some fun ? I can't wait ?.
S/O to @totalcryo ? I feel amazing, like money ? they are the best❗️ pic.twitter.com/YExc5njnKB

— Boots (@JaronEnnis) December 15, 2020
One of the biggest challenges that were made apparent from fighters is the lack of sparring partners to hone their craft heading into fights during this pandemic.
I asked Ennis about this challenge and he advised me that this wasn't that big of a deal and is part of the routine for him.
"This was the same problem I had last time (the fight against Juan Carlos Abreu) because folks can't handle my power," Ennis said. "I just was sparring anyone we could find at 147, 154, and even 175 pounds."
I put the IBO in my hood on Billboards and vans, stop disrespecting us like that !!! IBO SUPER BANTAMWEIGHT WORLD CHAMPION pic.twitter.com/ARxsXd5O5T

— 100 Billion (@coolboysteph) December 10, 2019
The last IBO titleholder from Philadephia to boasts the IBO title was Stephen Fulton. I asked if he was going to put up the same billboard as Fulton did back in 2019 if he won Saturday.
"I'm not sure yet," Ennis said. "Fulton is in the same gym as me but I don't know about that billboard as of yet."
You won't find any slander of the IBO belt here as the belt that Ennis to challenging for was previously held bySebastian Formella, who has been seen headlining two boxing cards during this pandemic in 2020. Ennis with a victory will look to follow that same suit.