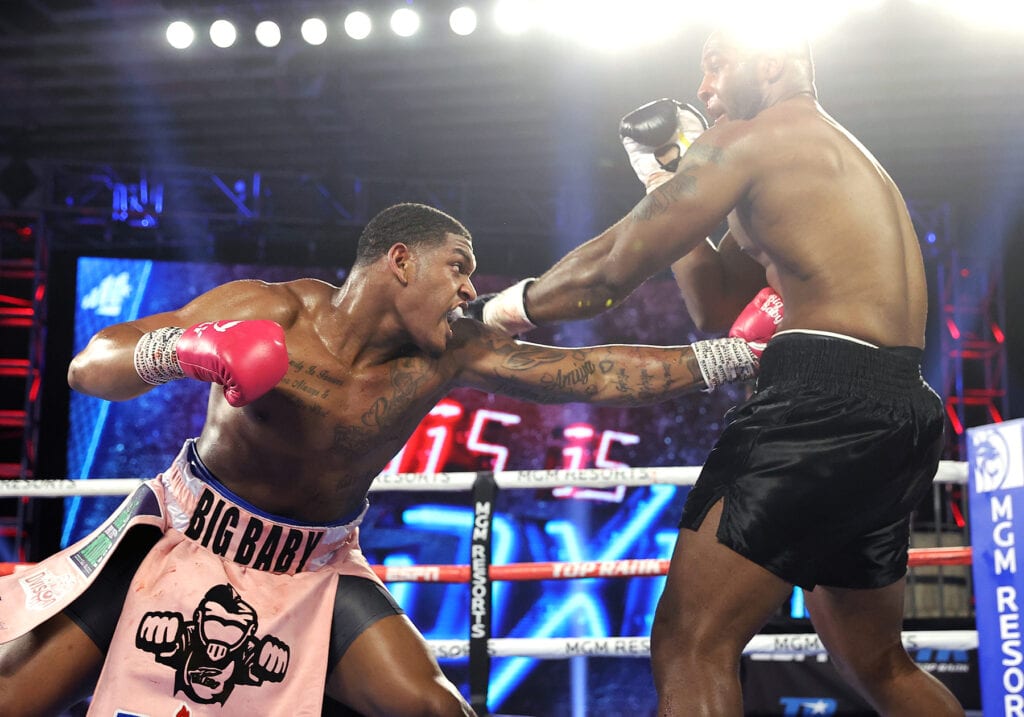 News
Jared Anderson Saturday KO Reinforces Young Heavyweight Depth
Jared Anderson Saturday KO Reinforces Young Heavyweight Depth
While the sound of his thunderous knockout Saturday night in the Top Rank Boxing/Las Vegas bubble is still reverberating around the Heavyweight division, Jared "Real Big Baby" Anderson isn't alone among young heavyweight to pay attention to for 2021
First, came the culminating punch of the unbeaten Toledo, Ohio, native's 6th-round domination of Kingsley Ibeh. The straight left to Ibeh's face dropped the 270 pounder an ended there undercard battle immediately,
You saw the @TeamBigBabyy KO everywhere last night.

Now fully appreciate the defense ➡️ finishing combo transition, courtesy of this slow-mo ringside angle. 😮 pic.twitter.com/S2SshhTvuF

— Top Rank Boxing (@trboxing) February 14, 2021
It was the eighth consecutive win for Anderson, who turned Pro in October 2019, but by far was his best competition. And, while Anderson still has work to do in terms of putting combinations together and also defensively to keep from getting hit as much as he did Saturday Night by Ibeh, there is definitely potential there.
And, that potential could put him in front of another young up-and-coming heavyweight who is also in the Top Rank stable. We have written previously about unbeaten Italian Guido Vianello, who has been training and fighting previously in the United States. And, he interestingly fought Ibeh this past October in a bout ended in a 6-round round draw.
Vianello previously represented Italy in the 2016 Rio Olympics. And, the Gold Medalist that year was France's Tony Yoka, who's another name to keep your eye on out of Europe.
Yoka is now 9-0 as a professional, having last fought in November decisioning veteran Christian Hammer in Nantes, France.
Yet another unbeaten, young Euro-Heavyweight is 28 year old Croatian, Filip Hrgović, who is 12-0 and dominated American journeyman Rydell Booker in a November TKO win at the Hard Rock casino in Hollywood, FL. The 240 lb. Hrgovic' is being groomed by Matchroom Boxing for a future title shot probably in 2022.
Of course we've seen a couple of the other rising, unbeaten contenders suffer recent tough losses. The first of which was hard punching English, 22 year old Daniel Dubois. Dubois was stopped in December by fellow unbeaten Brit, Joe Joyce suffering a fractured left eye orbital.
The loss and the injury has Dubois' 2021 up in the air. As for Joyce, he's much older at 35 years of age and has his sights set on Ukrainian former, Undisputed Cruiserweight world champion, Oleksandr Usyk coming in the Spring.
And, then there's Polish American, former unbeaten heavyweight Adam Kownacki. Kownacki was gaining fame and momentum in the Premier Boxing Champions ranks until veteran Robert Helenius out slugged him and knocked him out in the fourth round of their March 2020 about in New York. Although it's not officially announced, it is believed that Helenius and Kownacki will be fighting their rematch soon.
So while the upper echelon of a division has the likes of Tyson Fury, Anthony Joshua and Deontay Wilder. And has the second tier of fighters like Alexander Povetkin and Dillian Whyte, who will meet each other in March, the rung below certainly has a plethora of names to keep an eye on in the next 10 months of the year.
And most importantly for Anderson, he's a marketable, new American that is unbeaten and has the platform of Top Rank and ESPN to gain more fame and notoriety in the coming months. This will be especially, if he stays active and still has big KO's like Saturday night.