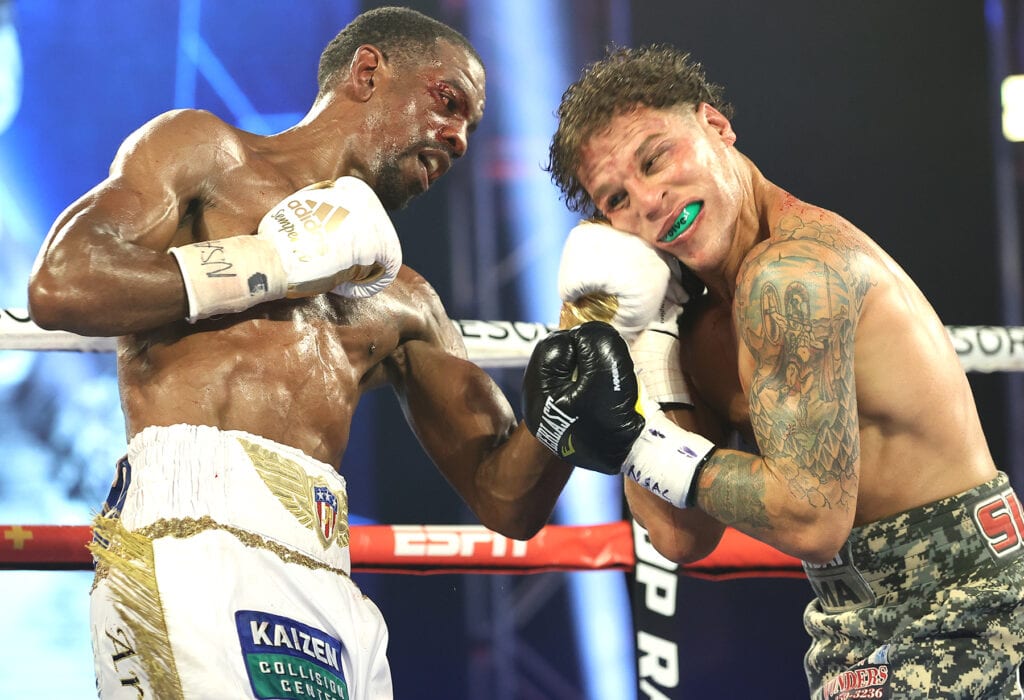 News
Jamel Herring Retains WBO Belt On Controversial DQ
Jamel Herring Retains WBO Belt On Controversial DQ
It was twice delayed due to his own battle with Coronavirus, but WBO Junior Lightweight Champion Jamel Herring won a scrappy, tough battle with Jonathan Oquendo and came out with a somewhat confusing, controversial 8th round disqualification win Saturday night in Las Vegas.
A bloody affair in the main event ends with @JamelHerring retaining his WBO Junior Lightweight strap via disqualification following intentional headbutts.

Debate away: #HerringFrampton ➡️ Who you taking right now? pic.twitter.com/XIgwTGBhA9

— Top Rank Boxing (@trboxing) September 6, 2020
Herring, now 22-2, had to deal all night with the mauling style of Oquendo, who constantly used tactics of leaping in with his head and grabbing Herring's right arm with his left to hold and wrestle him throughout the fight. However, when Herring could keep his distance and score with punches, he was clearly the better fighter.
Herring scored the first knock down of the fight with a solid left uppercut in the third round that wobbled Oquendo (now 31-7) and dropped him on the seat of his pants. Herring wasn't able to significantly follow up as Oquendo continued to hold and grapple him.
Veteran  championship referee Tony Weeks had his hands full, constantly having to break up Oquendo's holding and the leading with the head causing butts.
Eventually, Herring was cut over the right eye by an Oquendo butt in the fifth round and Weeks eventually after the round was over, ruled the cut was caused intentionally and took a point away from Oquendo.
That built Herring's lead on the scorecards even more through five rounds.
The fight continued to on with more wrestling and grappling with Herring still landing the more significant punches. Finally, after the 8th round the blood flow had returned to the champ and he and his corner told Weeks that he could no longer continue.
Under the unified rules of boxing, because Weeks had ruled it as an intentional head butt in the fifth, he could rule the fight a disqualification and did. However, it was only after several confusing minutes of Weeks repeatedly talking to the WBO representative and Nevada Athletic Commission Executive Director, Bob Bennett, about what to do.
This was obviously to the displeasure of Oquendo and his corner, but they eventually, accepted the ruling.
In the end, it wasn't pretty, but Herring got the victory. And, when he spoke to ESPN immediately after the fight, he was critical of his own performance,
We knew coming in that he was going to be aggressive. It (the butts) just kept repeating. We told Tony (Weeks).
I wasn't too satisfied with my performance……in the end I wasn't happy with the outcome. It was ugly. I've never been in that situation. I am a harsh critic on myself. I wanted to be better.
When asked about battling Covid 19 in July and early August and whether it effected his conditioning?
"Physically, I was good. I know he was trying to out work me. In terms of conditioning? I was good… I did what I needed to do."
Post-fight it was revealed that Herring had dominated on the judges cards with two of them having it 8-0 in rounds and the third 7-1. So, even if Weeks hadn't called it a DQ and they went to scorecards, there was no drama there.
Herring later tweeted this late Saturday after having his hand raised:
Disappointed… thats all I can say. Heading to the hospital for a scan and stitches, but it is what it is.

— Jamel Herring (@JamelHerring) September 6, 2020
By securing his likely win, the 34 year old New York native and former U.S. Marine with two tours of duty in the Iraq War, will now be in position to fight Ireland's two division World Champ, Carl Frampton. They were scheduled to scrap in Ireland back in June before Coronavirus shut down the sport.
Frampton (28-2, 16 KOs) previously held the Unified Junior Featherweight and Featherweight World Championships and has recently moved up to 130 lb. He most recently fought in the middle of last month in an easy win over late replacement Darren Traynor at the BT Sport Television Studios in London.