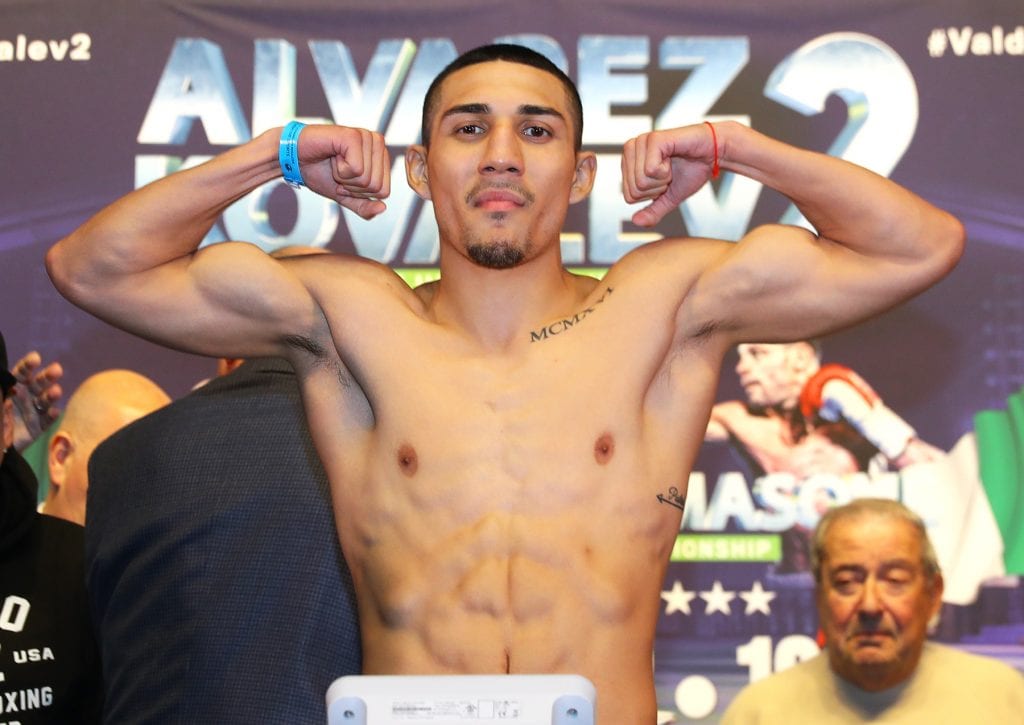 News
Is Teofimo Lopez-Geroge Kambosos Going To Happen?
Is Teofimo Lopez-Geroge Kambosos Going To Happen?
The ongoing saga of Undisputed Lightweight champ Teofimo Lopez's delayed mandatory title defense against Australian George Kambosos apparently has another crucial day coming Wednesday. This, as the International Boxing Federation says they want all parties on board for Lopez to defend soon or they will take action.
Lance Pugmire of the Athletic had the update Tuesday afternoon that the Triller app and their "Fight Club" series has the Wednesday deadline.
Latest on the @TeofimoLopez @triller dispute: @IBFUSBAboxing giving Triller until close of business Wednesday to present a fight contract amid talk of potential compromise to keep @georgekambosos bout in U.S. in October.

— Lance Pugmire (@pugboxing) July 20, 2021
The behind the scenes "wrangling" has been going on for weeks. This after Lopez tested positive for Covid 19 back in early June, which postponed his defense with the IBF's #1 contender Kambosos that had been slated for Miami.
Since that time, Triller and their co-owner/CEO Ryan Kavanaugh have been negotiating publicly that they want to move the Lopez fight to Kambosos' Australia for October. And, as you can imagine, that is something that Lopez wants no part of at this point. So, there is a stalemate that the IBF wants resolved, and quick.
After winning the rights to Lopez's first Undisputed defense, Triller moved the date from June 5th at LoanDepot Park, the baseball home of the Miami Marlins, to June 19th. This was to not compete the next night with the Floyd Mayweather-Logan Paul PPV, that was also in Miami.
Then, Lopez tested positive, was symptomatic and the fight was sent into this perpetual delay. They originally discussed an August date for the reschedule and also, in September as potentially part of Oscar De La Hoya coming out of retirement to fight a September 11th exhibition in Las Vegas.
However, none of that has finalized for Lopez-Kambosos.
The Honduran born, New York raised star Lopez scored an impressive upset decision win his last time out on October 17th beating one of the top pound for pounder fighters in Vasiliy Lomachenko in Las Vegas. That pushed his career record to 16 – 0, 12 KOs, and, it made him the man to beat at 135 lb. with all the major titles.
As for Kambosos, he was last in action a couple of weeks after that on Halloween winning a hard-fought, split-decision over Britain's Lee Selby. That made the Australian 19 – 0 with 10 KOs and put him #1 with the IBF.
And, he was obviously furious with the second delay of his title shot being caused by Lopez's irresponsibility in contracting Coronavirus so close to the fight. He posted in June on social media,
"Absolutely devastated! I've been away from my kids for13 weeks, I flew my pregnant wife over to be by my side, I put every bit of my life in to this camp with my team. I would have ben Undisputed Champions this weekend, I know it and you know it," Kambosos wrote.
"Your actions and decisions have affected not only our fight but everyone involved in this fight! Pure irresponsibility on your whole side. Our time will come and I promise you and the world that I'm going to take you out worse than ever for everything. You can run but you can't hide!…."
For their part, Lopez's management team and lawyer had a 21 page response to Triller wanting to move the fight to October and put it "down under," saying that they had no right to change the location that extremely, without Lopez's consent.
So, will Triller have the right to do so? Will Lopez vacate the IBF belt and let Triller off the hook for the $3 million they were going to have to pay him to fight Kambosos?
We apparently know much more of the answers Wednesday.