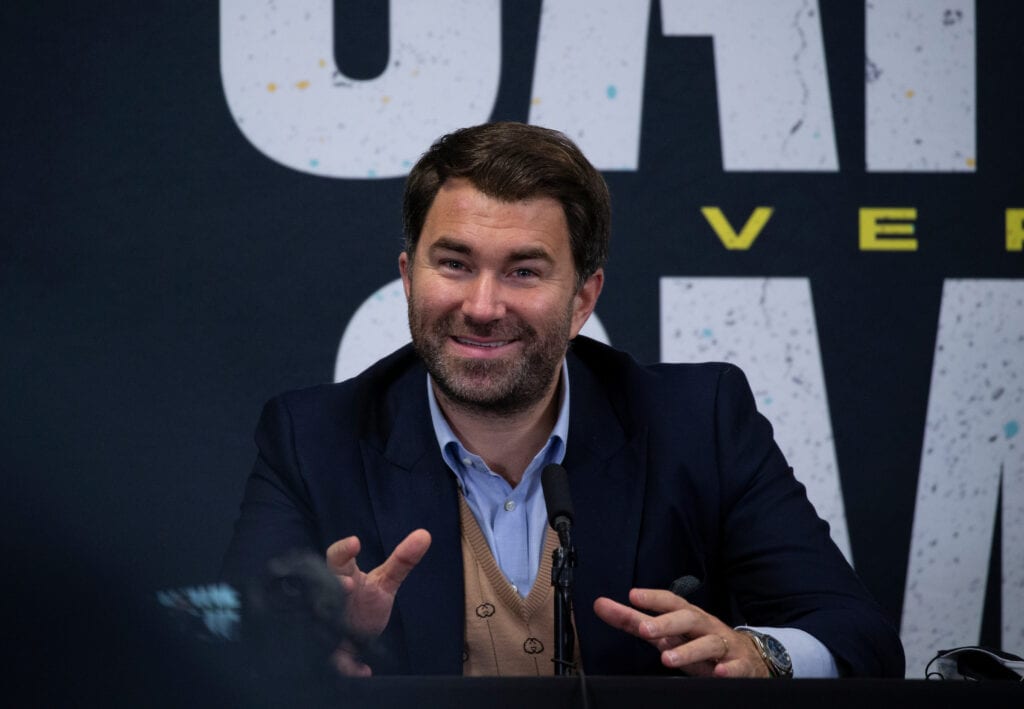 News
Hearn Repeats Hope That Fury-Joshua Fight Will Get Done
Hearn Repeats Hope That Fury-Joshua Fight Will Get Done
With yet another week going by and no official announcement of the proposed Undisputed Heavyweight Title fight between Unified Champ, Anthony Joshua and WBC titleholder, Tyson Fury, Eddie Hearn of Matchroom Boxing was back in England Thursday still telling the media and fight fans that he hopes the bout can be finalized.
Fresh of the massive success of Canelo Alvarez's win over Billy Joe Saunders in front of 73,000 in Texas, Hearn appeared on the Sky Sports live press conference coverage of the Matchroom Boxing main event Saturday night in Manchester, England, for the Joshua Buatsi- Daniel Blenda Dos Santos main event.
And, he repeated that Joshua and Fury have a tentative deal to fight in Saudi Arabia in August,
"You've seen Frank Warren (Fury's British co-promoter) come out with August the 14th, which is correct. We agree on something in the respect…..It's EID over there (Islamic Holiday week), so it's a bit difficult to put pressure on at the moment in terms of securing financial documents that team Fury need," Hearn relayed.
"Don't forget, it's the same organization that we did the Andy Ruiz fight (Saudi Arabia) with, so, we're very comfortable with the deal… They're (Fury's promoters) doing the right thing from their side, which is to make sure everything is in order. But, it's nice now to get everybody moving forward saying, 'yes, August 14th.' It's on. So, now we can start moving forward with the press tours and media tours."
Of course, one key part of Hearn spinning his side of the latest this week is: that he's portraying that Fury's side has agreed to move forward.
But, for their part, Warren, Bob Arum of Top Rank Boxing (Fury's U.S. promoter) and Fury himself haven't agreed to anything, much less announced it publicly, other than the original deal from earlier this year. That deal reportedly states that Fury will be guaranteed over $50 million (along with Joshua) for the first of their two fights.
And, as for Warren repeating August 14th, that's only because it's what Hearn is now saying is the date. Again, not that Fury's side has agreed to money or that timeline without assurances that the guaranteed money is there.
And, most importantly, once the money wasn't guaranteed after 30 days of signing the tentative agreement, either side could walk away from it.
And, there is strong belief that it will be Fury who does so, to try to fight someone in July in the U.S. This, as he's been inactive since his TKO win over former champ, Deontay Wilder in February 2020.
We wrote earlier this week that Fury was on scene in Arlington, TX, with Hearn at the Canelo fight. However, conspicuously, there was no Fury/Joshua fight official announcement and Fury left "empty handed" Sunday to fly back to Las Vegas to continue to train.
And, there still isn't an official announcement four days later.
So, once again, we chalk this up to Hearn desperately trying to salvage the tentative agreement, but with the continuous excuses, delays and new spin each week for over a month now, he's almost run out of time for someone to back his hope up with "the green."