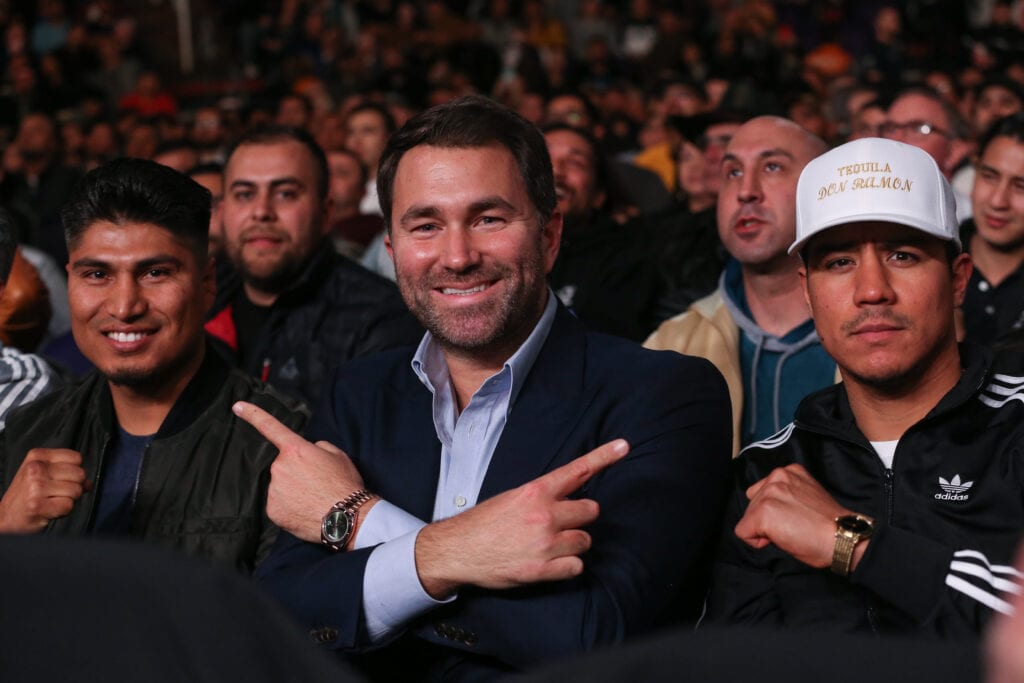 News
Hearn Laments Failed Joshua-Fury Fight- "Whole Thing Absolutely Stinks"
Hearn Laments Failed Joshua-Fury Fight- "Whole Thing Absolutely Stinks"
To no one's surprise, Matchroom Boxing promoter Eddie Hearn continues to bemoan the U.S. arbitrator ruling last week, which re-instated the WBC World title third fight with Tyson Fury-Deontay Wilder and more importantly, torpedoed his proposed Undisputed bout with Fury and unified champ, Anthony Joshua for August.
In a one on one interview with IFL TV's Kugan Cassius, Hearn talked at length about finding out about the ruling last Monday night, his reaction and now spending the subsequent week trying to do damage control. See and hear the full comments in the one hour interview here:
On his conversation with Top Rank's Bob Arum (Fury's co-promoter), Hearn recounted his exchange with Arum, saying the 89 year old promoter told him,
"No one saw this coming. They (Wilder's attorneys) didn't even ask for the rematch. They asked for damages…. I said, 'What are you going to do about it?'
He said: 'We're fighting Wilder.'
I said: 'Hold on. There's got to be a deal to be done? You got to try something.' He said: 'They're not gonna do that. We're just going to fight Wilder and we'll do our fight later.'"
Hearn continued to complain in the conversation that Arum and Frank Warren (Fury's British promoter) never embraced the Joshua proposed Undisputed title fight. And, they were constantly negative both privately and publicly about it being able to make it a reality.
Hearn then went back to the ruling last week,
"I mean. What kind of ruling is that from an arbitrator? To order a rematch with a specific date (by September 15th). And then, when the arbitrator's ruling comes through. you clearly see that Top Rank had the ability to terminate the agreement with Deontay Wilder back in December. But, the fact is: they didn't terminate. They kept planning the fight. They kept talking to PBC (Wilders promotional umbrella outlet). 
And, I've got many, many thoughts and very valid ones on what's happened here. I want to do a little more digging into this, but the whole thing absolutely stinks."
Hearn continued on and on for 10 more minutes of Q & A with Cassius, but the bottom line is that it wasn't much more than "sour grapes" from the Promoter who was left out and trying to explain why the next huge Heavyweight battle won't be involving him or Joshua.
As for the point about Hearn questioning the former Federal Judge, Daniel Weinstein, who heard the arbitration arguments over almost three months ago and re-installing the rematch clause, it was actually very clear in the ruling he was using legal precedence.
And, ironically for Hearn's argument, it was British title holder Lennox Lewis who went to U.S. Federal Court in New York 2001 to have his contract/rematch clause with new champ Hasim Rahman upheld and was successful.
And, Weinstein reportedly repeatedly referenced in his ruling the arguments that Wilder's side had made about the Lewis ruling 20 years earlier. And, clearly, they were arguing for the rematch to be enforced.
Now, Arum, Warren and Fury may very well have been "playing both sides" to make sure Fury got a huge payday against either fighter this Summer. But, that's not their problem or Wilder's.
If Arum and Fury's legal arguments on the rematch clause were insufficient, as Weinstein's ruling allegedly chastises them about, then that is their fault. But, it may not have made much difference, if the judge understood that U.S. law was on Wilder's side.
The bottom line is: Hearn theorized for over a year that Joshua-Fury could or would happen. And, yet, week after week after week, as March turned to April and April to May, he failed to deliver on the final deal with guaranteed money in escrow for Fury.
And most importantly, the Joshua-Fury contract stipulations on: what happens if the fight was cancelled or postponed due to Covid 19 flare up, etc. had not been agreed to, much less nothing signed on it. This, despite Fury saying eight days ago on social media that the fight was "100% on."
So, now, Fury and his people were all too happy to move to a Wilder third fight after the arbitration ruling. Thus, leaving Hearn and Joshua to scramble and probably fight former Cruiserweight champ Oleksandr Usyk in August, now, instead.
And, all the griping from the "losing locker room" from Hearn isn't going to change the realities.