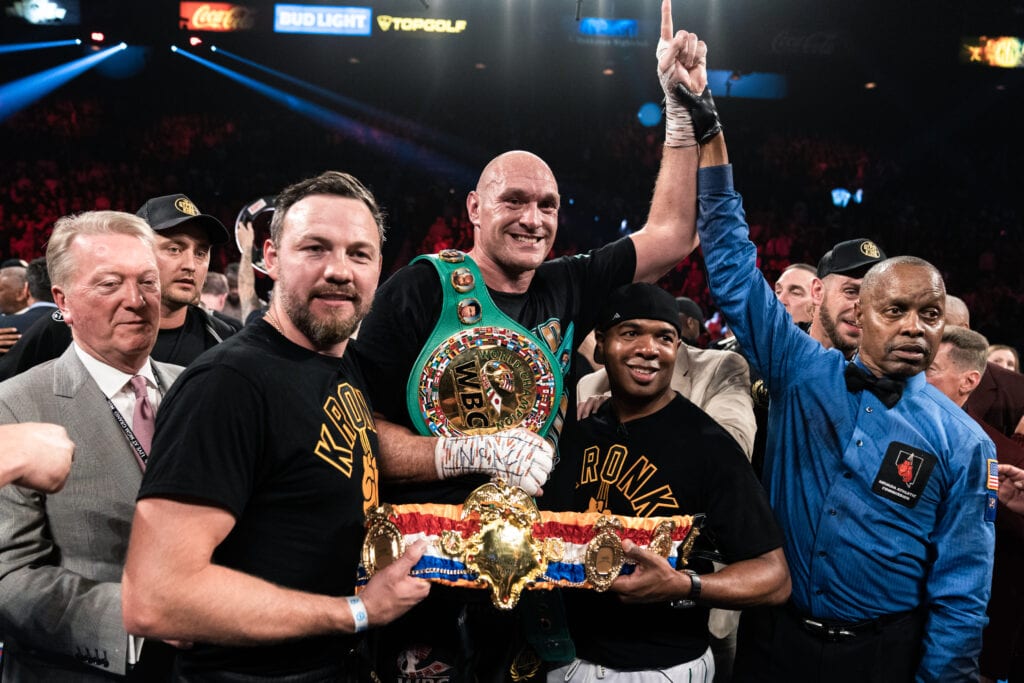 News
Fury's Father On Delayed Joshua Fight- "We Need To Move On"
Fury's Father On Delayed Joshua Fight- "We Need To Move On"
For all the talk, and that's all it really is, that a Tyson Fury-Anthony Joshua Undisputed Heavyweight Title fight will be happening this year, there's nothing set. And, on Saturday night the father of the WBC champ, John Fury, provided an update from his camp's point of view.
And, in short, he believes that a Joshua fight won't happen anytime soon and that Fury should pursue other fighters/bouts, now.
Appearing on the set of the Saturday's Queensberry fight card in London televised by BT Sport, John Fury made clear that, despite Eddie Hearn and Matchroom Boxing's bravado about all parties signing a two fight deal, that doesn't mean very much,
"What have they signed? They've signed nothing in my eyes."

"Tyson needs to fight twice this year, with or without AJ!"

Big John Fury pulls no punches on Fury v AJ and what's next for @Tyson_Fury… ?#FuryJoshua pic.twitter.com/x26JL99gik

— Boxing on BT Sport ? (@BTSportBoxing) March 28, 2021
"What does it mean if you can't get a date and a venue? What does it mean, if nobody's willing to put the money up? It's all about somebody coming forward and saying 'I'll pay for the fight. I'll stage the fight.' Where are these people?," Fury told the broadcast.
"I don't think they can get it together. I think it's too big for the climate and the world we're in at the moment. I just don't think the time is right for a fight of that magnitude….we're getting over a pandemic….the world may never be the same, as we knew it, ever again. I'm pretty sure that it won't be. So, we've got to make some major adjustments. 
But listen, if they (Johsua's camp) want it, Tyson will fight him in a phone box, on a ship, on the moon, or Mars. Anywhere."
As we wrote earlier this month, Hearn told numerous media outlets, including ESPN, that all parties had "agreed" to the two-fight deal.  Hearn saying at the time,
"We'd like to get a site deal confirmed in the next month," said Hearn. "The hard part is always getting everybody to put pen to paper. But this was a major effort from all parties to get this over the line. You had rival promoters, rival networks and rival fighters."
Hearn is referring to Fury's co-promoter's, Bob Arum and Top Rank Boxing in the U.S. and Frank Warren's Queensbury Promotions in the U.K., finalizing their end and demands with Matchroom.
I actually feel we've done the hard part. Speaking for myself, Anthony and his team at 258 management [258 MGT], I know how hard we've worked these last couple of months and I just feel that this fight is so big it's not a difficult sell.
We've already had approaches from eight or nine sites. The offers have come from multiple countries in the Middle East, from Asia, Eastern Europe and America." 
Still, as John Fury pointed out Saturday night, there is no certainty of where the fight can be held in the U.K., Europe or the Middle East with at least some fans present? And, that means, millions upon millions of dollars in live gate revenue doesn't exist, until they do.
This is the same issue that Fury's co-promoter, Bob Arum has faced for more than six months in the U.S. trying to make the third Fury-Deontay Wilder fight happen. Arum was unable to secure any large venue with fans, due to the Covid 19 impact and social distancing guidelines.
So the "clock" on their contract for the automatic rematch basically expired at the end of calendar 2020. For the record, Wilder is still disputing that point and is pondering legal action to enforce his lucrative rematch deal.
And obviously, with the U.S. opening open for large gatherings/crowds in Florida and Texas fight promotions and larger bouts can be made. This includes the upcoming May Canelo Alvarez-Billy Joe Saunders bout in Dallas that has already pre-sold 40,000 tickets before the sale to the general public began this weekend.
So, for now, there are signed documents for a theoretical Fury-Joshua bout. But, Documents that, as John Fury asserted, don't have a date, site or most importantly, a way to pay largely for the massive purses that they want.
Will Tyson Fury wait or make another deal to fight someone else, less expensively, and soon?
The latter seems more and more likely.