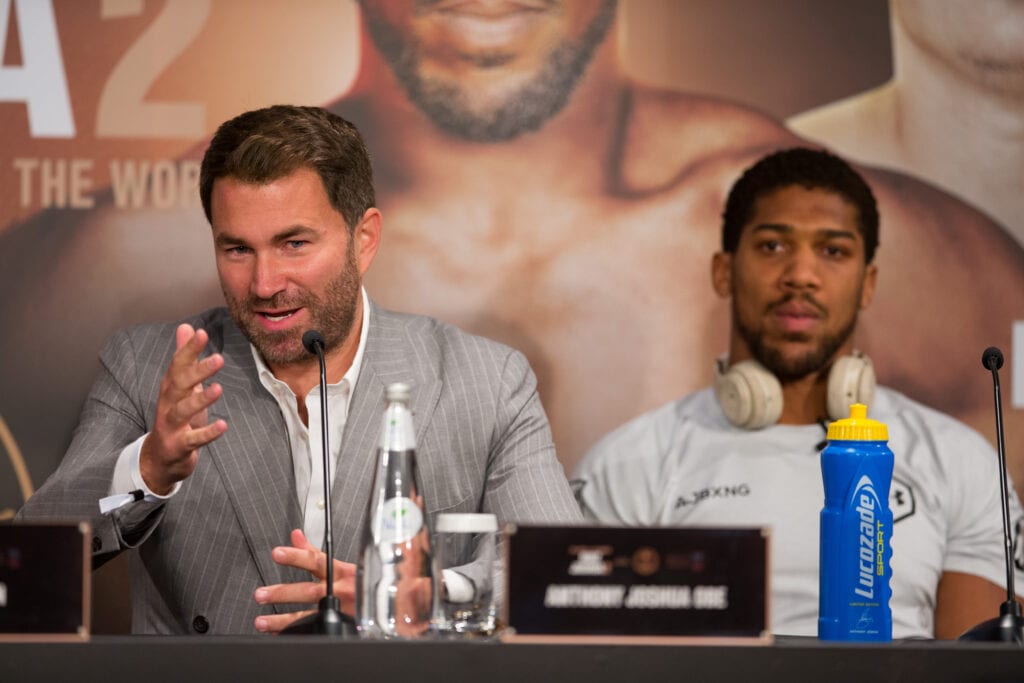 News
Extra precautions taken for Joshua-Pulev
Extra precautions taken for Joshua-Pulev
On December 12, the long-awaited heavyweight title defense of Anthony Joshua taking on mandatory challenger  Kubrat Pulev is slated to take place, and Matchroom Boxing promoter Eddie Hearn is making sure extra precautions are taken to make sure this fight doesn't have any setbacks.
Hearn spoke to Sky Sports and stated that the "fight bubble" precautions would begin early for the challenger Pulev.
"Kubrat Pulev will be making his way to London shortly, sooner than we think, and he will be entering the bubble weeks in advance. A lot of these top heavyweights and these guys who are earning considerable purses are being constantly tested on a daily basis," Hearn told Sky Sports.
"You look at Derek Chisora, I think he was getting tested every other day. We will bring Pulev here. Every international fighter has to be tested before they travel, and we will make sure he's in the bubble, in an enclosed environment, because you just can't risk it. Normally on fight week, you get a five or 10 percent chance that a fight could fall through. Here it's 50-50, for every fight.
"Not one person can have any doubt after that fight, who the baddest man on the planet is." ?

Will AJ beat Tyson Fury?

— Sky Sports (@SkySports) November 16, 2020
Pulev getting tested to ensure this IBF mandatory takes place will hopefully for everyone should Joshua be victorious, pave the way for a megafight with Tyson Fury sometime in 2021. It should be noted that there is a slight possibility that if something happens to Pulev and he is unable to compete, the idea of Joshua dropping the IBF strap he won back from Andy Ruiz last December could happen.
Behind Pulev on the IBF mandatory list is "The Lebron James of Boxing" Charles Martin. Martin earned this number two spot by defeating Gearld Washington last February. Martin still holds the distinction of having the second shortest title reign of 85 days, surpassing Tony Tucker by 21 days.
Martin's manager, Mike Borao, doubts a rematch would happen of their 2016 clash, in which Joshua stopped him in two rounds if that scenario would arise.
"If the fight is canceled for any reason, a number of scenarios could present. If Joshua is injured, I think it is very possible Martin and Pulev could fight for the vacant IBF title. In that case, IBF rule procedures would be followed. If Pulev is injured, although Charles is the next available contender, I doubt Joshua would opt for that bout, likely resulting in a vacated title as well," Borao said.
I'm with Martin, and I don't see Joshua-Martin 2 moving the needle of interest. Then again, neither does Joshua-Pulev, which is why every precaution is being taken so this can make sure this fight finally happens.