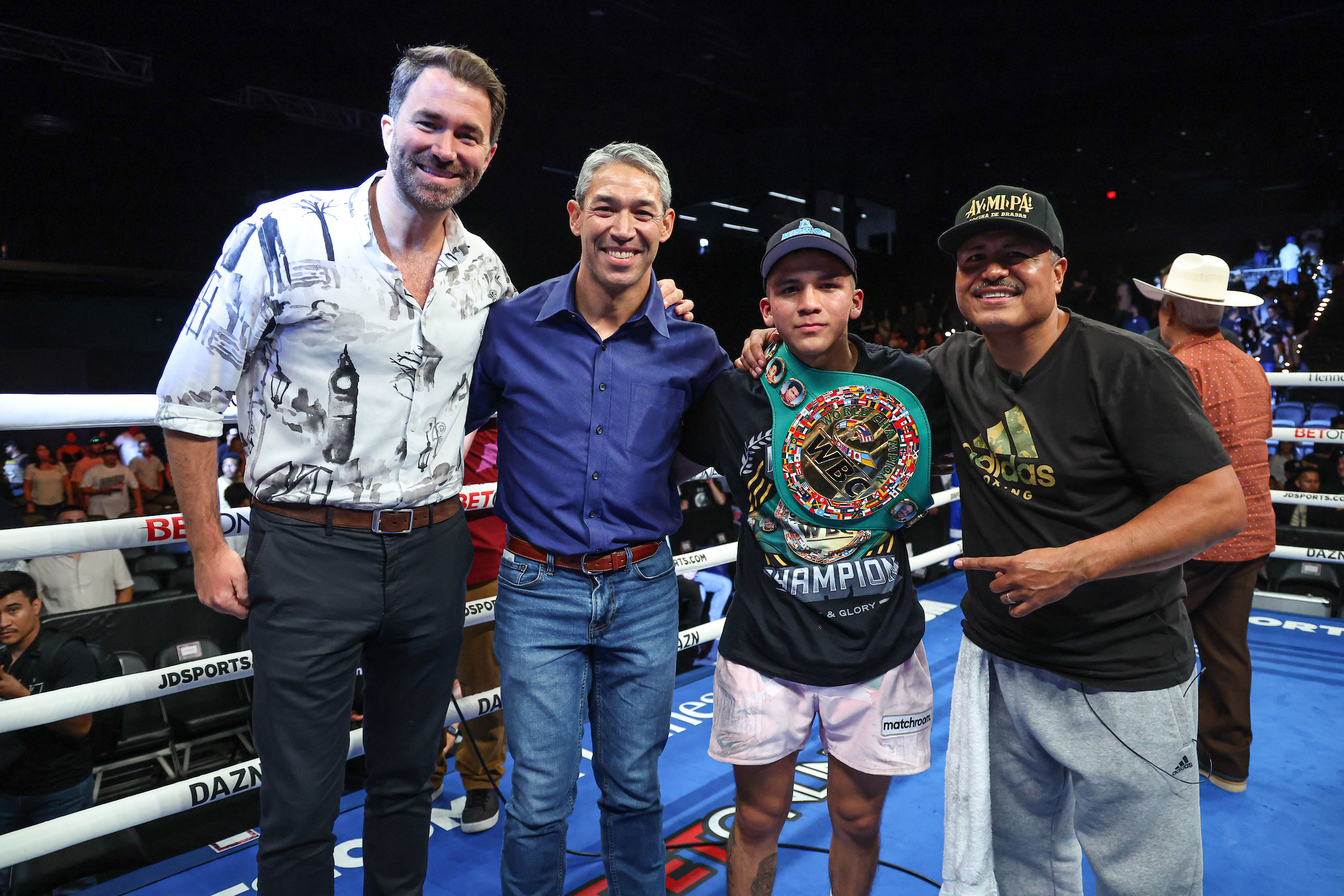 News
Eddie Hearn On "Bam" Rodriguez- "You Got Superstar On Your Hands"
After his impressive KO win over former world champ Srisaket Sor Rungvisai Saturday night, WBC jr. bantamweight champ Jesse "Bam" Rodriguez is receiving the amount of praise you would expect. And "count in" his promoter from Matchroom Boxing, Eddie Hearn, as one of those touting the future of the 22 year old world champ.
Hearn, as he customarily does, spoke on the Matchroom/DAZN broadcast post-fight in the ring in San Antonio, TX and made clear that he sees a tremendous short-term for the unbeaten Rodriguez,
"San Antonio has a superstar on their hands,"  Hearn told DAZN and the crowd on the public address system. "Fighters like this come around once in a generation. You are talking about some of the great fighters in Chocolatito, Juan Francisco Estrada – but can you say that Jesse wouldn't beat them?
"San Antonio should be very proud of this kid. A special talent and it's all down to the speed that Robert and the team want to go. I think he can unify at any division from 108lbs to 115lbs and he's got all the tools to become a legend of the sport. He's a baby, he's still learning, it was a great turnout tonight and we're going to get bigger and bigger."
Hear us discuss Rodriguez's KO and his future on the "Fight Freaks Unite Recap" podcast by pressing play below
Clearly, Rodriguez was impressive in scoring his 8th round TKO over the veteran Sor Rungvisai. As our Dan Rafael wrote,
"While Sor Rungvisai plowed forward looking to land heavy shots, Rodriguez snapped off hard jabs and combinations and used his considerable speed advantage to avoid the big shots that Sor Rungvisai threw mostly just one at a time.
Rodriguez (16-0, 11 KOs) landed a hard right hand an uppercut in the third round, which is when Rodriguez said he felt like he had taken control.
"After like the third round I felt like his power wasn't the same," Rodriguez said. "Maybe felt like I broke him down a bit, but like I said, after the third round I didn't feel like his power was the same. He was still strong but not like the first two rounds. We came out here and put on a show."
Now, we'll see where he turns next to try to build on his championship resume'.