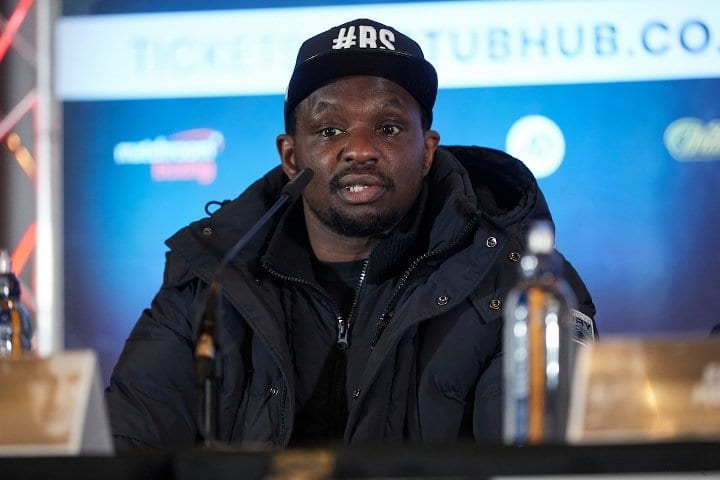 News
Dillian Whyte Injured- October 30th Fight Is Off
Dillian Whyte Injured- October 30th Fight Is Off
The litany of reasons that English Heavyweight contender Dillian Whyte hasn't gotten a recent title shot is long and it has a new one on Wednesday. This as Whyte will be unable to fight in his WBC elimination bout in London in 10 days with Otto Wallin due to an injured shoulder.
Keith Idec of Boxingscene.com was first to report Wednesday morning U.S. time that the 33 year old Whyte injured his shoulder in the late stages of training for the scheduled 12 round bout with Wallin. That fight was to have headlined the Matchroom Boxing show from O2 Arena in London and streamed worldwide on DAZN,
Dillian Whyte Suffers Shoulder Injury, Withdraws From Otto Wallin Fight 10/30 In London https://t.co/zLN6Vf5ctH pic.twitter.com/Z77R0zZURy

— BoxingScene.com (@boxingscene) October 20, 2021
Whyte, 28-2, 19 KOs had put himself back into good standing with the WBC after avenging his KO loss to Russian Alexander Povetkin in March of this year. This came on the heels of Povetkin having derailed Whyte as the #1 ranked contender with a devastating one punch KO of the Brit in August of 2020.
Whyte has also been embroiled in two previous failed drug test controversies. The latest one having happened in July of 2019, as he was flagged for a banned substance prior to a contender fight with Oscar Rivas. Whyte and Matchroom Boxing never publicly disclosed his failed test (even to Rivas), as they appealed. And, almost comically, the British Boxing Board of Control allowed the fight to go on without Rivas being told.
Whyte won an uneventful 12 round decision, but many boxing observers and fellow contenders at Heavyweight correctly viewed him as tainted, again. Whyte served a two year suspension in 2012 for testing positive for a PED, as well.
Back to the now scrapped bout for Wallin. The Swedish born fighter, now based in New York was hoping to score an upset in London that would make him the WBC's #1. And, it would put him in line for a possible rematch with champion Tyson Fury.
The 30 year old Wallin cut Fury early in their non-title fight in September of 2019 before Fury eventually won a unanimous decision. Wallin has since won two fights in the U.S. over Travis Kaufman and former world title challenger Dominic Breazeale.
As Idec reported, it's unclear at the moment on if/when Whyte/Wallin will be rescheduled or if Wallin might move on to another contender bout.