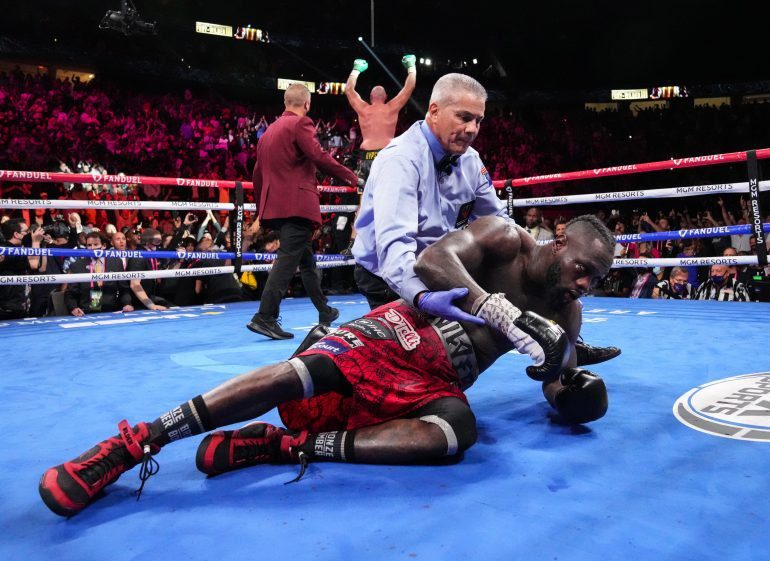 News
Deontay Wilder After Fury Loss- "Sometimes Have To Lose To Win"
Deontay Wilder After Fury Loss- "Sometimes Have To Lose To Win"
Former WBC Heavyweight champion Deontay Wilder gave his first lengthy comments Thursday after his brutal TKO loss to champion Tyson Fury on Saturday night in Vegas. And, "the Bronze Bomber" was both philosophical and gracious to Fury at the same time.
The soon to be 36 year old, now twice defeated Wilder released the comments to his fans and followers on social media mid-day,
🙏🏿🙏🏿🙏🏿 pic.twitter.com/E3uTJrmYMu

— Deontay Wilder (@BronzeBomber) October 14, 2021
"Wow, what a hell of a night! I would like to first and foremost thank God for allowing me to give the world another part of me that's driven with passion and determination. I would like to thank my team and my fans for sticking by my side through this long process. I would be lying if I said that I wasn't disappointed in the outcome but after reflecting on my journey, I now see that what God wanted me to experience is far greater than what I expected to happen," Wilder wrote.
"We didn't get the win but a wise man once said the victories are within the lessons. I've learned that sometimes you have to lose to win. Although, I wanted the win I enjoyed seeing the fans win even more. Hopefully, I proved that I am a true Warrior and a true King in this sport. Hopefully, WE proved that no matter how hard you get hit with trials and tribulations you can always pick yourself up to live and fight again for what you believe in.
Last but not least I would like to congratulate @gypsyking101 for his victory and thank you for the great historical memories that will last forever."
Clearly, it was the right public relations move by Wilder and his team to congratulate Fury. After all, he just dominated Wilder for the second time in 20 months landing nearly twice as many punches as the Alabama native. And, he also was scoring the heavier, more impactful blows while weakening Wilder round after round.
Fury finally finished Wilder with a combination early in the 11th round that concluded with a thudding right hook that sent him nearly face first to the canvas. It was the exclamation point on another brilliant performance over the last half of the fight by "the Gypsy King."
Wilder was reluctant to even accept Fury trying to check on him in his corner immediately after the KO, but in fairness he was obviously concussed and dejected in that moment, too. Ultimately, as classless as that looked, Wilder has now "righted it" and as he indicated in the post, will apparently try to fight on in 2022.
It will be curious to see, how quickly he heals and what kind of opponent he might want to fight next?
That will come in time. It will be the first time in seven years that it won't be in a world title fight setting.
One other thing is for sure, for now, it won't be against Fury. Two consecutive bad beatings have ended the need to see any more of that.