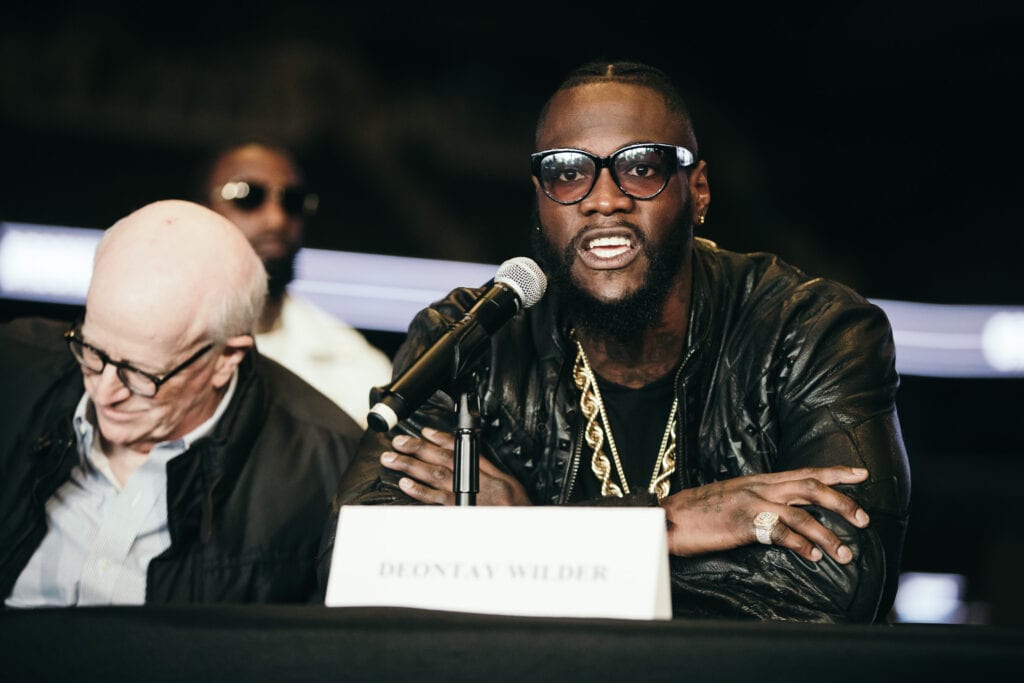 News
Deontay Wilder Advisor on Fury-Joshua "We Aim To Derail That"
Deontay Wilder Advisor on Fury-Joshua "We Aim To Derail That"
The "victory tour' out of the ring continues for former WBC World Heavyweight Champ, Deontay Wilder, after his dramatic arbitration win last week that has enforced his rematch clause for a third fight with new champ, Tyson Fury and also, stopped Fury from trying to fight Unified Heavyweight Champ, Anthony Joshua.
And, Wilder's legal advisor, Shelly Finkel, made clear in an interview with Sky Sports in the U.K., that they remained quietly confident that the judge would see it there way and stop Fury-Joshua from happening.
In the interview released Friday, Finkel, who has been a longtime figure in the legal wranglings of the Heavyweight division dating back to helping Mike Tyson 25 years ago, relayed that they believed once former Federal Judge Daniel Weinsten didn't dismiss the the case and wanted to hear the arguments and rule, that they had a legit shot to get legal help to stop Fury-Joshua from happening first,
"It was just phenomenal. It was a great, great feeling."

Deontay Wilder 'thrilled' with Tyson Fury ruling and wants to derail Anthony Joshua fight, says co-manager Shelly Finkel.

Exclusive interview

— Sky Sports Boxing (@SkySportsBoxing) May 28, 2021
"They knew there was an arbitration case. Everyone knew it and there was at one point, Arum went for a summary judgement (an argument that there's no case to move forward). It was denied.
Once it's denied, you've got to know there is something the judge is thinking, because he would have given you an indication the case was over," Finkel said.
"You have to have your own self logic. You've got to say, 'Look, even if it's a one per cent chance I'm going to lose, it's a one per cent chance.'
"I can't say, 'It's not going to happen.' They deluded themselves. Al (Haymon of Premier Boxing Champions) and I just continued to press forward. You didn't hear us in the papers, you didn't hear us saying anything.
"Avoided all press. I just don't get that kind of sureness that nothing could happen."
Finkel, then got a retaliatory shot in at Matchroom Boxing promoter, Eddie Hearn, saying,
I don't think you have an arbitration out there and you (Hearn) go say, 'Well, we've made a deal already.'
"That to me is just not the logical way to do things and then after that, you don't hear Eddie say anything.
"The reason, obviously someone told him, 'You better not say things, because if Fury fights you, your guy instead, you have massive, massive liability.' You have induced a breach of a contract, that's been adjudicated in the court and you induced him to do it, by hanging Joshua out there for it.
"It became obvious to Eddie, because he's smart, I better shut up, and I had nothing to do with it (trying to induce breach of contract).
On trying to make the Undisputed fight, Finkel continued, "that's what their game-plan is obviously, but we aim to derail that. We'll see." 
Weinstein's ruling, including a September 15th deadline to make the third Fury-Wilder fight, set things into motion very quickly last week for the two to fight sooner.
And Arum and Fury wasted no time late last week in agreeing with the champ signing the deal and appearing on the Top Rank/ESPN broadcast last Saturday night from Las Vegas to confirm it.
When asked by their broadcast whether there was any thought to paying Wilder "step aside" money to not have a third fight next, Fury interrupted,
"HELL no! I'm paying him in ass whuppins."
On taking fighting Wilder next, the WBC champ answered,
"You know I think he's gonna give it a 'good roll of the dice.' This is his last hurrah. I've got his heart, his soul, his mojo. I've got it right here…. He's a glutton for punishment. He's an idiot.
He got absolutely dismantled-smashed to bits in our last fight. He wants it all over again…. It's either one of two things: he's crazy or he's a sucker for punishment."
It's believed that the third bout will be at Allegiant Stadium in Las Vegas, which can hold in excess of 40,000 fans for second rematch. However, that site is not yet confirmed.