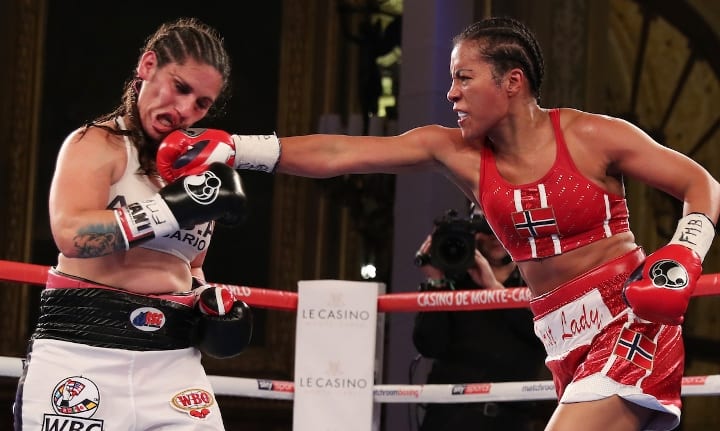 News
DAZN's Grisham- Braekhus streak like "Undertaker at Wrestlemania"
DAZN's Grisham- Braekhus streak like "Undertaker at Wrestlemania"
It's a brand new preview edition of the "Big Fight Weekend Podcast," as we're back with guests to get ready for multiple fight cards in the U.S. and the U.K. coming this weekend. The most prominent involves a Championship boxing streak being compared to WWE's "Wrestlemania."
First, DAZN streaming P x P man, Todd Grisham, is on location for their Matchroom Boxing fight card in Tulsa, OK. Todd shares what it's like to be in quarantine early this week in the DAZN/Matchroom Boxing "bubble" prior to the bouts Saturday.
Then, the guys discuss the unique setup outdoors in downtown Tulsa and also the main event, Women's World Welterweight champ, Cecilia Braekhus, defending her title for the 26th time against Jessica McCaskill. That's when Grisham, who used to be part of WWE wrestling commentary in throughout the early 2000s, made his comparison to the legendary "Undertaker" constantly winning at their biggest event every year.
Give it a listen here and make sure to subscribe!
Powered by RedCircle
For the record, in Vince McMahon's choreographed WWE big events, "The Undertaker" was victorious 21 straight times.
Meanwhile, Braekhus will be the first female to headline a Matchroom/DAZN show in the U.S.
And next, our roundtable segment has Marquis Johns, Sr. Writer of Big Fight Weekend.com, and TC Martin of the Las Vegas-based, daily "TC Martin Show" back on. The guys talk the Matchroom Tulsa show, the PBC bouts on Showtime in Connecticut, featuring WBC Super Middleweight Champ David Benavidez defending against Roamer Angulo in the main event and a Heavyweight undercard battle that has Sweden's Otto Wallin.
T.C. was in the house for Wallin's battle last Fall in Vegas against Tyson Fury, where Fury suffered a serious cut and was pushed to 12 rounds before winning. Fury later went on to upset WBC Heavyweight Champ, Deontay Wilder, by 7th round TKO in February.
The guys also discuss some of the pertinent odds for this weekend's bouts from Tulsa, Connecticut and London, as well.
Hear it all on the "Big Fight Weekend Podcast" and make sure to subscribe/5 star rate and review on Apple Podcasts, Spotify and Google podcasts!