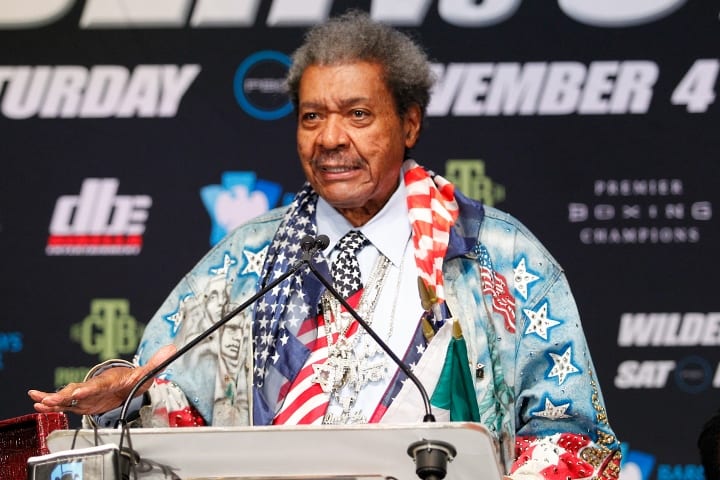 News
Charr on Don King Card-'Nothing Looks Serious'
Charr on Don King Card-'Nothing Looks Serious'
An update on the prospects of this boxing card by Hall of Fame promoter Don King is looking less and less of a reality in the world of boxing is coming to the surprise of no one.
When I wrote about the possibility of this card coming to fruition last week, I closed out that piece with "King's track record has been non-existent with cards as of late coming to fruition; maybe this is a "new year, new me" in that regard."
Jake Donovan in his latest update on all of this for Boxingscene Sunday night started with"new year, same old Don King."
Needless to say, Jake is right.
As I wrote last week here, King had set up a card to take place Friday, January 29th, at the Seminole Hard Rock and Casino in Hollywood, Florida. This was also promoted as "Return To Greatness" on King's own website that posted the news about the event after what I wrote last week. The latest note from his website that was idle since August was this fight being listed.
It even has a fight poster made with the art graphics Windows Paint could create in under a lunch break.
Too bad none of the fighters on this card gotten the memo. It seems the only thing about this fight being done was just the paperwork.
For starters, Manuel Charr and his camp are calling all of this B.S . as he was to headline this card against Trevor Bryan in a bout that has held up for over two years.
"We are hearing rumors that the fight is not booked," Erol Ceylan, Charr's promoter, told BoxingScene.com on Sunday. "Hard Rock Hotel has no reservation for that date for an event without an audience. [Unbeaten heavyweight Christopher] Lovejoy [claims to] not know that he's fighting [former heavyweight titlist Bermane] Stiverne.
"We take this fight very serious and try to make sure everything is done professionally in order for us to fight in [the greater Miami area]. I never do business the way they are doing things because nothing looks serious."
One would assume that if a fight we're going to occur at the hotel for the night, they would've held a room or at least the reservation by now. Christopher Lovejoy, who was supposed to be on this card, isn't buying it as well, quoting Charr's Instagram post with the statement, "Y'all thought I was just talking huh."
YALL THOUGHT I WAS JUS TALKIN HUH pic.twitter.com/txSFs9VE95

— Christopher Lovejoy (@lovejoyboxing) January 10, 2021
King won a purse bid hearing last March, submitting $2,000,000 to claim promotional rights to a bout he initially planned to stage last May. The initial wave of the ongoing coronavirus shut down those plans and a comedy date with Gabriel "Fluffy" Iglesias, amongst other events. The sanctioning body for this fight, the World Boxing Association (WBA), gave leeway until they established a hard deadline for the bout to take place by no later than Jan. 29, 2021, before taking matters into its own hands.
We know fights take long to marinate in boxing for over two years for the main event with a WBA "regular" title on the line to say is ridiculous is being nice about it.
Charr remains the longest inactive fighter on this proposed card, and he and his team are prepared to take matters into their own hands.
"I await from partner to give us information that we can promote also the event. We don't know the broadcaster, we cannot help to sell tv rights [in Germany]," stated Ceylan. "Also, which gloves will be used by us and by Bryan? So many things have to be organized to be sure that the fight happens.
"That is very unprofessional from Don King. I think WBA will notice this and must follow the rules to make the right decision."
If Charr wants to fight in 2021, they may have to intervene at the rate.