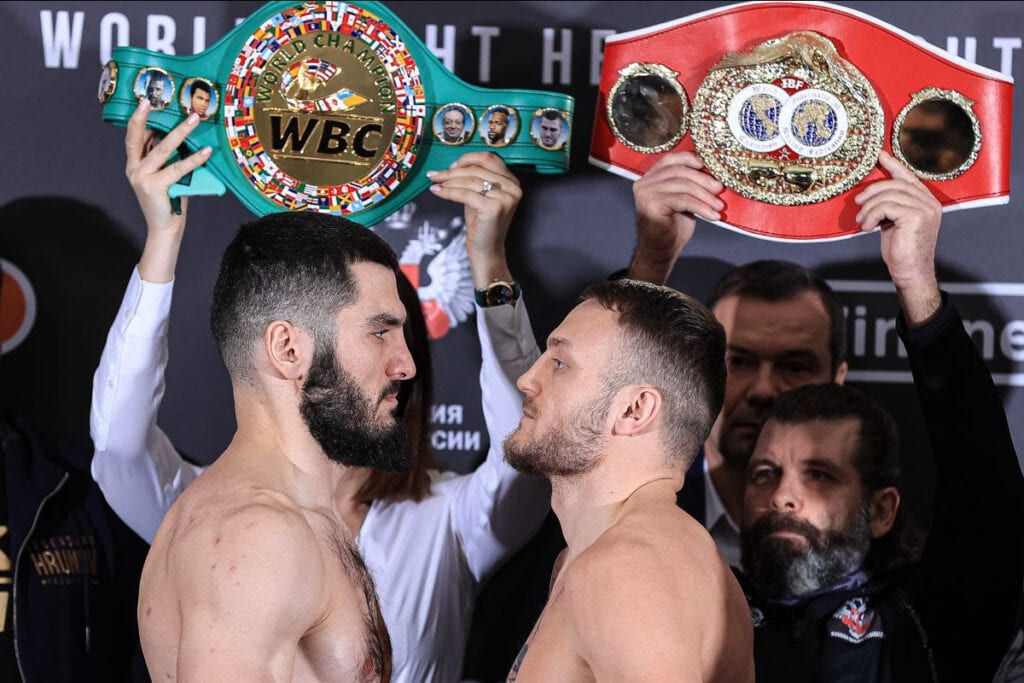 News
Beterbiev-Deines Preview: Another Bad IBF Mandatory
Beterbiev-Deines Preview: Another Bad IBF Mandatory
WBC and IBF Light heavyweight champion Artur Beterbiev takes on Adam Deines, and this IBF-mandated matchup is another one in the bucket of just, just terrible matchups created by the sanctioning body.
Beterbiev (15-0, 15 KOs) in this fight was originally supposed to face Meng Fanlong (16-0, 10 KOs), a more interesting matchup before the pandemic changed those plans. Since then, this fight opponent, due to travel restrictions went from, Fanlong down to the fifth-best option in Denies (19-1-1, 10 KOs), whose lone loss was to Fanlong himself in 2019.
In case you haven't checked out this week's Big Fight Weekend Podcast, we spoke on this fight with Carlos Toro of Carlos Toro Media, and even in his words, "People were complaining of the Canelo-Yildirim matchup. This is worse." Check that out below
I agree with Carlos on the podcast, and that is the consensus of everyone involved in this bout taking place this Saturday on ESPN from Russia.
If you were looking for any smack talk from Beterbiev, who'll be in action for the first time since winning the unification contest against Oleksandr Gvozdyk in 2019, no dice.
"I'm very happy to have a fight in my home country. We studied Adam. We watched some videos. We have a couple of strategies."
"You never hear predictions from me. I'm a simple boxer. I'm not like Muhammad Ali. Muhammad Ali can say, I'll knock him out in eight rounds, or 10 rounds, but I'm not like this. I'm focused on doing my best," Beterbiev said to the media this week.
While the champ won't talk any noise, the challenger Deines did, however. as this was a chance of a lifetime for him.
"The fight will not last the twelve round distance – either he catches me prematurely, or I can surprise him! The fight will end with a big punch. I want to do exactly this and get the world title. I want to capture the world championship belt for SES Boxing, Germany, and my family," Deines said.
That is the expected result but in favor of the champ, who was a 33-1 favorite to retain as of the writing.
"A mandatory which is a really good, competitive fight, that's OK," Top Rank CEO Bob Arum told BoxingScene.com in an interview, "because the mandatories were designed to prevent the champions from ducking forever a legitimate top contender. It was never intended to put tomato cans in the number one position and let [the champions] feast off them being a mandatory. There are certain mandatories that are legitimate mandatories. But in most cases now, you don't get that."
Critics will say where was Arum's energy for this when the IBF mandatory of Kubrat Pulev and Anthony Joshua was ordered. Still, there is a grocery list of these awful mandatories by the IBF that needs to be a bigger narrative here.
Josh Taylor just needed one liver shiver of Apinun Khongsong to end their IBF mandatory contest back in September. The before mentioned matchup between Pulev and Joshua ended in nine rounds for Joshua retaining in December. Gennadiy Golovkin retained his middleweight IBF strap against Kamil Szeremeta a week after Joshua won. Caleb Plant to close out January was in one-way traffic over Caleb Truax  to retain his IBF belt at 168.
These fights all have one thing in common, mismatches on paper and in the ring. Unless Denies can pull off the unlikely upset, this fight will join that list.
My Prediction? A Betrbiev middle-rounds stoppage similar to when he stopped Radivoje "Hot Rod" Kalajdzic in Stockton, California, in 2019.