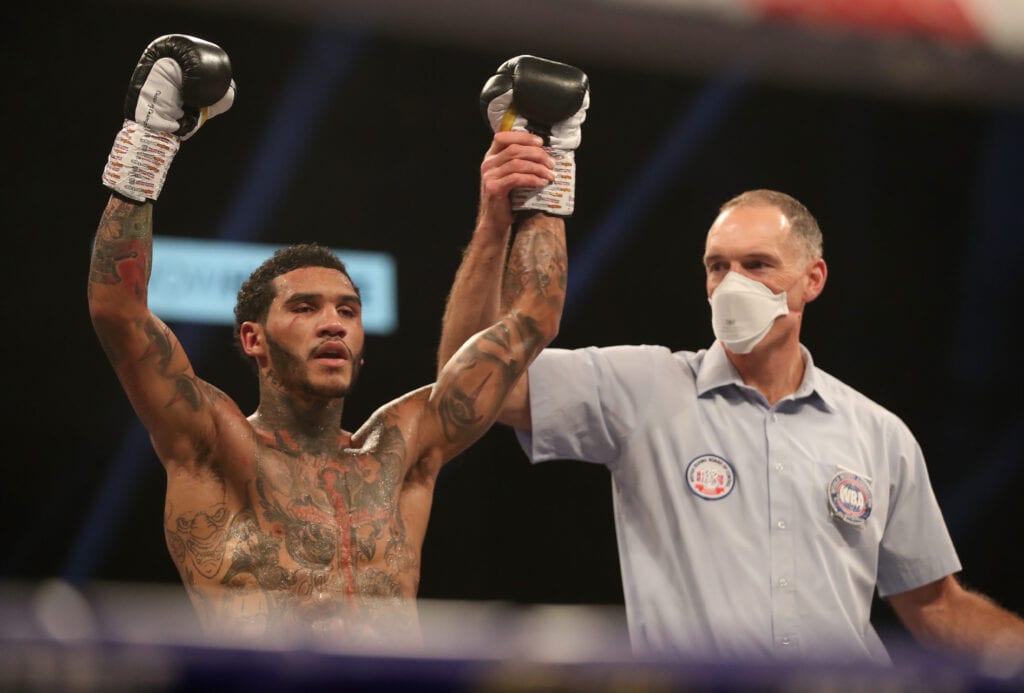 News
Benn impressive in points win against Formella
Benn impressive in points win against Formella
Conor Benn closed out the Wembley Arena Saturday night Matchroom show against Sebastian Formella and walked out still undefeated after an impressive unanimous decision victory. The contest, which had a regional WBA welterweight title on the line and seen on Sky Sports in the United Kingdom and the streaming service DAZN in the U.S., had the scorecards showing 100-91,99-91 and 99-92  all in favor for Benn.
Benn (17-0, 11 KOs) from the opening bell was beating Formella to the punch, landing early on counter left hooks often and repeatedly on Formella (22-2 10 KOs). To many of those who have seen the former IBO welterweight champion Formella in action, this fight resembled his last time he fought in August where he took the kitchen sink from Shawn Porter for twelve rounds.
Conor Benn beats Sebastian Formella by UD (100-91, 99-91 & 99-92). Congratulations 🔥🥊 . –#AndStill WBA Welterweight Continental Champion @ConorNigel 🇬🇧🥊🔥

📸 @MatchroomBoxing #Boxing #Boxeo #WBA #WBABoxing #BennFormella pic.twitter.com/hAH3TtDSb2

— WBA Boxing (@WBABoxing) November 21, 2020
The biggest takeaway from Formella, which we all saw in the Porter contest, was on display here as he can take a punch. Against Benn, the son of the former two division World Champ Nigel Benn, was more of the same as for ten rounds he took as much whatever Benn was throwing.
The one round I think the scorecards may have favored Formalla might have the fifth or sixth round as Formella was able to rally back and land a few good shots in on Benn but more often than not, Benn controlled the fight from the opening bell.
"I've been training hard as you can tell. Every time I get better," Benn said after the fight. "I hit him with a straight 1-2 in round nine, and I thought, 'This geezer's tough.' I'm not gonna blow everyone out, I'll wear them down, which is exactly what I've done tonight."
This was a great step up win for Benn and the broadcast caught he and Formella talking to each other with Formella saying he'll be a world champion someday. Mighty high praise from the challenger for Benn and we'll see how he shakes out as he moves the WBA rankings at 147 lb towards that moment from here in 2021.
Tonight, however, Benn was sharp and looked the best that I've seen him in action.
In terms of future opponents, keep an eye out for a possible domestic challenge against Josh Kelly down the line. Kelly tweeted out as much during the contest Saturday.
There's one fight on my mind atm a more dangerous one than benn…avanesyan…we offered benn the fight before, but 2021 there should be a big domestic for the European title after I win in January 🙏🏽🕺🏽

— Josh Kelly (@JOSHPBK) November 21, 2020