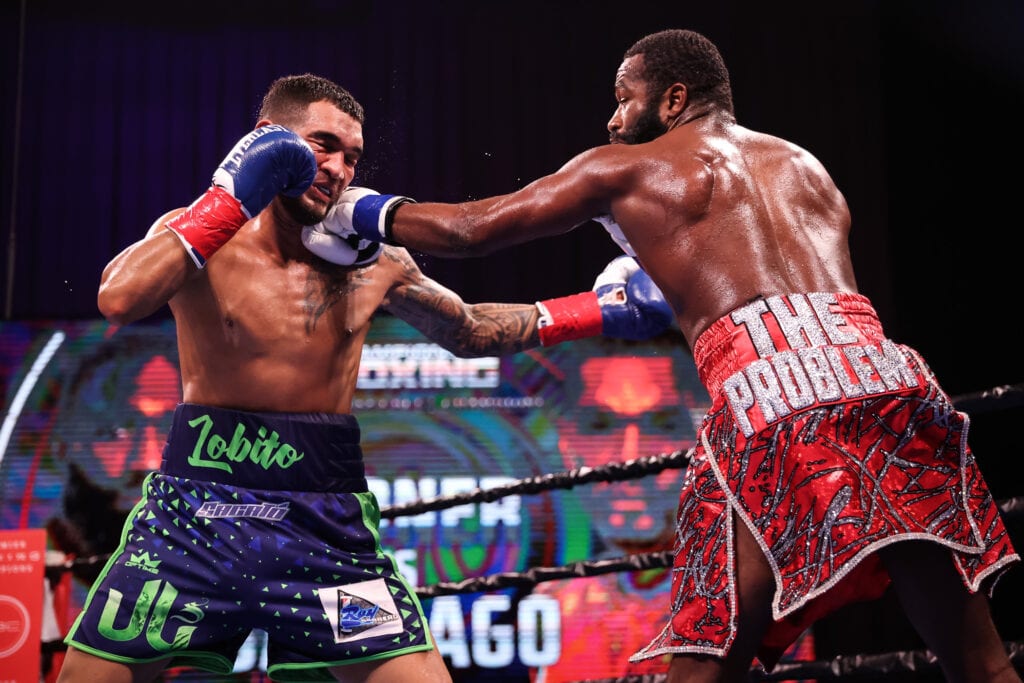 News
Adrien Broner Brings 288K Viewers In Latest Bout
Adrien Broner Brings 288K Viewers In Latest Bout
It looks like "The Can Man" still has an eyeball or two watching.
Adrien Broner after a twenty-five-month layoff in the ring, bought with him 288,000 viewers, according to Nielsen Media Research. Those folks watching were treated to a rather pedestrian effort and a badly scored, wide decision victory from the former four-division world champ over Jovanie Santiago.
Prior Big Fight Weekend Podcast guest Carlos Toro of Carlos Toro Media tweeted the numbers from last Saturday's card below.
That number made it the 38th most-watched cable program on Saturday night in that whole 18-49 demo.
Showtime Boxing viewership/ratings (18-49 demo) for the whole card for February 20:
– Adrien Broner vs. Jovanie Santiago: 288,000 viewers/0.11 rating
– Otto Wallin vs. Dominic Breazeale: 272,000 viewers/0.07 rating
– Robert Easter Jr. vs. Ryan Martin: 234,000 viewers/0.05 rating

— Carlos Toro (@CarlosToroMedia) February 23, 2021
38th doesn't sound good until you factor in a few key points behind it.
The obvious one is the WBC Jr. Lightweight contest between Miguel Berchelt and Oscar Valdez which aired at roughly the same time (Broner was walking into the ring while this was in about the 3rd or 4th round of this one) had the 4th most in cable that night at 895,000 viewers based on the same demographics reported. ESPN, however, is a basic cable channel that has north of 50 million more subscribers than Showtime.
Secondly is the reminder that this is the number they could track with a paid subscription to Showtime from cable providers. I'm not here to tell you how to watch Showtime or any other broadcast illegally. Broner trending #1 late Saturday night clearly shows what he was saying after Broner raised his hand after the fight with the boxing media and next to Brian Custer.
"I only had $13 coming into the fight, but we flip that to $13 mil, so for the weekend, we are popping bottles and having sex. So a lot of things are going to change," Broner speaking with Brian Custer after the fight will do that every time.
The third point I wanted to mention was that the number Showtime is an improvement and easily the best one pointed out since the pandemic. That Nielsen number isn't an exact science or reflection of the total or (stupid) peak viewership or considers those not watching it by streaming means. But that number is a great gauge considering the last known numbers of the past few Showtime shows.
The latest numbers I found that I'm going to put up here for comparison is the Showtime card is the Chris Colbert-Jamie Arboelda back in December averaged 195,000 viewers. The Erickson Lubin-Terrell Gausha bout averaged 122,000 back in September.
While this is a far cry from when Broner faced  Jessie Vargas back in 2018 to a split decision draw back when 782,000viewers watched, the eyes still see what Broner is up to.