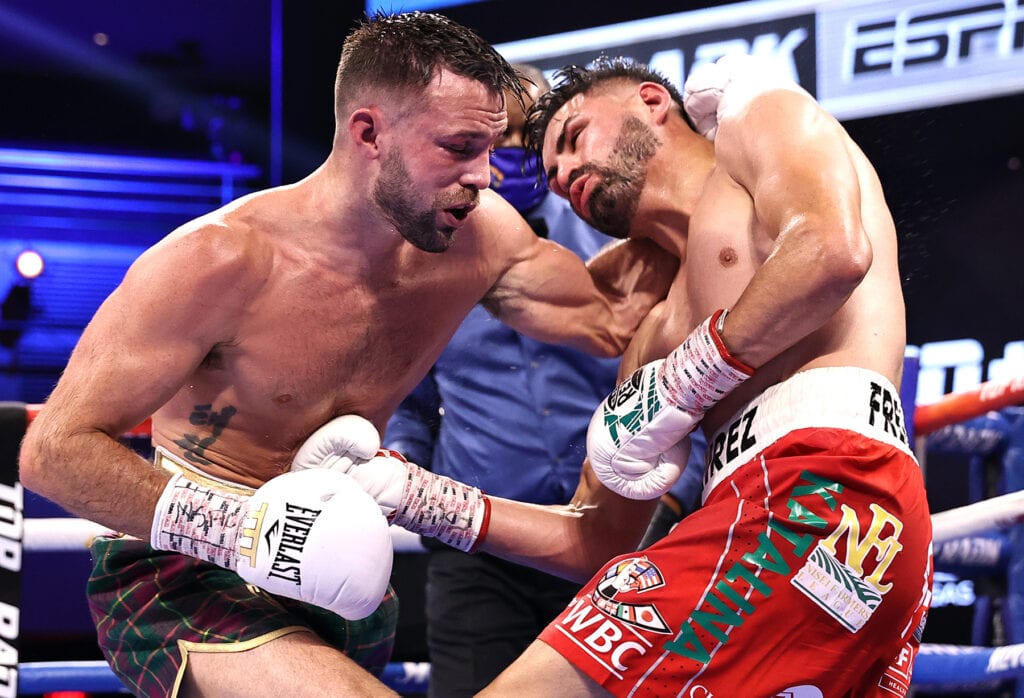 News
What Was Kenny Bayless Doing?
What Was Kenny Bayless Doing?
Referee Kenny Bayless was the man in charge of the action inside the main event Saturday night which saw Josh Taylor become the undisputed champion at 140 pounds. Whenever it was his choice, he became a more significant focal point in the match than anticipated.
Just going to put this out there early. This was not his best day at the office refereeing this fight.
This isn't the best effort tonight by Kenny Bayless. #RamirezTaylor

— Marquis Johns (@weaksauceradio) May 23, 2021
He seemed to interfere with the action while it was actually happening. There were times where both Ramirez and Taylor were having good exchanges, and then, out of nowhere it was stopped at the action of Bayless. There was plenty of action on the inside with these two, but there seemed to be no warning of the two clashing heads, which happened quite a bit in this fight.
Bayless was pretty much a step behind the action, or seemed not to want to get involved in it after directing an order.  The problem with that being is: it played in with a pivotal moment in the fight.
The second knockdown of the fight occurred in the seventh from a nice left uppercut inside from Taylor that hit Ramirez flush. The problem with that, though, is it came shortly after Bayless should have broken the two up. But, instead of physically getting inside to break the two up, Bayless was behind them and could only be in the area to give Ramirez the standing eight count instead.
The final :30 of that 7th round from ringside.

Goodness. ?#RamirezTaylor | LIVE NOW on ESPN pic.twitter.com/Zn996xmbzA

— Top Rank Boxing (@trboxing) May 23, 2021
Why is that such a big deal?
Well, it left it up to the fighters to separate themselves, and while Ramirez let go of Taylor, Taylor instead let go of a left that sent Ramirez down. That knocked gave Taylor the round 10-8 across all three judges. Had that not been the case in a round that Ramirez was winning otherwise, We would have a 113-113 draw across all three scorecards and are probably running this fight back as a rematch.
Jose Ramirez tells me he did back up slightly when he saw referee Kenny Bayless move in to separate the fighters in the seventh. "I backed up, (Taylor) threw an uppercut. I need to learn (from the episode) … to be dirty."

— Lance Pugmire (@pugboxing) May 23, 2021
Those are the breaks, and instead, Taylor is the new undisputed king at 140.
Funny as Taylor leading up this fight, wasn't keen on the judges.
"I thought the scorecards were a little tight. I thought they were well wider than that. I wasn't too happy with the selection of the judges, but I wasn't going to moan. I was confident in winning this fight anyway," Taylor said after the fight."
A member of Taylor's management team, Dean Whyte, blasted Bayless later Saturday night for repeatedly interfering with Taylor trying to score combinations by separating the fighters and pushing the Scotsman back,
WHYTE BLASTS OFFICIATING ?@DeanWhyte8 says that @JoshTaylorBoxer was up against both @RAMIREZBOXING and the referee last night, describing the officiating as an 'abomination'.

? @Betfred Fight Odds: https://t.co/cl7XRyATKm#Boxing #RamirezTaylor pic.twitter.com/ygugvhP5zC

— Boxing Social (@boxing_social) May 23, 2021
There were times where Ramirez would complain about punches to the back of the head early on in the fight, and it seemed that Bayless didn't do anything about it. That's until he finally gave a stern warning to Taylor before the championship rounds of the battle. All in all, this fight is a reminder that the decision-makers in the sport are elder statesmen, and that needs to be revamped.
Until then, chalk this fight up to some shoddy referee work. It deserved a lot better for a battle of this magnitude.