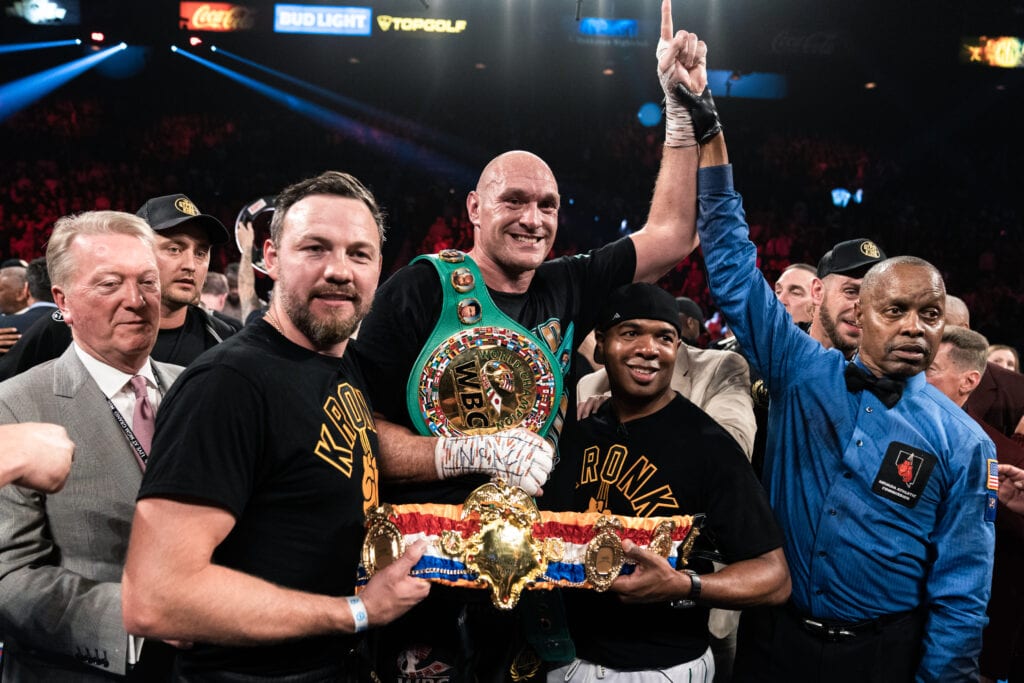 News
Tyson Fury Sends Encouragement After UK Latest Lockdown Order
Tyson Fury Sends Encouragement After UK Latest Lockdown Order
With new restrictive Covid 19 lockdown orders going into place in the U.K., WBC Heavyweight Champion, Tyson Fury, took to social media Tuesday to offer support for those dealing with mental health and stress issues.
First, British Prime Minister Boris Johnson announced Monday night the new more expansive stay-at-home orders for non-essential personnel starting Tuesday. Johnson used the phrase "hardest yet" for the weeks ahead, while mandating that those in the Great Britain need to follow more stringent safety and health guidelines to stop the spread of Coronavirus in early 2021.
As we also wrote on Monday, that order effectively scuttles any planned fight cards in the England, etc. through the end of this month. It also calls into question whether any February shows might be in Jeopardy because of fighters not being able to train at gyms, etc.?
As for Fury, he had this message to those who might be struggling with the psychological aspects of being isolated and cut off from friends family and their normal lives,
Message for anyone struggling with the lock down 2021. There are some numbers on the tweet below, #staysafe pic.twitter.com/FApnfrfD0n

— TYSON FURY (@Tyson_Fury) January 5, 2021
"Just a quick message of positivity. I know we've been locked down last night. And there are going to be a lot of people at home struggling with mental health and their physical health…. I just want to say, look, no matter what's going on in your life, I've probably already been there"
I'm proof, you can come out the other side. What you need to do is stay positive. Spread positivity energy for those around you….. You are not alone. And, it's okay to 'not be okay,'…"  Fury continued in the video.
Fury obviously speaks from experience having dealt with mental health problems, as well as drug and alcohol abuse issues, soon after winning the Undisputed Heavyweight title from Wladimir Klitschko in November of 2015.
The dark time got so bad that he ballooned to some 400 lb. and eventually, relinquished all of the championships while on a near, three-year semi-retirement.
Fury got back in fighting shape, came out of that retirement and fought WBC champion Deontay Wilder to a controversial draw in December of 2018. The two rematched last February with Fury scoring a dominant 7th round TKO to recapture the WBC portion of the championship.
The Covid-19 pandemics scuttled the plans for a Fury-Wilder third bout this past Fall in the United States. And, it is still unclear if  the two will have to fight for a third time before the new champ gets his wish to fight Unified Heavyweight champ and fellow Brit, Anthony Joshua.
Those two have reportedly agreed to a two fight deal for later this year and probably, the second one in 2022.
Joshua did his part to set that fight into in motion by knocking out IBF number one challenger, Kubrat Pulev, last month.
The proposed Fury- Joshua fights will be the most hyped and lucrative in the history of British boxing, if and when they do occur.