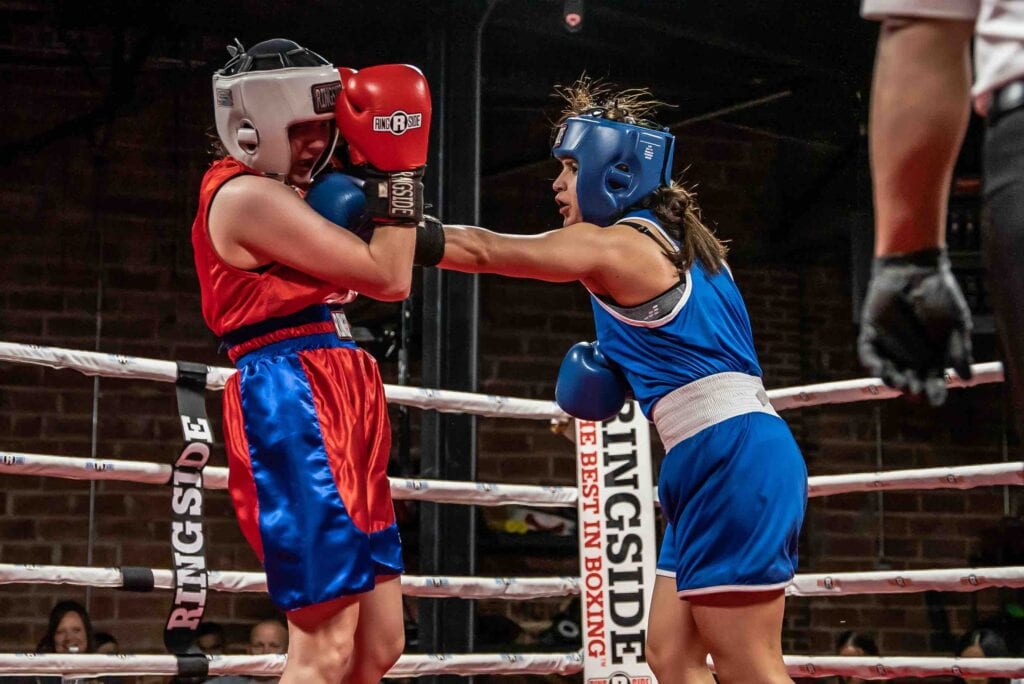 News
Tulsa Amateur Neida Ibarra Brings Home Silver
Tulsa Amateur Neida Ibarra Brings Home Silver
Four amateur boxers from Tulsa's Engine Room Boxing Gym competed at the USA Boxing 2020 National Championships in Shreveport, La. last week, garnering a total of seven wins at this prestigious tournament, Aaron Sloan owner and head coach of the Engine Room announced today. Twenty-six-year-old Neida Ibarra reached the finals in the Elite Women Division at 132 lbs, returning home with a silver medal. As a result of her performance, Ibarra now ranks among the top boxers in the nation in her division.
"We're very proud of Neida and our overall accomplishments as a team at this tournament," says Sloan. "Our boxers defeated several nationally-ranked fighters during the competition. This is a grueling event, with some boxers fighting multiple days in a row and making weight each day. The success our Engine Room boxers achieved at this highly competitive level speaks to the physical and mental preparation of our fighters, coaches and program."
The tournament, which had been rescheduled from December, took place March 25-April 3 at the Shreveport Convention Center. It featured close to 1,000 bouts, with boxers from across the United States competing in Olympic/International Federation weight divisions in junior, youth and elite age groups for their place on Team USA's High-Performance teams. With approximately 2,550 participants registered (1,475 boxers, 970 coaches and 100 officials), it was the largest USA Boxing tournament in history.
Anyone else wish they were still at #USABNC20?

?: @jhovey34 pic.twitter.com/vyBieYR84Y

— USA Boxing (@USABoxing) April 6, 2021
The No 2-seeded Ibarra defeated Nancy Garcia of Texas and Jessica Capurso of New York before a loss by split decision to California's Amy Winter on Saturday night.
"It was a great experience, and I enjoyed each fight," says Ibarra, who also works full-time in the medical field while pursuing a nursing degree. "Winning silver is gratifying. I fought against boxers from some of the toughest boxing states, which made me work hard. I'm proud of how I did, and my coaches are, too, which is the ultimate win for me."
Engine Room trainer and coach, Danny Skipper, is impressed with Ibarra's ability to juggle work, school, and training.
"We're all so proud of Neida at the gym," says Skipper. "She performed amazingly well in all her fights at Nationals, coming up just short with a split decision in the finals in an extremely tough fight. She'll only get better from here, and I can't wait to see what the future holds."
Other Engine Room boxers competing included Terrance Reed (Elite Male 138 lbs), who defeated Luis Torres of Texas before a loss to Jacob Cuevas of Nevada. Angel Mora (Elite Male 138 lbs) defeated Liam Grogan of North Carolina and Jordan Jenkins of Texas to advance to the third round of the preliminaries before a loss to the No 12 seed, Jorge Carlos of Kansas. Dempsey Wooten (Youth Male 141lbs) defeated the No. 7 seed, Danilo Diez, and Jadden Addison, both of Florida, before losing to the No. 3 seed Bobbie Pettigrew of New York in the quarterfinals. Wooten will gain additional national ranking points from the tournament.