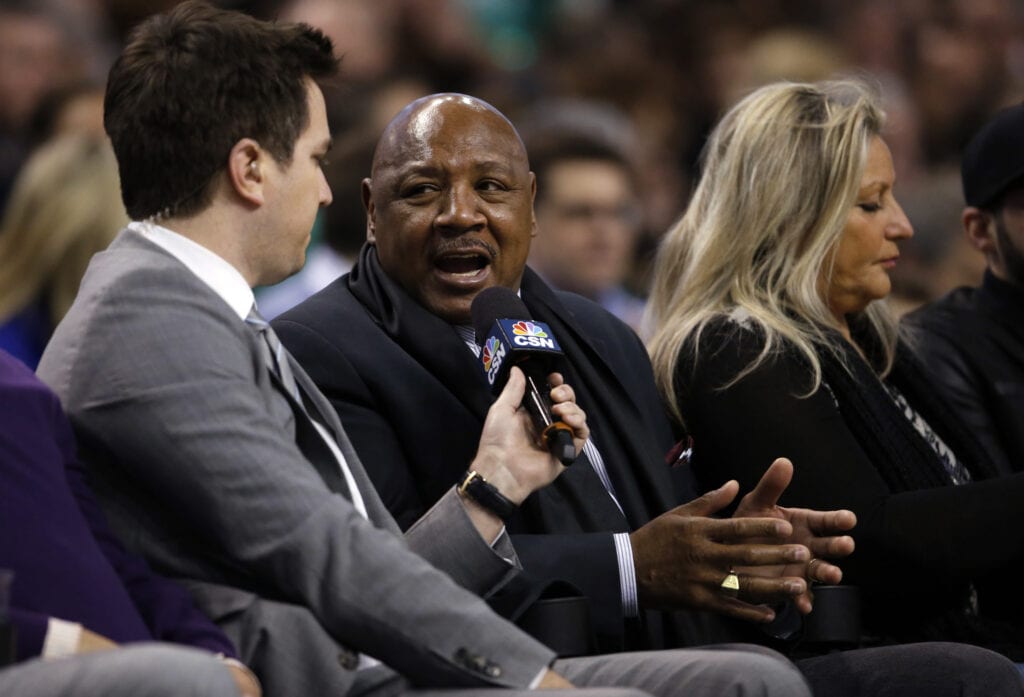 News
Outpouring Of Sadness Continues For Loss Of Marvin Hagler
Outpouring Of Sadness Continues For Loss Of Marvin Hagler
The shocking news Saturday night that former Undisputed World Middleweight Champ, Marvelous Marvin Hagler, has died continues to sink in for the tight-knight boxing community. And, it's obvious that as legendarily rugged and tough as Hagler's persona was in the ring, the respect factor was even greater.
First, Hagler's wife confirmed that his was a "sudden death" Saturday in New Hampshire at the age of 66. More on that in a moment.
It's Hagler's menacing style that had him win 12 straight Undisputed Middleweight Title fights that those around the sport are remembering. Interestingly, Hagler had largely stayed away from publicity since retiring in 1987, but is still revered 30 years later as one of the "true warriors" of the 1970s and 80s on the world-wide stage.
A roll call of tributes began to roll in on Saturday evening. including Top Rank Boxing's legendary 89 year old promoter Bob Arum, who promoted Hagler's entire championship career and gave condolences,
Marvelous Marvin Hagler was among the greatest athletes that Top Rank ever promoted. He was a man of honor and a man of his word, and he performed in the ring with unparalleled determination.

He was a true athlete and a true man. I will miss him greatly. pic.twitter.com/RjNSlayBwA

— Bob Arum (@BobArum) March 14, 2021
Hagler will forever be remembered for his iconic 3 round war in April of 1985 with Thomas "Hit Man" Hearns.
In a fight that is regarded as arguably the greatest non-Heavyweight title bout ever, Hagler absorbed Hearns' epic right hand in the first round on a couple of occasions. And, Hagler then brawled him into submission a couple of rounds later.
The indelible images of Hagler bleeding from a cut on his forehead, but landing lethal right hands to drop Hearns for the third-round KO remain, one of the iconic moments in championship fighting over the last 50 years. It was the famed Ring Magazine's "Fight" and "KO of the Year" for 1985.
The man who had felt so disrespected in the early 80s that he legally changed his first name to "Marvelous" and demanded that the media and fans refer to him by his new legal name "Marvelous Marvin" had all the respect the sport could offer after the epic Hearns KO.
Hall of Fame broadcaster Al Bernstein, who was on the PPV call from Las Vegas of Hagler-Hearns with Al Michaels in 1985 and worked several of his other title fights on other PPV broadcasts, expressed his stunned sadness and respect,
I am crushed to hear of the death of Marvin Hagler. I have known him since the early 1980s. I was lucky to call many of his fights and honored to know him outside the ring. My affection and respect for him knows no bounds. Loved being around him. He will be missed.

— Al Bernstein (@AlBernstein) March 14, 2021
As for Hearns, the man who took those legendary punches from Hagler may have inadvertently started a controversy about Hagler's condition and potential cause of death.
That's when prior to the news of Hagler's death on Saturday, Hearns took to Instagram to wish Hagler well, but stated "he's in ICU fighting the after effects of the vaccine!"
View this post on Instagram
Obviously, that news is not confirmed by anyone, most importantly not by the former Middleweight king's wife or family, but still it's something that cannot be ignored in the coming days.
This is due to the controversy by some about the long term effects of the Covid 19 vaccines that have been administered by the 10s of millions already in the U.S.
And, the truth behind what was or wasn't going on with Hagler's condition and care should be given, especially, when Kay Hagler only portrayed his death as "sudden" without any further details in her social media post Saturday.
Turning back to the tributes: iconic six division world champ (including Middleweight) and future fellow Hall of Famer, Oscar De La Hoya, also expressed shock and sadness at Hagler's death announcement,
Saddened to hear about the death of Marvelous Marvin Hagler. One of the greatest to ever step in the ring! #RIPMarvelous pic.twitter.com/RNgVym0CdC

— Oscar De La Hoya (@OscarDeLaHoya) March 14, 2021
And during the Matchroom Boxing live broadcast on DAZN Saturday night from Dallas, legendary ring announcer Michael Buffer spoke beautifully for the heart broken boxing community. That's when he announced Hagler's death to the crowd at the American Airlines Center and asked for a moment of silence and reflection before the always moving "10 bell tribute" was held for Marvelous Marvin,
A 10-count in honor of the late, great Marvelous Marvin Hagler. pic.twitter.com/vpeyD5GDLZ

— DAZN Boxing (@DAZNBoxing) March 14, 2021
Over the past 20+ years, Hagler spent a lot of his time living in Italy, enjoying the riches of the latter part of his career. He in fact married his Kay, his second wife there in 2000.
Hagler finished with a career record of 62-3-2. That included a stretch in the late 70s through 1987 where he didn't lose for 38 straight bouts. And, Marvelous Marvin was inducted into the international Boxing Hall of Fame in 1993.
He career stands along with the likes of Carlos Monzon and Sugar Ray Robinson, as one of the top Middleweight Champions of the 20th century.
And, that's why the outpouring of praise, but also sadness will continue for Hagler for sometime to come.