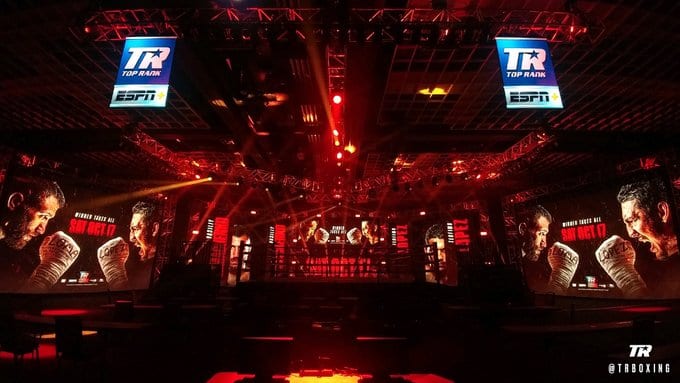 News
No Boxing On ESPN In January
No Boxing On ESPN In January
In case you were checking your calendar, that is correct in that there isn't any boxing on in January from the "Worldwide Leader In Sports."
Keith Idec from Boxingscene caught up with Top Rank CEO Bob Arum, and he explained to him that ESPN decided not to show any boxing during this month and in March.
"We're not doing anything in March because of 'March Madness,' " Arum told BoxingScene.com. "And then we should have maybe two shows in April. And then from May through the end of July, we'll have eight or nine shows, basically three a month." 
For comparisons from this time last year, Top Rank held two shows in January 2020. One with Joe Smith defeating Jesse Hart and another with the early front-runner of knockout of the year featuring Eleider Alvarez dropping Michael Seals.
?2020
└?Top KO's of the Year
└?Alvarez Sleeps Seals

⚠️ The first entry has been filed. #AlvarezSeals pic.twitter.com/fLRbCIn3I6

— Top Rank Boxing (@trboxing) January 19, 2020
The NCAA announced that they would be hosting their yearly men's and women's college basketball postseason tournament, which is huge money for these schools. How much? Per a report last year from Marketwatch, the loss of the March Madness tournament cost the NCAA about $375 million, which is why they are setting up a "bubble environment" in Indiana this year, not to miss this for the second year in a row.
Arum: ESPN Won't Show Fights In March; Probably 2 In April; 8 Or 9 From May-July https://t.co/6q1Rpd80iu pic.twitter.com/1rnpBLof6a

— BoxingScene.com (@boxingscene) January 12, 2021
Also, waiting for later on in the year for the pandemic to subside will hopefully open up the chance to hold more boxing events with fans. Another reason Arum didn't mind the lack of cards in the 1st quarter of the year.
"We didn't discourage [ESPN] from doing that [skipping shows in March] because we hope that as you do shows later in the year that the coronavirus will be behind us and we can start doing these fights with spectators," Arum said. "Because without that, it's horrendous. Without gates, it's really hard economically."
The only card in January that was supposed to happen to air on anything ESPN was an MTK Global card on January 22nd that got wiped out with United Kingdom lockdown on events that featured Karim Guerfi vs. Lee McGregor for the European bantamweight title on the streaming service ESPN+. The first Top Rank on ESPN will feature Joe Smith Jr. taking on Maxim Vlasov somewhere in the MGM in Las Vegas per Boxingscene on February 13.
While there is no love for boxing in the States right now, plenty of boxing action will be  "fighting for your love" Valentine's Day weekend. This, as the above-mentioned card with Joe Smith will be on as well as the Showtime card featuring Adrien Broner and a DAZN card slated featured the title fight of Joseph Diaz vs. Shavkatdzhon Rakhimov.