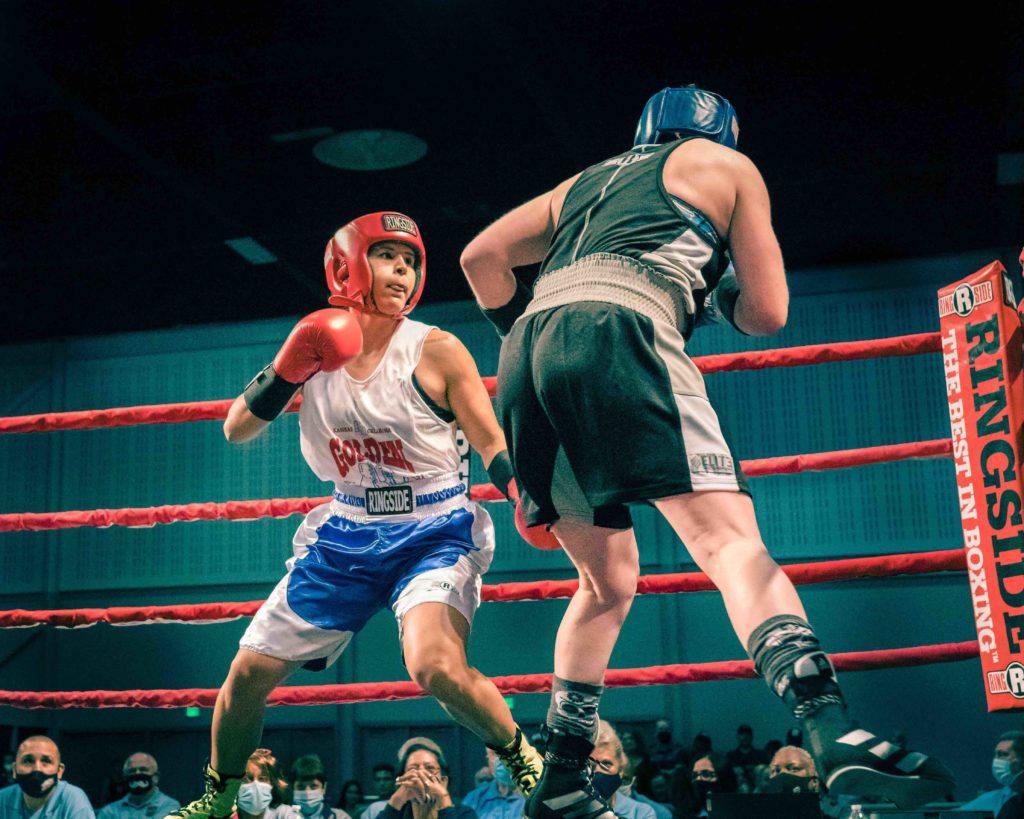 News
Neida Ibarra Victorious At Golden Gloves Saturday
Neida Ibarra Victorious At Golden Gloves Saturday
Tulsa amateur boxer, Neida Ibarra, defeated Liz Leddy (New England) by unanimous decision in the finals of the Golden Gloves of America National Tournament of Champions at Cox Business Convention Center Saturday Aug. 14 to win the 132 lbs division.
The win makes Ibarra the first female Golden Gloves Champion from Oklahoma, Aaron Sloan, vice-president of the Kansas-Oklahoma Golden Gloves Franchise and owner of Tulsa's Engine Room Boxing Gym, announced today. Ibarra also received the tournament's Most Outstanding Boxer award for the 125-141 lbs weight range.
Former National Golden Gloves champions include exceptional boxers like Muhammad Ali, Sugar Ray Leonard, Oscar De La Hoya, and Oklahoma's own Allan Green (2002), Eric Fields (2005 & 2006) and Aaron Morales (2017). Neida is the fourth National Champion from Oklahoma.
To reach the finals, Ibarra won three consecutive matches, defeating Amy Minter (California), the No. 1-ranked female boxer in the country at 132 lbs, on Wednesday, Heather Cirka (Colorado/New Mexico) on Thursday and Carmona Montserat (DC) on Friday.
Oklahoma City's Carlos Hernandez received a silver medal at 152 lbs, losing in the finals to Giovanni Marquez (Texas), the son of former IBF junior middleweight titleholder and 1992 US Olympian, Raul Marquez.
Thanks to my @ShowtimeBoxing familia for acknowledging my son @giomarquez36 on his National GG Title and Outstanding fighter award. Support TMT The Márquez Team 🥊🙏🏼 pic.twitter.com/LiEk6fnPLv

— Raul Marquez (@RaulMarquez92) August 15, 2021
The tournament, which was cancelled in 2020 due to Covid-19, took place August 9-14 at the recently remodeled Cox Business Convention Center. The Engine Room Boxing Gym, in collaboration with the Tulsa Sports Commission and the Kansas-Oklahoma Golden Gloves Franchise, coordinated the event, which was held for the first time ever in Oklahoma. Sprinkler Fitters Local Union 669, UA was the title sponsor of this tournament. Male and female amateur boxers ages 18-40 from across the United States, representing 30 Golden Gloves franchises, competed in ten weight classes in this USA Boxing-sanctioned championship.
"We are really proud of Neida and Carlos," says Coach Aaron Sloan. "This is the first time this tournament has come to our state, and it was fantastic to have two Oklahoma boxers from our Kansas-Oklahoma team do so well. We're looking forward to hosting this event in Tulsa again next year."
Legendary professional boxer, "Irish" Micky Ward, was a VIP guest on the final night of the championship. Ward posed for photos and signed autographs for the crowd. Former professional fighter, Allan Green, and Danny O'Connor (rapper and founding member of hip-hop group House of Pain and creator of the Outsiders House Museum) also attended.