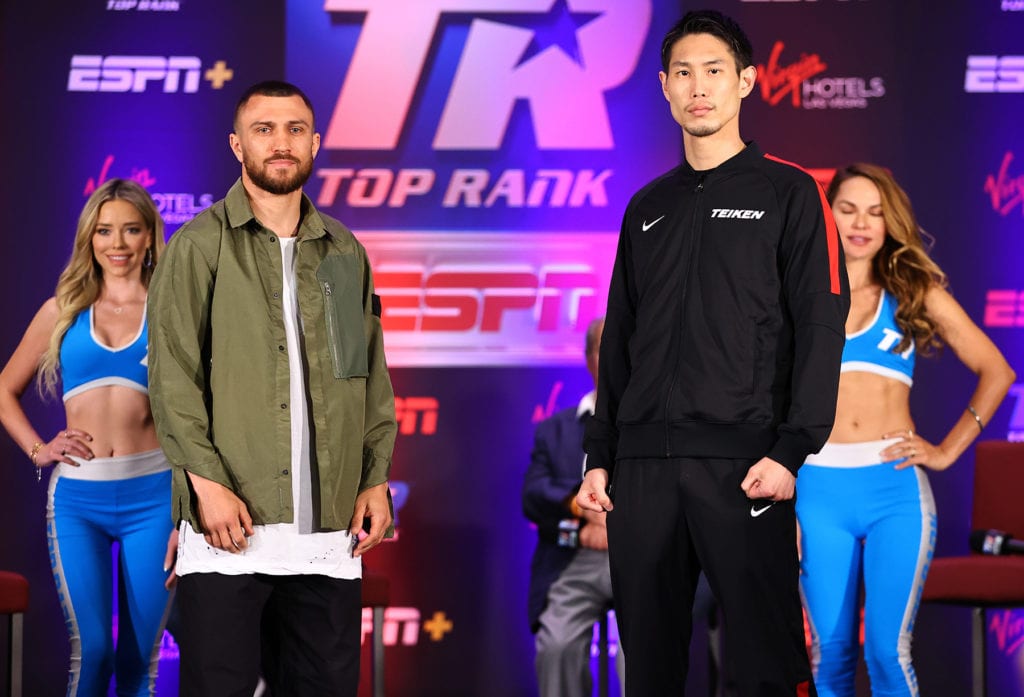 News
Lomachenko Batters Nakatani- Stops Him In Nine
Lomachenko Batters Nakatani- Stops Him In Nine
Any questions had about former unified champion Vasiliy Lomachenko were answered Saturday night in Las Vegas, as he came out on all cylinders against Masayoshi Nakatani, stopping him in nine rounds.
The official time of the stoppage was 1:48 seconds of round nine in what was a fight that once the bell rang, wasn't even close.
Near the end of the first round, a clash of heads took place which caused a cut at the temple of Lomachenko that needed attention. Despite the cut which gave a neat-looking blob at the top of his head, Lomachencko was more active in this one against Nakatani, who early on had no answer for him.
We were close to the first knockdown of the fight by Lomachencko but were ruled a slip near the third round. Before this fight, ESPN Boxing Analyst Tim Bradley didn't think this fight wouldn't be anything one-way traffic and after the close of the fourth round, he was spot on.
After 4 rounds Nakatani couldn't hit Lomachencko, as he only was able to land 13 punches total based which wasn't going to it done.
Destruction all the way up until an incredibly convincing stoppage. 🤯

Yup, @VasylLomachenko looks healthy and back to form.#LomaNakatani | ESPN+ pic.twitter.com/IM0blPPpct

— Top Rank Boxing (@trboxing) June 27, 2021
The difference for Lomachencko in this one was his left as he was able to use it to keep Nakatani not only at bay but often oft balanced afterward. This eventually led to a knockdown by Lomachancko with a right that sent down Nakatani to close out the fifth round. Nakatani beat the count and survived the round but spent the entire sixth-round getting completely dominated by Lomachencko. This was simply a man who couldn't do anything against a man who was a former unified champion.
The ninth round was the last one of this as an accumulation of punches was took much for Nakatani as the referee Celestino Ruiz to end this fight. What is next from here for Lomachenko in his mind is hopes for a rematch with Teofimo Lopez, but that will be a moment as he waits for his delayed title defense against George Kambosos Jr. One thing is certain, this version of Lomachencko is one that is must-see as he was top form.