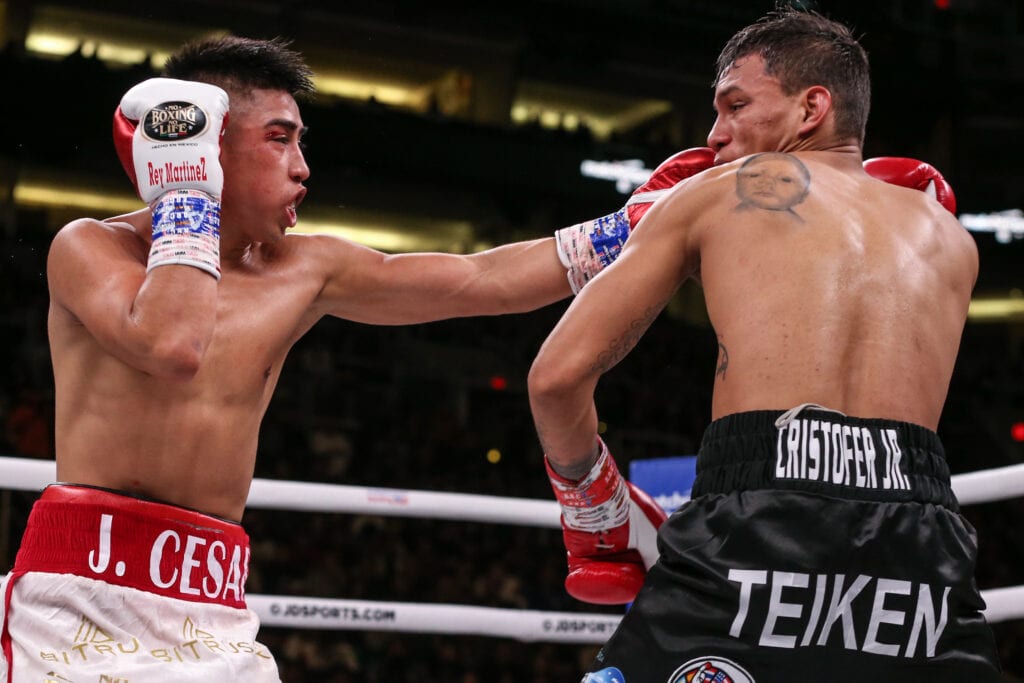 News
Julio Cesar Martinez Out Of Saturday's Bout
Julio Cesar Martinez Out Of Saturday's Bout
Bad news Thursday as WBC Flyweight champion Julio Cesar Martinez won't be in action this Saturday as he had to pull out due to injury.
Keith Idec of Boxingscene tweeted the report that Martinez (17-1,13 Kos, 1 NC) had told the media that he has a hand injury that will keep him from facing mandatory challenger McWilliams Arroyo (24-4, 15 KOs) on the Canelo Alvarez-Anvi Yildirim undercard. His contest would've more than likely been the chief supporting bout leading into Canelo.
Julio Cesar Martinez has confirmed that a hand injury has forced him to pull out of his mandated WBC flyweight title defense against McWilliams Arroyo on the Canelo-Yildirim undercard. Martinez also pulled out of their August 15 fight in Tulsa due to a gastrointestinal issue.

— Keith Idec (@Idecboxing) February 25, 2021
This Martinez-Arroyo bout mandated by the WBC has been one that has had its second setback.  We wrote back in August his first one when he had to pull out of their first fight due to illness. That illness was a gastrointestinal issue. That fight was slated to take place on August 15 card that went down in the streets of Tulsa. This also will be the third time in six months for the champion as that stint will include back-to-back Canelo Alvarez cards.
No luck at all to El Rey. Third time in six months he's to withdraw from a fight, including back-to-back Canelo cards. https://t.co/BWFYQdJ1K1

— Jake Donovan (@JakeNDaBox) February 25, 2021
This does also slow down the eventual unification clock for Martinez was talking about as he wanted to move up in weight to challenges the big names at 115.
"There's no champion in particular that I want to go up against," Martinez told BoxingScene.com in a recent. "I want all the champions. Whoever raises their hand first to fight me, I will absolutely fight against. After Arroyo, I want to unify against whomever. I want to get all the belts that I can this year.
"Then I want to move up to super flyweight next year and go up against Estrada, 'Chocolatito' and Sor Rungvisai. I want those big challenges, those big fights. There are better names up there. They all moved up to super flyweight, so that's what I plan to do next year."
All of that will have to wait as we hope for a speedy return for Martinez.