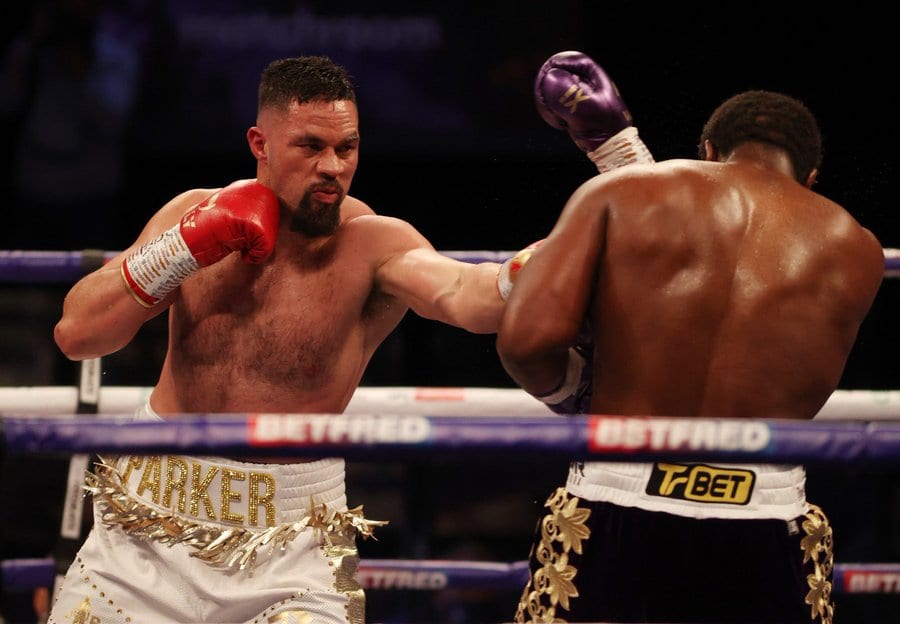 News
Joseph Parker Rallied For Decision Over Dereck Chisora Saturday
Joseph Parker Rallied For Decision Over Dereck Chisora Saturday
Heavyweight contenders Joseph Parker and Dereck Chisora both knew what was on the line in their main event matchup Saturday night in Manchester, England. And, in the end, the Kiwi Heavyweight Parker got off the canvas, rallied late and earned a split decision win that keeps him relevant, for now, in Heavyweight contention.
The former WBO World Champion Parker won on two of the judges cards at 116-11, 115-113 with Chisora getting the other nod at 115-113.
SCORECARDS: 115-113 Chisora… 116-111 Parker… 115-113 Parker!@joeboxerparker edges a split! #ChisoraParker pic.twitter.com/lo312vB9Kp

— Matchroom Boxing (@MatchroomBoxing) May 1, 2021
The fight had a dramatic beginning, as Chisora floored Parker with an overhand right less than 10 seconds into the bout, stunning Parker who went down on all fours. Parker still seemed a little wobbly for another 20 seconds, as Chisora scored with a solid left hook to follow up. Still he could not take full advantage and Parker survived the round.
Chisora continued to control the action in the early rounds of the fight trapping Parker on the ropes and landing body shots and left hooks to the head.
Parker, now 29-2, finally got some good offense going late in the fourth round, including landing several hard right hands and lefts behind them. But, Chisora also fired back with left hooks of his own in one of the best rounds of the bout. Chisora, now 32-11, seemed to be in control but also seem to be feeling his 37 years, as he was repeatedly shown breathing heavy and worn down in between rounds.
That would become a factor for later as Parker began to rally in the 7th round scoring more frequently, again with the lead right. The eighth round saw over 30 seconds of spirited exchanges with Parker getting the better of it, again with his right hands.
The fight pushed on and Parker continue to press the action and Chisora was clearly fatigued in the 11th and the 12th rounds.
The decision stunned the obviously slanted Sky Sports PPV television crew on the call who thought Chisora had won the fight by at least a couple of rounds and with the 10-8 first-round should have cruised to victory.
The win is even more impressive for the 29 year-old Parker, as he had only fought eight weeks ago in his homeland of New Zealand scoring a lackluster 12-round decision over Junior Fa.
He then traveled to the U.K. a few weeks ago and trained for this match up with Chisora headlining the Matchroom Boxing show in Manchester, England.
As we wrote earlier, with the loss Chisora's relevance in the Heavyweight division is probably extinguished, once and for all. This after he also dropped a 12-round decision last October to WBO number one contender and former World Cruiserweight Champion, Oleksandr Usyk.
Post-fight, Chisora told Sky Sports in the ring he would want a rematch with Parker and Parker actually agreed he would be willing to fight Chisora again.
But, with the win, it positions Parker in the WBO to potentially have a title shot somewhere down the line.
That's because Usyk is set to tee it up with England's fellow unbeaten Joe Joyce and the winner of that fight will be named the interim WBO World title holder. Then, in the event that unified Champion Anthony Joshua doesn't end up fighting the Usyk-Joyce winner, he'll be named World Champion.
That may be where Parker gets an opportunity to fight either Usyk or Joyce in late 2021 or 2022.
Earlier on the stacked undercard of Parker-Chisora, Undisputed Women's Lightweight champion Katie Taylor remained unbeaten and scored an exciting 10 round unanimous decision over former amateur foe Natasha Jonas to retain her belts. Taylor had also beaten Jonas in the Olympics in 2012.
Also, on the undercard WBA Light Heavyweight champion Russian Dmitry Bivol remained undefeated with an easy 12-round decision of lightly regarded British Contender, Craig Richards. It is the first time that Biviol, now 18-0, had fought in over a year and since the Covid-19 outbreak. He hopes to get a potential Unified 175 lb. title fight with fellow unbeaten Russian Artur Beterbiev later in 2021.