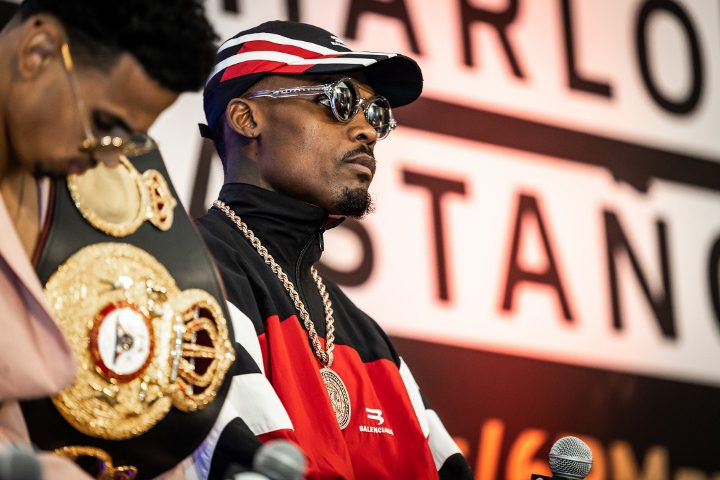 News
Jermell Charlo Sounded Off On Castano Delay Sunday Night
Jermell Charlo Sounded Off On Castano Delay Sunday Night
We had not heard from unified Jr. Middleweight champ Jermell Charlo about the postponement of his scheduled March Undisputed title rematch with Brian Castano. That is until Sunday night.
The 31 year old WBA/WBC/IBF 154 lb. World Champ took to social media to make his feelings known after Castano claimed a biceps injury early last week,
View this post on Instagram
I'm In Straight War Mode, IDGAF What Type Of Tricks They Tryna Play, Nothing Else Really Matters, Im Prepared To Endure Pain & Find Solutions At Any Moment. One More Belt To Grab & I've Completed A Dream That An 8 Year Old Once Had," Charlo wrote on Instagram.
NEVER CHANGED MY MINDSET ONLY TO GET STRONGER. Castano Pulled Out The Fight To Buy Time For A Bigger Ass Beat'n . It's Not On Me It's In Me, The Air We Breathe IS NOT THE SAME. True Essence Of What LionsOnly Really Means. I Won't Let This Type Of Adversity Slow My Grind, I Peep All They Moves, Two Steps Ahead. Somebody Tell Castano Show Those Doctor Reports & Take Them Vada Testing So We Can Move Forward With Knocking His Ass OUT !!!! #OHB 
As we wrote previously, the highly anticipated rematch will be delayed at least a month due to Castano trying to rest and let the injury heal without surgery. Surgery would eliminate him from being able to fight for at least three months or more.
That rematch has been some seven months in the making. This after Castano pushed Jermell Charlo to a 12 round draw in San Antonio, TX, last July in a fight that many believed he actually won.
Castano, now 17-0-2, clearly pressed the action early, scored the more important punches and Charlo, now 34-1-1, chose to hang on the ropes getting outfought through the first nine rounds. Charlo rallied late, rocking Castano with hard rights in the 10th round and did enough to earn the split-draw decision.
It's still unclear what Premier Boxing Champions and Showtime, who won the bid to have the PPV, will do with the date and with Charlo? However, one clear option we've been suggesting is to keep the date in L.A. in March have Charlo battle popular, unbeaten Australian contender Tim Tszyu.
Tszyu, is the 27 year old son of Hall of Famer Kosta Tszyu, has been on the "fast-track" to a world title shot by wiping out competition in Australia over the last two years. The most recent of those came in November, when he defeated Japan's Takeshi Inoue in a convincing 12 round performance held in Tszyu's hometown of Sydney.
Tszyu, 20-0 and ranked #1 by the WBO, is already scheduled to make his U.S. debut to fight former U.S. Olympian and Jr. Middleweight veteran, Terrell Gausha on the undercard in March.
While Charlo-Tszyu is intriguing, it appears that Charlo, PBC and Showtime will wait for now for Castano to try to heal. That may turn out to be a mistake that delays the popular Charlo from fighting at any point in the Spring.